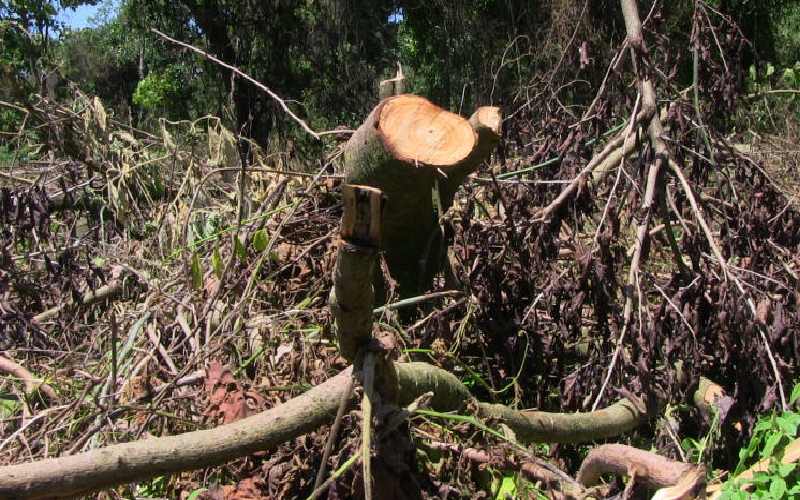 The rains are here with us. As usual when it rains, and especially as heavily as now, it is good time to plant trees. Tree planting is an important step towards reforesting and mitigating the effects of climate change such as flooding.
However, most of the tree-planting initiatives are ceremonial; they lack follow-up plans and as a result most of the trees end up not surviving.
Trees serve a critical role in regulating the climate, acting as windbreakers, holding the soil firmly, reducing soil erosion, reducing the intensity of floods and acting as carbon sinks.
Tree planting is, without a doubt, the easiest way anyone can contribute to action on climate change. It can be done at anytime, anywhere in the world.
In 2019, Ethiopia, for instance, broke the record with its #4billiontrees initiative that saw the country plant over 350 million tree seedlings in a single day in July.
On closing the drive, Ethiopia's Prime Minister Abiy Ahmed, a Nobel peace prize winner, announced that they would care for the trees to ensure they matured and helped mitigate the climate crisis.
Here at home, we aim to plant 2.5 billion trees by the year 2030 through a government-led initiative. Kenya's objective is to meet the country's 10 per cent tree cover target stipulated in the Constitution.
Many people, organisations, businesses and government agencies globally are planting trees. All of us are planting trees, but very few are committed to growing those trees.
By growing trees, I am referring to taking the initiative to ensure the trees are nurtured from the day they are planted to maturity and taking account of the number of trees or size of forest cover over time.
The big question is, what is your intention of planting those trees? Is it for posterity and to increase the forest cover or to vaunt the number of trees planted on a particular day? What is your season? If you answer yes to the first two questions, then keep it up. You are on the right trajectory. If yours is yes to the last question, I am sorry, you need to rethink your plans.
We are overlooking the fact that climate action is not a one-off affair. Increasing forest cover takes a willing soul, mind, time and resources, as trees take years to mature. Environmental conservation, thus, is a continuous process.
Unfortunately, tree planting is being used by some heavy carbon emitters to camouflage their actions. The truth of the matter is that most of these companies have no emission reduction road-maps.
This makes me to echo the sentiments of fellow scientists who have argued that planting a zillion trees is not enough to address climate change. Reducing carbon emissions should be given a stronger focus than it is receiving now.
In February 2020, three scientists wrote in the New York Times that "focusing on trees as the big solution to climate change is a dangerous diversion". I concur.
It seems we are strengthening tree planting but forgetting the major cause of global warming–greenhouse gas emissions. We are forgetting that burning fossil fuels releases tonnes of carbon particles into the atmosphere.
What are we doing to the transport sector, petroleum sector, manufacturing, and processing industries that run their turbines on fossils and use chemicals that emit a lot of greenhouse gases?
Are the sectors mentioned paying for their carbon pollution? Do they have plans to flatten their emission curves?
Remember, the global objective is to achieve net-zero carbon emissions by 2050. If we are to meet this target, our priority should be on how human-induced emissions are reduced.
Scientists have pointed out that we will pay heavily for carbon pollution if we do not address the problem now. This means silencing political impediments to the implementation of environmental policies.
It also means not allowing companies to manipulate the society by paying their way out while continuing to inject the killer emissions into the atmosphere.
All said and done, trees absorb significant amounts of carbon from the atmosphere through photosynthesis. As such, no one should be discouraged from planting trees. Go ahead and plant a tree; your effort might just help to save the planet. However, ensure the trees you plant grow to maturity.
Ms Kibii is an environment scientist and consultant. [email protected]