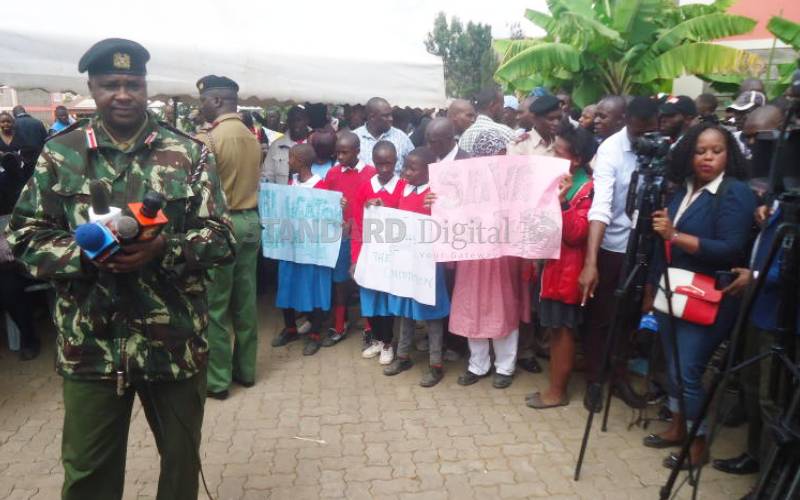 A centre that had been taken over by a private investor has been returned to the community.
The former Mukuru Community Centre (MCC) in Imara Daima ward, Embakasi South, Nairobi, was initially a public primary and secondary school that admitted pupils from around the constituency.
It was later taken over by an investor and renamed Goodrich Schools. The land the school sits on initially housed an administration camp, a church and MCC.
Today, other institutions including a teachers college and private apartments have sprung up on it. The space the apartments occupy was hived off from the administration land and allegedly sold to private developers.
Yesterday, parents and residents joined the local administration, civil society groups and political leaders to witness the handover of the centre back to the community.
Initially, eight classes and a computer lab were built by a local airline as part of its corporate social responsibility initiative but later, the investor built other classroom structures, turning it into a private academy that charged high fees, which residents say they could not afford.
Faced with no place to take their children, most parents resorted to private schools around.
Embakasi Sub-county deputy county commissioner Kenneth Murungi said they have enough documents to show the school was meant to be a community facility and that's why it was renamed MCC.
"The school is one of the structures in this whole land that will be returned to the community. Any other structure apart from the three (church, administration camp and school) is illegal. The exercise to return this school to the community has not started today, but a long time ago and it has not been easy. We have written several letters to the National Land Commission and other agencies. In 2015, we got a response saying the land was put aside for national government administration, church and school," said Murungi.
He added: "We as the security committee in Embakasi have started investigations into how this land was transferred from the community to a private individual. Already, some statements have been recorded and we are also looking for some individuals to come and tell us how they were involved in this transfer. Once investigations are complete, action will be taken." Murungi asked parents and residents to be patient as the transfer process takes place.
Area MP Julius Mawathe said they would not relent in recovering public utility properties in the constituency.
He asked parents and residents to be patient as they work on transfer papers and to get teachers to the school.
Battle goes on
His sentiments were echoed by Pipeline Ward MCA Stephen Gikonyo, who said: "It's not only this school, others are coming back to the community. We will fight to ensure that all public facilities in the constituency are returned to the public..."
Peninah Momanyi, a former parent, said the government should consider returning a mixed or boys-only boarding secondary school for boys since there is already Embakasi Girls.
After the handover, long queues of parents who started registering their children's names as they hope to transfer them to the school were witnessed.