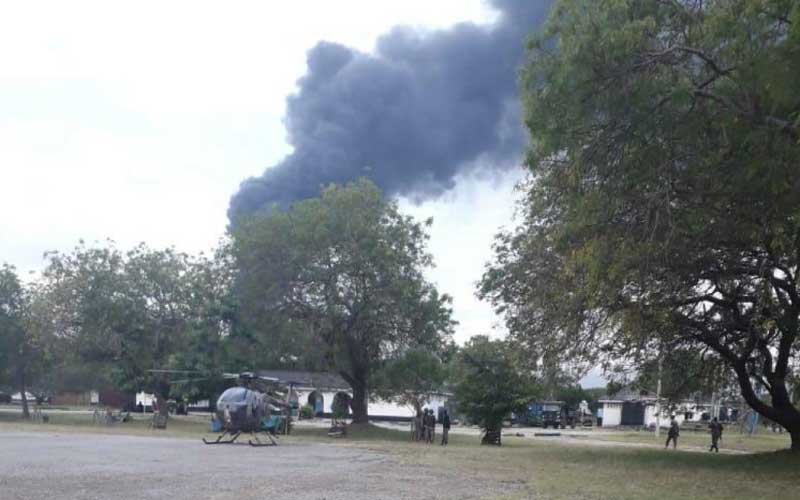 Coast
Heavily armed terrorists invaded the camp early Sunday morning.
Terrorists mounted a Sunday dawn attack on a military base used by both US and Kenyan forces in Lamu County, the Department of Defence (DoD) has confirmed. DoD spokesman Col. Paul Njuguna said they repulsed the Al-Shabaab insurgents who tried to take control of the base through the Manda airstrip, killing four terrorists. He added that the airstrip was safe after the 5.30 am attack. "Arising from the unsuccessful breach, a fire broke out affecting some of the fuel tanks located at the airstrip," Njuguna told us, adding, "The fire has been put under control and standard security procedures are now on-going."
SEE ALSO: Worried Togo finds itself on front line of Sahel's jihadist war
As at 8:00 am numerous witnesses said they could see dark plumes of smoke from the area, with some hearing gunfire exchanges. A security source aware of the incident said two light aircraft and two US army helicopters were destroyed in the attack. "The destroyed aircraft were in irreparable condition hence of zero value to the military forces. Only one of the vehicles affected was in use," he said. The terrorists allegedly cut power to the area before the attack. This has been confirmed by residents of Hindi who have reported power outage. The Kenya Civil Aviation Authority said it has temporarily closed the civilian airport in Lamu to monitor the security situation.
SEE ALSO: KDF kills five Al-Shabaab terrorists in foiled attack on Somali army base
KCAA director-general Gilbert Kibe confirmed to Standard Digital that all airlines had been notified and promised to give more information as they developed. Today's attack comes barely three days after the al Qaeda-linked Islamist
insurgents attacked passenger buses
at Nyongoro near Witu town in Lamu County. Nyongoro falls within a volatile area of Lamu where an insurgency by al-Shabaab militants has spread to since mid-2017. The buses were traveling from Mombasa to Lamu town. Police said the buses were attacked by armed gunmen, estimated to be more than 50, believed to be members of Al -Shabaab's Kenyan cell, Jeysh Aymanare.
SEE ALSO: Al-Qaeda and Islamic State cross swords in Sahel
They forced passengers out of the buses, profiled them on the basis of their religion, and
shot dead those from the Christian faith
. There has been uncertainty over the
number of people killed during the Thursday attack
but law enforcement officers said three passengers were killed and another three injured. Yesterday, Government Spokesman Cyrus Oguna
said the ambush was an isolated case
, adding that the roads were safe and other socio-economic activities in this region were going on as usual. "The security situation in the country is stable and the government wishes to assure the public that security has been beefed up in areas that may have experienced incidences on insecurity. Such areas include Lamu, where there was an attack on public transport vehicles three days ago," he said. He also said that there were five attackers. Four of them were all rounded up and killed, while one of them was arrested and is helping with investigations.
SEE ALSO: Venezuela says it foiled an incursion by 'mercenaries'