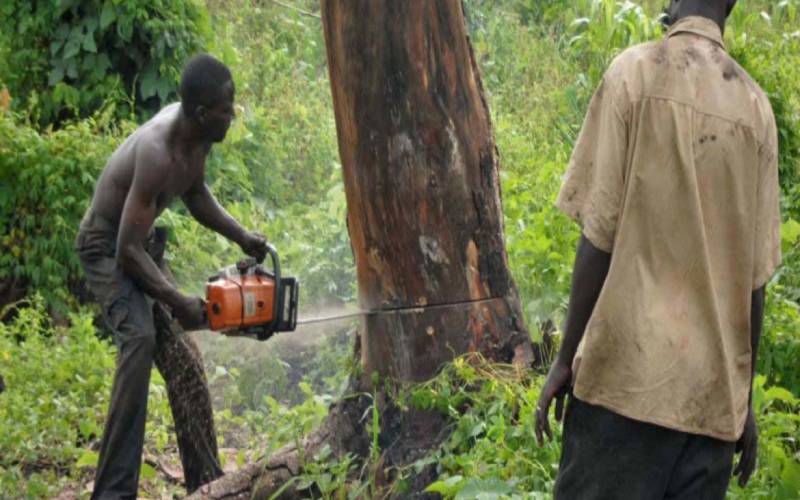 Sawmillers who were sharpening their blades ready to descend on public forests have hit a snag.
This is after Environment Cabinet Secretary Keriako Tobiko extended the ban on logging from Sunday to a year later.
Tobiko made the announcement today in a press statement sent to newsrooms.
"The moratorium imposed by the government on logging in Public and community forests has been extended for a further period of 12 months," he said.
This is the second time he was making such an extension. He first extended the ban which came into force on February 24, 2018 in November 2018.
CS Tobiko said that the extension of the ban will pave way for a multi-agency team to map and verify mature forest and ascertain which of the plantations are prime for harvest.
The task force will conduct the inspection in four months, Tobiko noted.
"A multi-agency team shall be constituted to among others undertake an independent mapping, verification and valuation of all mature ad over-mature forest plantations and submit its report to the government within four months," he said.
Last year, Tobiko said the extension was aimed at rehabilitating forests and also to pave way for the overhaul of the Kenya Forest Services (KFS) management.
"The extension will allow scaling up of tree planting campaigns that aim at achieving a ten per cent forest cover by 2022," he said.
Since the ban on logging and extraction of timber in all public and community forests came into effect, wood has been scarce, causing a ripple effect on the construction industry.
Prices of the now-scarce timber have skyrocketed with industry players saying it could go higher if the ban is not lifted.
There are already indications that CS Tobiko will not lift the moratorium if the desired 10 per cent forest cover is not achieved.