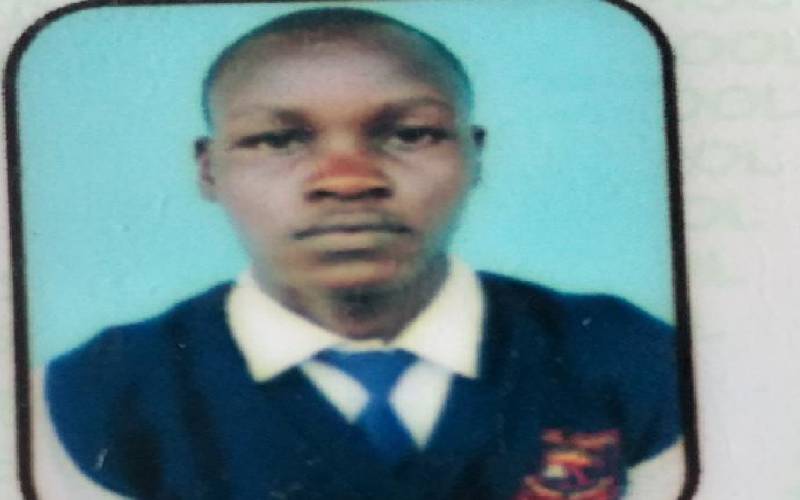 The police in Kisumu are investigating claims that a KCSE candidate died after he was attacked by guards and his colleagues. Stephen Olouch (pictured), from Joel Omino Secondary School, died at Jaramogi Oginga Odinga Teaching and Referral Hospital (JOOTRH) on Friday last week, three days after he was admitted to the ICU. The boy's mother, Philgona Adhiambo, claimed her son was assaulted for failing to pay school fees.
SEE ALSO: Big loss for Nyanza hockey giants as Term I school games fate unknown
"He had been sent home over school fees. I had just bought him a few things he needed for the exams. I took a vehicle to our rural home in Ahero as he headed to his brother's house in Nyalenda Estate where he lived," she said. She said before reaching home she received a call informing her that her son had collapsed. Ms Adhiambo wants an autopsy carried out to determine the cause of her son's death and the perpetrators brought to book. She said the school management had sent her son home over fee arrears, just two weeks to exams. "Since we had no money, Oluoch decided to return to school hoping to plead with the management to let him sit the exam and clear the fees later," she said.
SEE ALSO: For flood victims, it's a long wait for 'normalcy'
However, Oluoch is said to have been denied entry into the school by the guards who told him the principal, Mr Richard Nyayal, had ordered them not to allow in any student with fee balance. Oluoch reportedly tried to force his way into the compound and this led to a scuffle with the guards and he was severely beaten forcing him to flee. He ran and hid in a classroom. A prefect then ordered him out because of the order the principal had issued on students with fee arrears. "Oluoch confided in me that the angry prefect, banging his locker, shouted that his fees balance could feed the whole school for the remainder of the term," said Samwel Omondi, Oluoch's elder brother. This did not go down well with Oluoch who is said to have attacked the prefect. This attracted other prefects who landed on Oluoch with kicks and blows. That is when one of them reportedly attacked the boy with a piece of wood, inflicting serious injuries.