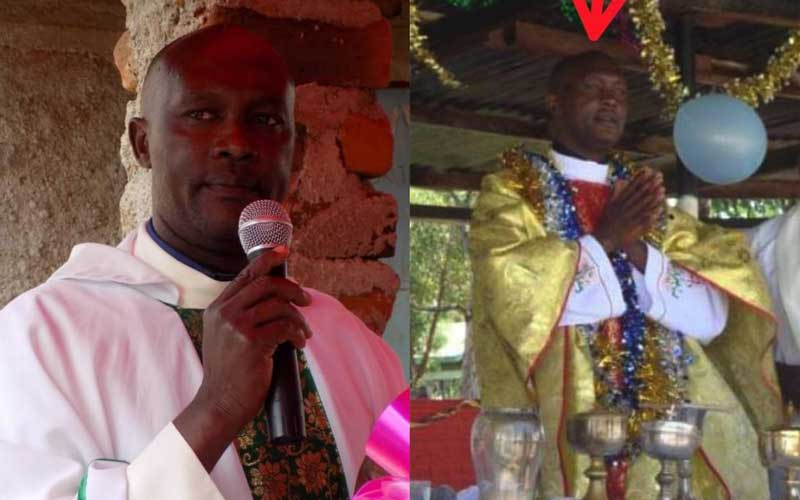 Eastern
Detectives are now considering a second round of examination on the cleric's body to confirm if there was any intercourse.
Investigations into the murder of Catholic priest Michael Kyengo took a dramatic twist yesterday when a prime suspect said he had been in a romantic relationship with the cleric. The fresh claims by the 25-year-old nursery school trained teacher have sent investigators back to the drawing board, a day after a postmortem examination on the priest, confirmed that he died of stab wounds. Kyengo's body was discovered buried in a shallow grave on Wednesday, eight days after the priest was reported missing from his Matungulu home in Machakos County. Last evening, detectives from the Special Crime Prevention Unit and the DCI homicide unit were yet to make a decision on whether to conduct a second postmortem to confirm claims of the romantic relationship.
SEE ALSO: Police revisit Kenei's house
"Just like in cases where claims of sexual nature are made, we are considering a second round of examination on his body to confirm if there was any intercourse," a source familiar with the probe said yesterday. Forensic examination of the suspect's mobile phone has further reinforced his claims after the police discovered romantic text messages alleged to be between the preacher and the male teacher. In one of the conversations seen by the
Saturday Standard
dated October 6, the two referred to each other in romantic terms of "Hi dear" and "hi my love". Special Crimes Prevention Unit officers on Thursday travelled to Gaitegi village in Embu County where they confirmed that Kyengo was killed inside a rented house belonging to the suspect. Police recovered a knife from a pit latrine in the suspect's home. This is the knife police believe was used by the killers to slit Kyengo's neck as well as stab him twice in the stomach.
SEE ALSO: Police, Anwar Loitiptip conflict over killing of senator's father by officers
Close contact
Police have also gone out of their way to ascertain the behaviour of the man from villagers. The sources said Kyengo and the suspect have known each other since 2008 when they first met at a seminary in Machakos County. They have maintained close contact since then. A villager told the police that the suspect is a staunch Catholic, and a member of the local church choir. The teacher who is not married is said to have turned to trading in cereals after failing to secure a teaching job. On Thursday, police arrested a motorbike operator in Kirinyaga over the murder.