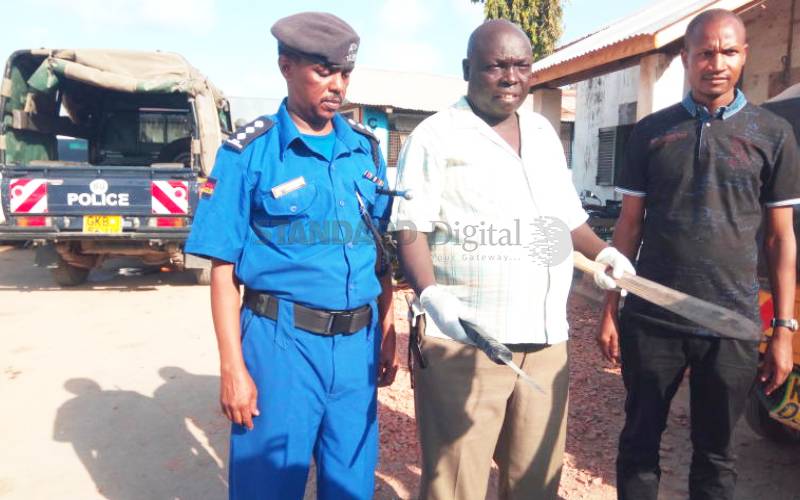 Coast
Abdallah was among 15 convicts jailed over criminal activities including robbery with violence.
Security officials have raised the alarm over the rising number of minors engaged in crime. This comes even as police shot dead four suspected criminals and arrested 306 others in Mombasa County alone in the last two weeks in renewed war on crime. Addressing the public during the International Day of Peace in Kisauni on Saturday, Mombasa County Commissioner Gilbert Kitiyo said the Government was committed to ensuring that Mombasa retains is status as a peaceful destination where tourism thrives. On Sunday, police in Likoni gunned down a released prisoner described as a violent and recovered two machetes from him.
SEE ALSO: New twist in Mombasa tycoon's property dispute
Five other suspects escaped with bullet wounds in the 2pm incident in Mtaa wa Maka. Police said the slain suspect, Abdallah Vumbwe, 26, was recently freed from Shimo la Tewa Prison after serving five years for robbery with violence. Abdallah was among 15 convicts jailed over criminal activities, including robbery with violence. Yesterday, Kitiyo said the Government will flash out all criminal elements, including the juvenile gangs. "Recent waves of insecurity have robbed the city of employment opportunities since investors feared for security as tourists were scared by reported crime," the administrator said.
Rob civilians
SEE ALSO: Ten lessons we have learnt from pandemic
He noted a group of minors were last Friday arrested in Likoni and school-going children were found with machetes and knives which they used to rob civilians. He said a majority of criminals were minors, noting that a group of teens between 18 and 14 years were arrested with weapons in Kisauni. Kitiyo challenged teachers to be on the lookout for children who have money for luxurious lifestyles and report them to police. He called on the public to protect themselves by whichever means. "I am not saying you take the law into your hands. If you encounter a criminal or they invade your home, protect yourselves then call the police to come and carry on with the remaining part," Kitiyo said.