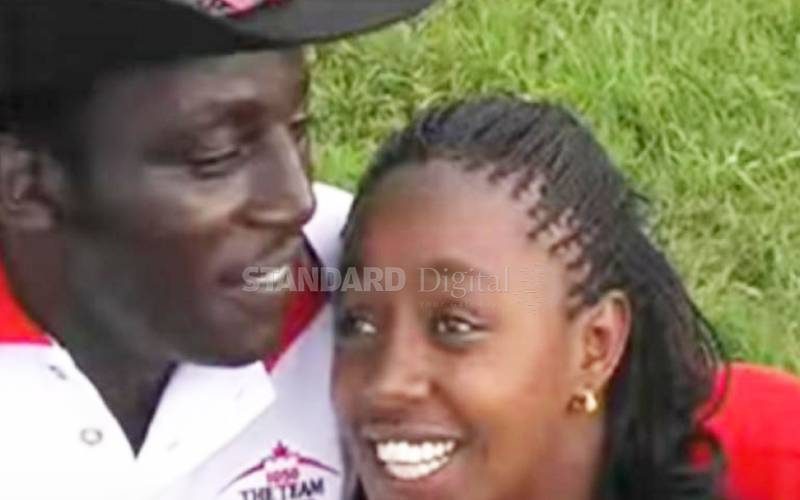 A small village, tucked between two valleys in Murang'a and which was initially a forest, is where Kikuyu Benga maestro John Mwangi alias DeMathew, who died on Sunday night, sweetened his voice. Gathiruini village, a place named after a forest of
ruthiru
(fern) in Gatanga, is a cold place. This is where DeMathew started his Benga music and would sing out his heart including his love life, politics and advice for decades. He was fifth born child of Lucy Wanjiku and Mathew Nganga. His first hit song as narrated by George Waweru, his age mate, was
Rekerieria Wendo
(
Release Love
) which was a dedication to a village girl he was in love with. He sang the song sometime in 1987 after his relatives dissuaded him from pursuing the girl who would later marry a cousin in the same village. The video of the song was to be later shot at a small well which is downhill from his home. "I was his age mate, a friend and a classmate. His first song was released in 1987. I remember it because we had a fight some metres from his home. If you listen to the song he mentions me saying" George we were beaten." This was a song dedicated to a girl who married a relative," Waweru told
The Standard
. He adds that DeMathew means son of Mathew. He later sang
Peris Nduku,
a girl who in the song gave him the last kiss before she died. In the song, DeMathew sings that they were involved in an accident on their way to introduce Nduku to his parents in Limuru. She was rushed to Agha Khan Hospital and where she died. The woman in the song was fictitious. "People thought I was an artist too, but our friendship was such that we were always together. I have lost a brother," he said. Gregory Mwangi, a village elder, told
The Standard
that DeMathew was like a Kikuyu prophet. He said that the he was different from other artists as his words would eventually come to pass. The 81-year-old man said he was to take up Joseph Kamaru shoes as the king of Kikuyu music. He, however, pointed out that the two had different paths. Kikuyu artist Daniel Kamau wa Maria (DK wa Maria) praised DeMathew for lifting his village's name. According to DK, at the time he started singing, in 1980s, guitars were associated with 'thugs'. "We came from a hard and uncertain time where anyone who saw you with a guitar thought you were a thug. We grew together and that is how we all became famous," said DK. DeMathew's brother Evans Mburu said that away from fame, his brother was a humble and calm father of four. "We loved him and will remember his songs and his advice as our elder," he said. Demathew's love life was open to his family and village. Those who knew him say he lived a polygamous life. He was married to Sabina Wairimu and Caroline Waithera. We inquired about his relationship with Murang'a Woman Representative Sabina Chege. Those who spoke said they were married for three years before parting ways. "Maybe others might show up. That is a life of a musician. I think you go to a place to sing and get happy with a girl. Sabina lived at DeMathew's home in Gathiruini sometimes in 1995 or thereabout," said Stanley Maina, a villager who claimed to have known the two. According to Maina, Demathew's song
Njata Yakwa
(
My Sta
r), which Sabina is featured in the video (pictured), was an expression of love for her. "We recognise the two wives, Mama Shiku (Wairimu) and Waithera. His two wives are known and we have talked to them. Everyone knows that he has two wives and they will not fight," said Mburu. Area Member of Parliament Nduati Ngugi said that DeMathew was a star of Gatanga. "We had Gatanga Night where he would sing until late," said Ngugi.