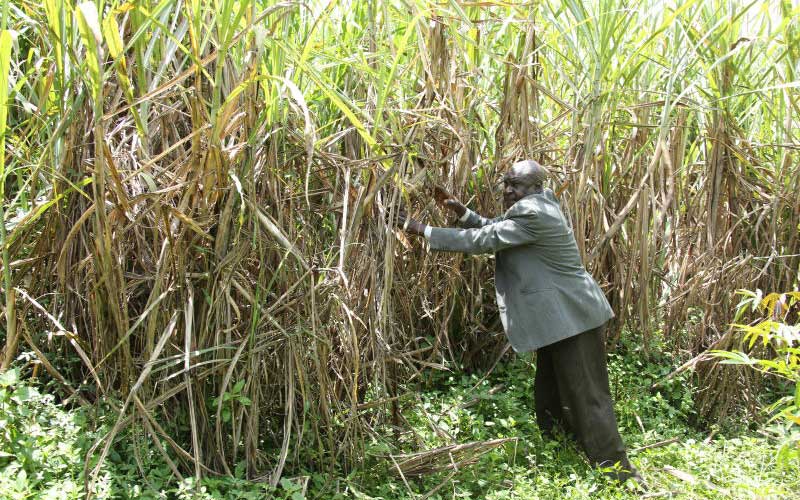 Kenya
Recommendation: Report wants millers banned from importing sugar
The sugar sector continues to sink deeper into the mire as the country awaits the salvage plan mooted by President Uhuru Kenyatta's task force to be implemented. The report was expected to be released this month but farmers are not keen because many reports produced over the years, some recommending full privatisation of the state-owned sugar companies, were never implemented. The fact that farmers commissioned their own parallel task force to collect and collate views and present the same to the President explains the level of confidence they have in the government's commitment to revive the ailing sector. The farmers-led initiative, named Kenya National Alliance of Sugarcane Organisation (KNAFSO) chaired by former Kenya Sugar Board chairman Saulo Busolo, engaged in public participation between January 28 and February 7, 2019 when the team visited all sugar zones.
SEE ALSO: Leaders protest illegal sugar imports as AFFA remains mum
Append signature
"It was argued that farmers were not well represented in the President's task force because apart from Agriculture Cabinet Secretary Mwangi Kiunjuri and Governor Wycliffe Oparanya who were co-chairpersons, the committee was full of government bureaucrats speaking to themselves," says Busolo. Their fears have been lent credence by a protest letter to Kiunjuri from the sole farmers' representative in the committee, Francis Waswa, formerly of Nzoia Outgrowers Company (NOCO), who claimed that farmers views were not captured in the final report. "I find it difficult to append my signature to the report in the current form as a farmers' voice on the Task Force, unless it is withdrawn and amended to capture the views submitted by stakeholders," he wrote. He asked Kiunjuri to ensure "true views and interests" of stakeholders are taken on board in the best interest of the long suffering sugarcane sector. A decade ago, sugar was a strategic agricultural commodity in Kenya after tea and coffee, supporting over five million households and pumping in excess of Sh3 billion to the exchequer in 2001. The sector was also a major source of employment, developing rural roads infrastructure, model schools and education and sports facilities, especially in Western Kenya.
SEE ALSO: Lobby wants sugar import licences revoked
The sugar industry provided raw materials and inputs to subsidiary industries in the manufacturing sector and was a major factor in poverty reduction, a scourge that has crippled once proud farmers and their families now turned into beggars, waiting for up to four years to get paid. It has long been argued that the salvage of the sugar sector has never been a priority to corruption cartels and their sidekicks in government whose interest has always been to rake in billions from cheap imports at the expense of the poor farmers. The joke goes that a few years ago Agriculture ministers and other top officials were proxies of cartels in the sugar importation business, making sure the commodity was always available in the high seas before triggering the Comesa imports quota. Under the Common Market for East and Central Africa (Comesa) agreement, Kenya is entitled to import 300,000 metric tonnes of sugar from the region at subsidised rates within specified renewable periods.
Cartels
That was the window cartels and government ministers would abuse until it hit a new high, where the Treasury repeatedly scraps duty on imported sugar from outside the Comesa region for cheap commodity from Brazil and other countries to flood the market.
SEE ALSO: Cane farmers push to get pay within 7 days
In October 2017, Justice Chacha Mwita suspended a notice issued by Treasury Cabinet Secretary Henry Rotich allowing the importation of duty-free sugar from outside the Comesa market, a move that was hailed by farmers. That was after activist Okiya Omtatah moved to court to stop Rotich from extending the worldwide import window he had opened in May 2017 to August, only to trigger the new one starting on October 4 the same year. Not to be outdone, sugar companies had jumped on the gravy train and stockpiled cheap imported sugar that they were refining in their factories and off-loading into the market as it emerged last year when it was found that most of the commodity was unfit for human consumption. The current two-year Comesa quota agreement will run out in July 2020, but as has been the case over almost the last three decades, it will again be renewed because the expected reforms and improved production from the country will not have been met. Although the Kiunjuri report has not been officially released by the President, it recommends banning of millers from importing sugar and cane poaching by sugar factories. It says: "We need clearly defined guidelines and regulations for sugar imports and exports to curb excessive importation and ensure a stable market. Millers should not be licensed to import sugar because of conflict of interest." The parallel task force has recommended that there be a more predictable and transparent process around sugar imports and that some of the funds raised from tariffs, auction of quotas and import levies be directed toward improving the industry.