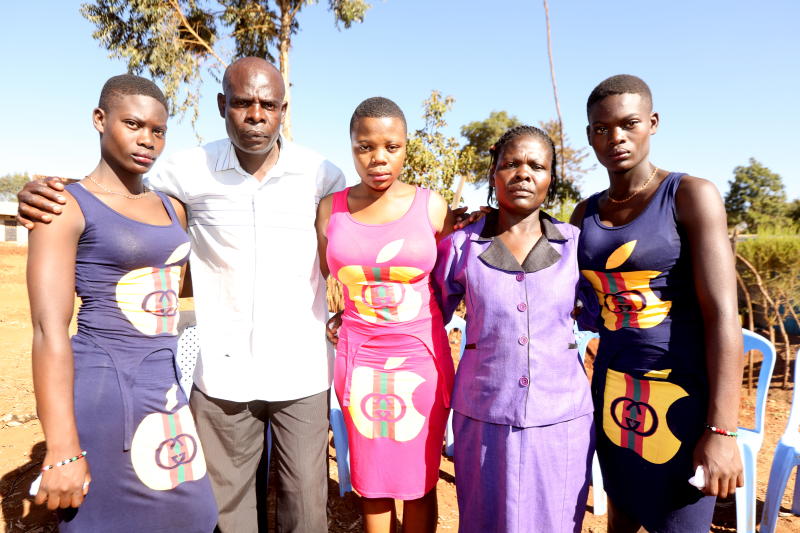 As the curious case of Sharon Mathias and Melon Lutenyo continues to unfold, there is little hope that the hospital where the identical girls were born will help unlock the mystery. Kakemega Health Executive Rachel Okumu yesterday said they had launched investigations to ascertain the truth. "It is true the girls were born at the then Kakamega District Hospital (now county referral hospital) in 1999 when it was still under the national government," Ms Okumu said. The health officials said she had formed a committee to check hospital records and compile a report that would be made public once investigations were over. "We are hoping to get the information intact, but we are not sure if we will get it. Normally, health records for patients are kept for between six to eight years and then disposed. The case at hand happened 19 years ago," said Okumu. Any records, she added, would reveal the names of the nurses who handled the delivery and how the infants were discharged from hospital. "If we ascertain that the officers on duty engaged in clandestine activities in separating the twins and giving them out to two different parents, stern action will be taken against them whether they are still in service or have retired. We are also waiting for DNA results before making a decision." The Directorate of Criminal Investigations (DCI) also waded into the story that has captured the nation's attention for the last four days. "The attention of the DCI has been drawn to the highly publicised story of the Kakamega twin puzzle. We believe forensic investigation will establish if any criminal act was committed, or any mitigating circumstances that may have led to the present status," the DCI posted in its official Twitter account.
DNA test
The Kenya Medical Research Institute has offered to conduct DNA tests on the three girls and their parents to help resolve the matter. All the parents have publicly stated that they will respect the test results as long as they are conducted by a credible organisation. Since the news broke on Tuesday, locals have been thronging the home of Richard Olukhakha to catch a glimpse of the girls. Residents yesterday said they were planning a celebration for Sharon if the DNA test confirmed that she is Olukhakha's daughter. "We are waiting to know the results. If it is true that Sharon is one of our own, then expect a grand fete befitting the reception of a lost person who has resurfaced after 19 years," said Joseph Opanda, an elder. He also called for professional counseling for the teenage girls and their parents, warning that the process may have far-reaching implications for both families. "I have lived here for several decades, but I have never witnessed an incident where identical people met in such circumstance," Opanda said. Olukhakha's mother, Salome Nekesa, said: "The family is ready to welcome my granddaughter anytime as soon as we establish the truth." Olukhakha said that after living with Sharon for four days, he was sure that she was his biological daughter. "I have a strong feeling that she is my daughter and nothing will change even after a DNA is done," he said, adding that the hospital records, if available, would reveal what had occurred. He also said he had been unable to travel to Kakamega town to the DCI offices due to lack of transport. Lurambi MP Titus Khamala, who said he has been paying for Sharon's education for about three years, said he was shocked to learn about the student's search for her parents. Mr Khamala told The Standard on the phone that a DNA test would end the puzzle. He said he knew about Sharon through her mother's relatives during the burial of her maternal grandmother in Emasera, East Busoso. "I heard about her plight and decided to sponsor her education. She is a bright girl who is the head girl in her school. I hope she gets to know the truth," said Khamala. Following the upheaval of the last few days, it is clear that life will never be the same for the two families. Olukhakha and his wife Rosemary Onyango raised 19-year-old Melon and Mevies as their twin daughters alongside eight other siblings. And in Nairobi, Omina and her husband Cosmas Mathias were busy raising Sharon and her brother. That was until things began to unravel last year when a series of events drew two girls, who are the spitting image of each other, together. Melon, a Form Four student at Friends Secondary School Kongoni, began suspecting she had a sister. She had gone to Shikoti Girls Secondary School where Sharon is the head girl and heard other students marveling at how much they looked alike.
Girls' destiny
But Melon insisted that her sister (Mevies) was at Kimosin Girls. Destiny, however, appeared determined to draw the girls closer when another event presented itself. This time, Melon's teacher went to Masinde Muliro University of Science and Technology for a motivational talk. The teacher saw Sharon and was struck by how much she looked like Melon. On another occasion, Melon's father, Richard, saw Sharon at a bus stage in Kakamega and wondered why his "daughter" did not respond when he called her name. She instead accused him of attempting to kidnap her. Melon and Mevies later struck up a conversation with Sharon on Facebook and agreed to meet. On Tuesday, the three girls traveled over 400 kilometres from Nairobi to Likuyani where their emotional meeting set tongues wagging. The girls' story started at the district hospital nearly 20 years ago when their mothers went into labour. Rosemary is said to have delivered her baby girls (Melon and Mevies) on August 15, 1999 while Angeline is said to have delivered Sharon on August 13. Rosemary, however, said she was convinced Sharon is her daughter. "Their faces are so identical that I find it difficult to differentiate between them. Their voices and way of reasoning are also similar," said Rosemary, who has been hosting the girls since they arrived from Nairobi. She also says she discovered they have similar likes and dislikes for certain foods. Rosemary also said she had reached out to Omina and that both families had agreed to abide by the results of the DNA test.