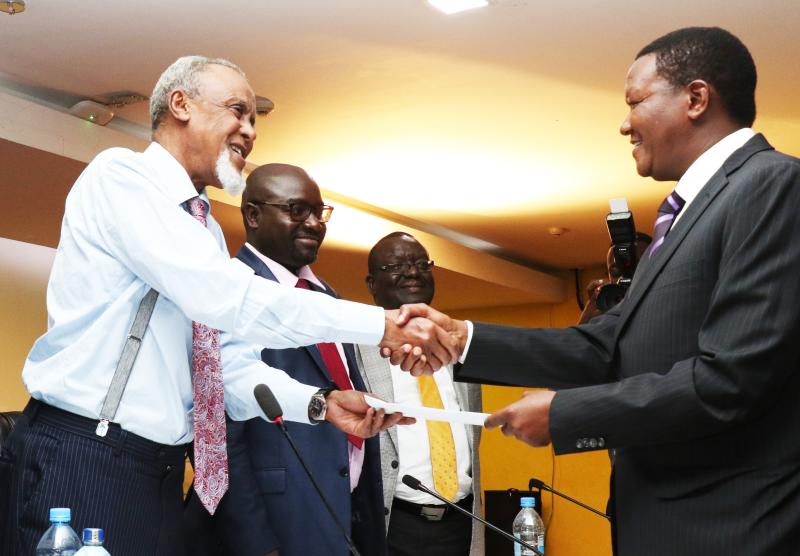 A ruthless approach to tackling corruption, overhaul of governance system and reducing the size of Parliament, are key constitutional reforms proposed by political parties. Kanu, Maendeleo Chap Chap and Narc Kenya have recommended tougher measures to deal with runaway corruption, including amendment to the law to eliminate the option of a fine for graft lords, in submissions to the Building Bridges Initiative (BBI) team in Nairobi yesterday. Kanu, the independence party now led by Baringo Senator Gideon Moi, called for a British-based parliamentary system of government with a ceremonial president and a powerful prime minister, saying the current winner-takes-it-all system was the root cause of violence during and after elections. "We should also have ministers coming from MPs as the current technocrats have exhibited lack of understanding of key issues that affect Kenyans. They (Cabinet secretaries) today are living in glass houses and don't know how to execute government policy," said Kanu Secretary General Nick Salat.
SEE ALSO: Saba Saba: Activists raise red flag
Maendeleo Chap Chap leader, who is also Machakos Governor Alfred Mutua, rooted for an expanded Government that has an Executive President - elected through universal suffrage with a clear majority of 65 per cent, deputy president, Prime Minister and two deputy prime ministers with a strong Opposition leader at the rank of a premier. "The President should be both head of State and government. We propose the president, prime minister, deputy president, two deputy presidents to run on a joint ticket and come from different regions. All should also be allowed to vie as MPs or senators. The leader of Opposition should be facilitated and be on the same level as prime minister," said Dr Mutua. But to tame the public wage bill for State officers, Mutua proposed the scrapping of Women Representative position in the National Assembly. He, instead, proposed having a woman-only constituency in every county, and abolishing of all nominated seats. "This will reduce cost of running government, reduce the number of MCAs by half and some constituencies set aside by law to be solely reserved for women," Mutua said. Narc-Kenya chairperson Martha Karua called for proportional representation (PR) to ensure political party lists have the face of Kenya and leaders pledge allegiance to the country and not a specific region because they are a product of national, not regional, vote.
SEE ALSO: Men and women who will now shoulder weight of BBI report
"PR will grow parties in content and structure and cure the current burden of six elections in a day since the voter will cast her vote once. Political parties will provide zebra lists with names that will alternate between the two genders," Karua submitted.
Stricter measures
The party leaders demanded stricter measures to curb corruption that they linked to undermining development. The independence party called for national, regional and international interventions to deal with corruption. "Let Kenya enact the UN Convention against Corruption (UNCAC), which came into force in 2003 to deal with economic, electoral, political and judicial corruption," Mr Salat said. He said enacting the treaty would bind Kenya to implement anti-corruption measures focusing on prevention, law enforcement, international co-operation, asset recovery, technical assistance and information exchange.