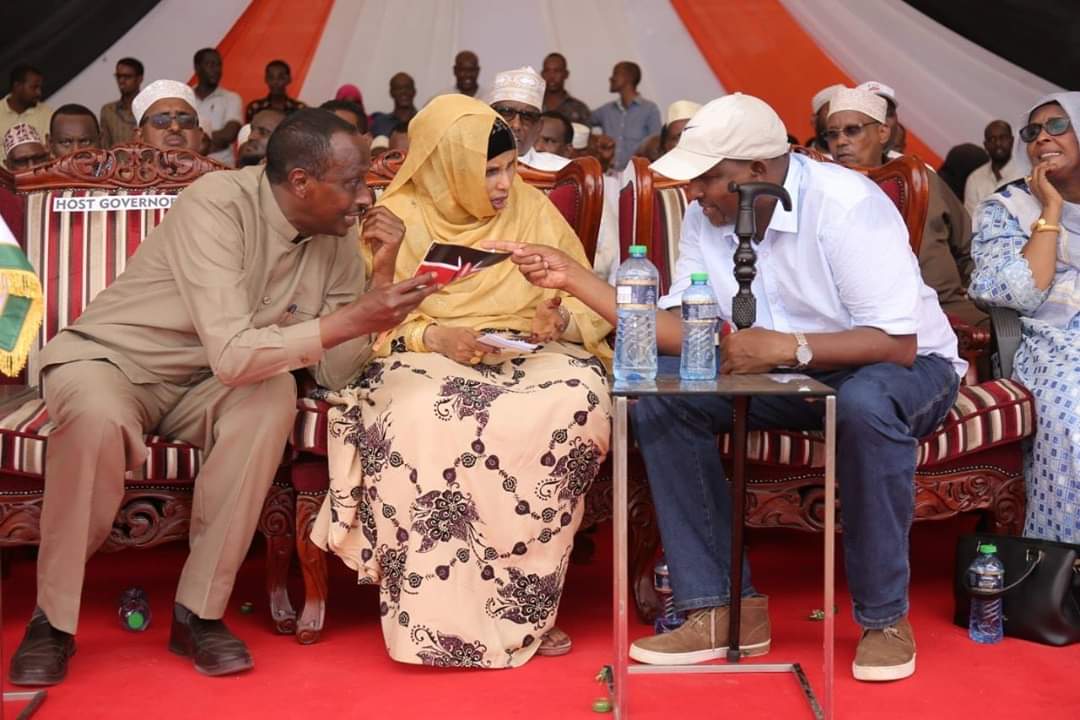 North Eastern
Majority Leader Aden Duale said the unity of Wajir is paramount to that of the North Eastern regional block and the disunity exhibited on media is a t
Leaders from the pastoralists community spread the Building Bridge Initiative in Orahey Grounds Wajir after the County political elites were divided in the 2017 general election that was followed by looming court battles. Wajir Governor Amb Mohamed Abdi has reiterated that he will keep trying to invite former Governor Ahmed Abdullahi, Party of Democracy and Reforms gubernatorial aspirant Ahmed Muhumed and Wajir County Women Representative Fatuma Gedi who are split from the county leadership. "I call on my predecessor Ahmed Abdullahi for a 'handshake', and I am ready to work with him so that we will be able to create prosperity in our county," Amb Mohamed said. Abdi also urged the people of Wajir to forget about the 2017 elections and become united for the greater good of the county by bringing people of Wajir and their leaders together after a prolonged court battle.
SEE ALSO: Referendum still on, says Atwoli
Majority Leader Aden Duale said the unity of Wajir is paramount to that of the North Eastern regional block and the disunity exhibited on media is a threat to the aspiration of the region that lagged behind for ages since independence. "I thanked the people of Wajir for their prayers and tolerance while awaiting the Supreme Court verdict and now it's time for Wajir Governor Mohamed Abdi to bring everyone on board," said Duale. Mohamed Abdi said his government has constituted the Ward based projects which has seen Sh700 million gone to the grassroots projects chose by the people, now ranging from water provision and healthcare which is severe to the resident of Wajir County. The event was flanked by Turkana Governor Josphat Nanok who termed as fake news reports that his people were dying of hunger and starvation due to the biting drought. "If the leaders of Wajir are not united while leaders from other regions are skimming ways to reduce the funds coming to these regions then we must not have outlanders in our midst to win big," said Nanok.
SEE ALSO: BBI: Irony of plan meant to unite Kenyans causing team headache
Mandera Governor Ali Roba said the Building Bridge Initiative is not sincere quest since it's coupled with cheap politics to oust Deputy President William Ruto instead of bringing every group together. "Building bridges Initiative should not be used to build bridges on one side and to destroy bridges on the other side. Let's be sincere on the quest to unite Kenyans," said Roba. Eldas legislator Aden Keynan called on President Uhuru Kenyatta to deliver to a generator for Kenya Power that he promised Wajir residents last year. He added that the residents are still subjected to power blackouts which hamper businesses and breeds insecurity in the County. Wajir residents from all walks attended the colorful event with some saying it's historic now that it brought leaders together.
SEE ALSO: How virus stopped reggae and could change course of politics
"We want Wajir Governor Mohamed Abdi to be given time to deliver his campaign manifesto as now the court battles are behind him. We have full trust in your administration and grateful for the much achieved in the tight-lipped reign," said Abdille Abdirahman, Businessman from Wajir West. Governor Mohamed called on the Wajir residents to sleeve up and work to build the economy of Wajir County promising increasing parameters to prosperity from his administration. "We will give opportunities to our business community, empower youth, women and person with disabilities and help our business people to build our economy. The mantra of build Wajir buy Wajir is the cornerstone of my leadership," said Mohamed Abdi.