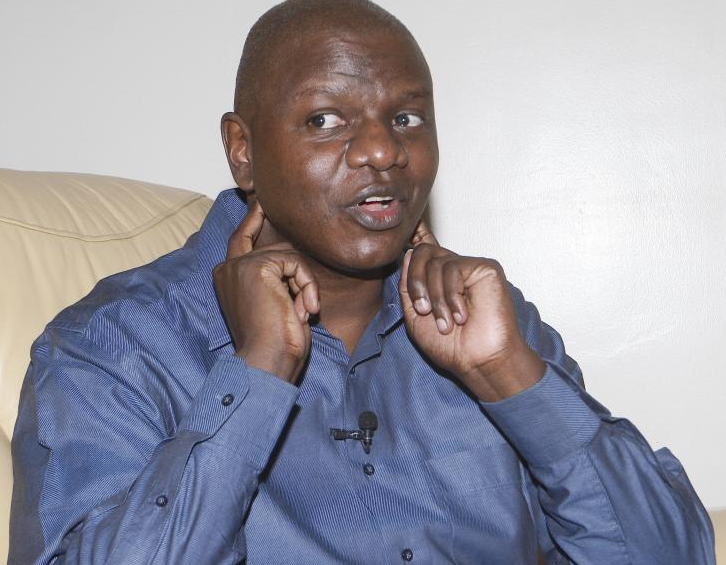 It's a Sunday morning when we saunter into KTN News main studio. There is a political discussion on air. The guests look like they are not sure if the person they have seen is who they think he is.
It is Louis Otieno. And the nostalgia in Louis' face is palpable.
"I was last here in 2012 during the run-up to the General Election," Louis recalls. "It's like I have been given my life back. You know, before it was like I was in a vacuum. Things used to just pass me."
Six months prior to this, the story that we narrated was different. We met a Louis Otieno who had given up on life. His appeal to the public to help him get his hearing back was his final shot at hope.
"What I did on TV was a national duty to the public. I thought if that meant something to the public, if it had any value, then maybe they could help me," he says.
His plan, like those of many other Kenyans who try everything possible up to a point of despair, was to raise money and travel to India and get a cochlear implant surgery that would hopefully open the world back to him.
Many who worked with Louis remember him as a proud man. When they saw his appeal for help, even breaking down on national TV, they were in shock. Had this experience brought Louis to his knees, feeding him a dose of humility?
Prof Macharia Muthure, a consultant Ear Nose and Throat (ENT) surgeon with many years of experience, heeded Louis' call and rallied his team to review the man who once graced their TV sets, interviewing powerful personalities and shaping conversations in Kenya.
Nothing much happened during the first clinic visit, where Louis was accompanied by his sister. The doctor listened to his story and reviewed his previous tests. He determined that he needed only two final scans to make a final decision. On the second visit, the doctor had some good news.
"I have examined Louis and he has sensorineural hearing loss. We have also reviewed his scans and found out that his cochlear is open. We have determined that he is implantable," said Prof Muthure.
This information did not seem to wow Louis, probably because he had been given hope before, only to be disappointed. He had tried many types of hearing aids that cost almost half a million shillings. At the end of it, not only had he lost his hearing, but also the little money he had saved up.
"Let's see how this goes. I will do what is required of me," he said, almost not believing his own words.
This visit was at a cochlear clinic where Prof Muthure introduced Louis to part of the team; another ENT surgeon, Dr Mujahid Din, the audiologists and speech therapists.
"We came together as the Cochlear Implant Group of Kenya (CIGOK) four years ago after some of us trained ourselves both locally and internationally," Dr Din said of the team. "So far, we have seen about 30 patients."
The obstacles
"Once we do the cochlear implant, he has to wait for four weeks for what we call the 'switch on'. What switch on means is that we take the external processor called a speech processor," Dr Serah Ndegwa, the consultant audiologist, explained.
"It's like learning to listen. We train the brain to listen again, not his ears," said Grace Macharia, the speech and language pathologist.
All this while, all communication with Louis was slow and in writing, something we had all gotten used to.
The audiologists explained how the cochlear implant worked and what their role was, particularly with this 'switch on' that they had kept making reference to. "This is mapping of the device so we can get the frequencies that work for him - neither too low nor too high," said Dr Ndegwa.
"Patients who have had a cochlear implant say the sound is robotic or mechanical, but that is what will be his new normal."
Louis was very hopeful after this visit. But one thing stood between him and the possibility of hearing again, money. He needed Sh2.6 million to get an implant in one ear. He had no such money.
Luckily for him, the M-Pesa paybill number was active each day. By the time he was doing the clinic visit in March, he had Sh1.7 million, and old friends were re-emerging from the past to make up for lost time in cash.
Fast forward to June 23. His surgery day, after being postponed twice, was finally here.
"There is a lot going on through my mind right now," he said, an aura of uncertainty mixed with anxiety written all over his face.
"I'll go in there and hope for the best. But I am glad I am doing this at home. It would be difficult if I was out of the country. I am looking forward to a chance to get back on my feet. My highest expectation is that this will work. This (deafness) stops you," he stated.
At 5pm, Louis was wheeled into the operating theatre. Three hours later, the theatre doors opened and the joy on the surgeon's faces was unmistakable.
"Everything has gone according to plan," Prof Muthure said. "We tested the implant and we are certain that everything went well."
Louis' tale was however different. He was a man in pain. The bandage wrapped around his head that seemed to hold everything in place did not seem to help much.
"I wasn't prepared for the pain," he recalled four weeks later as we met again en-route to the doctor's office for the D-Day, the switch on.
"We will do mapping, then when we go live. I will let all of you know," said Joseph Ayieko, the audiologist.
Louis' friends, wife, son and daughter accompanied him on this day. Everyone was eager to see the outcome of the switch on.
Louis suddenly lost his hearing two and a half years ago and everyone was hoping that just as he had lost his hearing, he would get it back.
"It is hard to keep optimism over such a long time," his son Sean Otieno later said.
When the moment came, Ayieko just said, "Hello" and Louis cringed. It was too loud for Louis but for everyone in the room, it was a moment of celebration. The whole room with 11 people breathed a sigh of relief as some clapped, some went down on their knees and others stared in disbelief, dumbfounded.
Louis could hear!