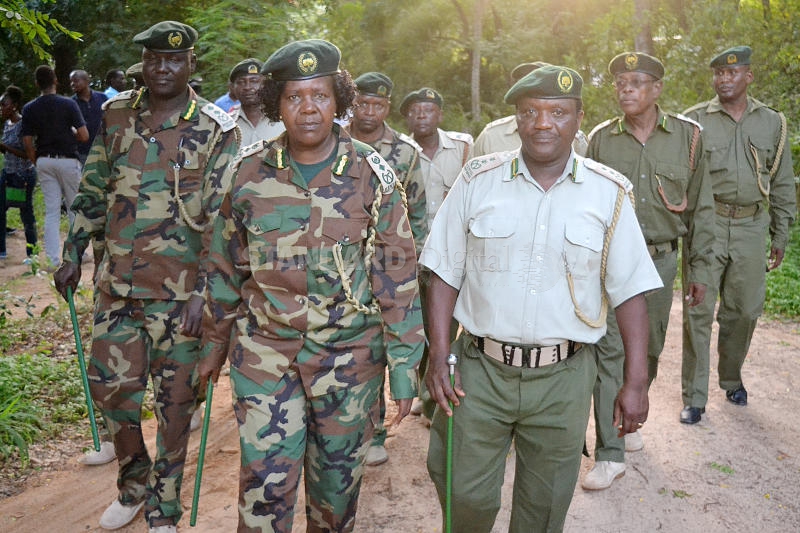 Residents of Magarini have pleaded with the Government to allow them move thousands of bags of charcoal from collection centres.
The charcoal has been lying at the centres and cannot be moved because of the ban on charcoal burning.
Yesterday, residents of the expansive Dakatcha Woodland said they would not engage in charcoal burning, but pleaded to be allowed to transport what had already been produced before the embargo came into force.
Kenya Forest Service (KFS) officers have launched a massive crackdown on charcoal burners and traders, arresting more than 20 in the past two weeks.
The forestry officers have also destroyed more than 1,000 bags of charcoal since the operation was launched by KFS Chief Conservator Monica Kalenda in Malindi last month.
Marafa MCA Renson Kambi, Magarini Charcoal Producers Association and transporters all pledged to support Environment Cabinet Secretary Keriako Tobiko's directive during World Environment Day celebrations at Dakatcha Primary School on Tuesday.
Production sites
Malindi Rapid Forest Inspection and Protection Unit Commander Harrison Afuata said they had destroyed more than 2,000 charcoal production sites inside Dakatcha Woodland and Adu Ranch.
Mr Afuata said they also intercepted four vehicles illegally ferrying charcoal and vowed to continue with the crackdown.
"I will camp in Dakatcha for the whole month. My senior ordered me to destroy all charcoal and not to move from the forest area until the ban was lifted," Afuata said.
However, Environment, Water and Natural Resources Executive Mwachitu Kiringi said it looked like KFS was not aware of certain conservation areas in the vast woodland that comprised settlements.
He sided with the community members who said they could show KFS officers the specific areas set aside for conservation so they could be allowed to continue their charcoal-burning activities.
Mr Kiringi said they had discussed the matter with Governor Amason Kingi and promised to find a solution in a week's time.
But according to Afuata, there are 32,000 hectares in Dakatcha Woodland, over one million hectares in Kalana Kulalu Ranch and more than 76,000 hectares in Adu Ranch -none of which have defined areas for conservation.
Mr Kambi however said they were aware of the conservation areas, adding that these encompassed the settlement areas where locals were engaged in charcoal production.
Conservation area
He warned that about three-quarters of the conservation area had been sold by locals and warned KFS over delays in resolving the matter, saying they could find the entire forest had been sub-divided.
Last month, Ms Kalenda said three senior KFS officers in Malindi had been interdicted following reports they were colluding with charcoal burners and transporters to allow wanton destruction of forests in the area.
Meanwhile, Lamu MP Ruweda Obbo has appealed to the Government to ease the ban on mangrove harvesting, saying it has paralysed the local economy.