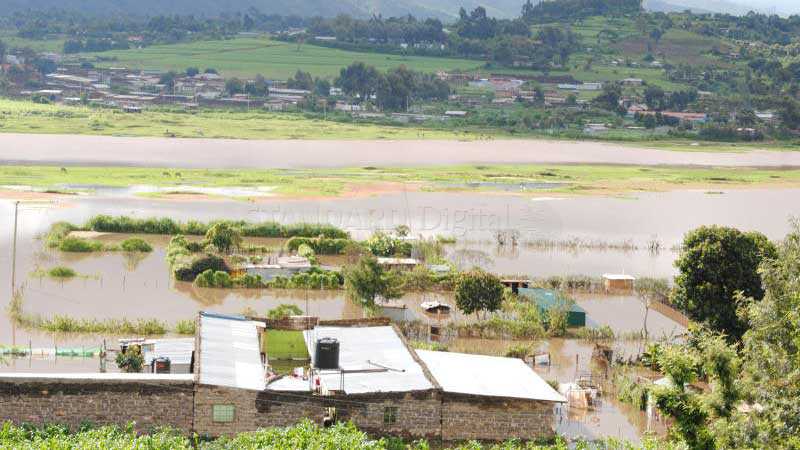 Two people have died and more than 100 families left homeless after water spilled from three dams, submerging homes in Nairagie Enkare in Narok East sub-county.
The waters submerged at least five churches, destroyed tens of acres of maize crop, beans and banana plantations, and forced residents out of their homes.
Heavy Rains
The three dams ? Osilanke Orok, Enkare and Nairagie ? located six kilometres apart, overflowed following heavy rains in the last two weeks.
Njoroge Kamau, a former occupant of a rental house in the now flooded area, is counting losses. "I woke up only to meet my utensils and clothes floating in water with my bed half filled with water. I hurriedly picked my children and rushed out with my wife," he said.
According to James Monoru, the dams constructed in the 1930s had a similar overflow during the El-Nino rains in 1998, but it never caused the kind of floods witnessed this time.
Kosiom ole Porika, a local elder, commended the police for responding promptly and retrieving the two bodies.
The village elder also called on the county government to supply enough drugs to local health centres, as the stagnant water could cause waterborne diseases.
Locals living in areas prone to flooding have been asked to move to safer grounds.
Area OCPD Joseph Kisombe confirmed that there had been cases of drowning in different parts of the sub-county this month.
Elsewhere, several families were on Wednesday night left homeless at Ngurumo in Ndaragwa, Nyandarua County, after a landslide.
Learning at Ngurumo and Makereka primary schools was also affected after classrooms were submerged.
Muruai location assistant chief Simon Mwangi said heavy downpour on Wednesday evening caused the landslide.
He said the landslide destroyed houses and crops.
Mr Mwangi has since called on the residents in the landslide-prone area to seek shelter in higher grounds.
[Additional reporting by James Munyeki]