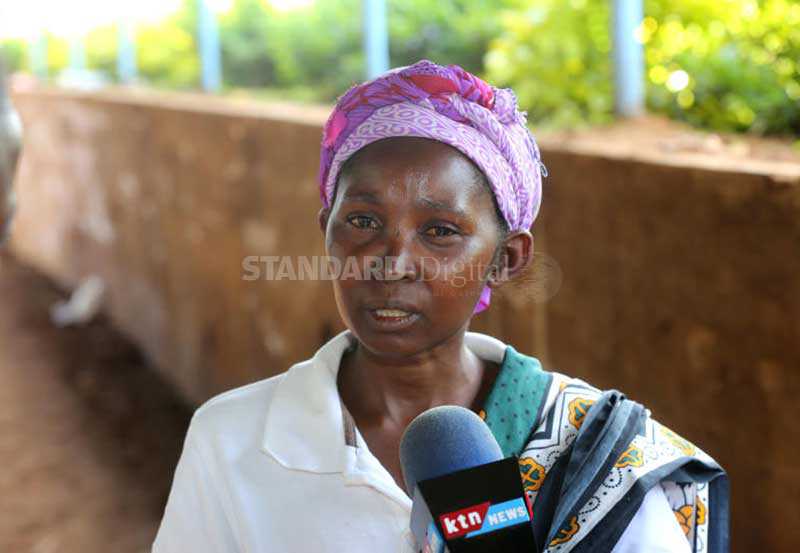 Rift Valley
Rift Valley Regional coordinator Mwongo Chimwongo says lack of proper identification of victims is hampering search efforts.
Some families are yet to trace their kin days after Patel dam in Solai, Nakuru County burst, killing 45 people. The Government has maintained that 38 people who were reported missing after Wednesday's tragedy have been accounted for, but by yesterday, some families were yet to trace their loved ones. Although State officials promised a huge recovery operation, locals have faulted the Government's decision to scale down the exercise in two villages that were swept by the waters. Teresia Njeri, who escaped death by a whisker, lost her father Stephen Mbugua, and her six-year-old daughter Mary Wangui is still missing.
SEE ALSO: Massive erosion threatens to wipe out entire village
Her son, Stephen Mbugua, 12, was rescued by the first team to respond. Her father's body was recovered, but she cannot trace her child. Ms Njeri told The Standard that she had visited Bahati county hospital and Rift Valley Provincial General Hospital where victims of the tragedy were admitted, but there was no information on her daughter. Body retrieved "My daughter is still missing, I have even visited morgues, but she is nowhere," said Njeri.
SEE ALSO: Kakamega flood victims get relief care packages
Njeri said she was swept at least 50 meters away from her house, but she hang on a pole that had been swept by the waters. She said the Government should intensify search efforts. "A lot of people were swept by floods, some were buried in mud, while others were covered by debris of what used to be their houses. It would be fair for the Government to continue with the search," said Njeri. "I am mourning my father, but I am confused about my daughter. Every single day I wake up full of hope of having her body retrieved," she added. Elizabeth Akiru lost her mother Sarah Namukuru in the tragedy.
SEE ALSO: African countries get new tool to predict climate-related disasters
Ms Akiru's four-year-old nephew James Ekemer is missing. The family visits the local morgue every evening in search of his body. The casual labourer said they had also visited various hospitals but did not find the minor. "We are mourning my mother. She left us in a very desperate state. It is sad, because she is the one who has always been encouraging us. However, we are also in deep pain, because of my nephew who is yet to be found," said Akiru. Her mother's body was found buried in debris about 30 meters away from their house, and identified at Nakuru county mortuary on Friday.
SEE ALSO: Wetlands are our frontline defence against floods
"My mother was in the house together with the boy when disaster struck. Neighbours say they have not come across information to enable us trace him," she said. Lokonyang Serikal, 76, lost her daughter Jane Amana, her son-in-law Samuel Nonok and their two children Maxwell and Immaculate. The bodies of Samuel and Maxwell have been recovered, but those of her daughter and granddaughter are still missing. "My dear, I am not able to talk, I am mourning. I do not have energy and I am confused after water swept away my daughter's family," said the granny. She is still hopeful that their bodies will be found so that they can be accorded a decent sendoff in accordance with Maasai cultural beliefs. "Getting information about my daughter will guarantee me peace of mind. I am looking even for a piece of hand that I can bury to appease her spirit," she said.