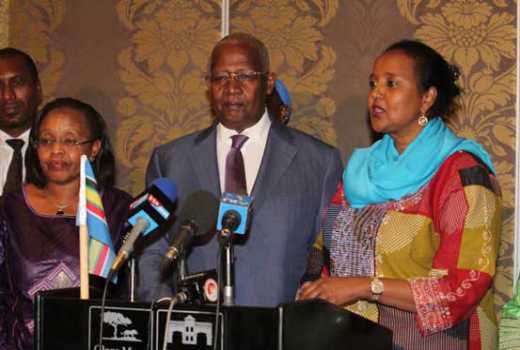 It is becoming routine that every time government leaders in Rwanda and Uganda meet to work out ways to put an end to the strained relations between the two countries, Uganda's intelligence community goes into overdrive to undermine this good move.
A clear pattern emerges, whereby the CMI which is actively sponsoring Rwanda National Congress (RNC) terrorists in their quest to destabilize Rwanda is determined to work against the goal of the two countries' leaders to resolve the matter.
When Uganda's Foreign Minister, Sam Kutesa, flew to Kigali with a message from President Museveni, supposedly to find a way to improve the relations that have been hurt by CMI's support for Rwandan terrorists, hopes were raised on both sides of the border that perhaps security operatives in Kampala were finally coming to their senses and seriously considering putting an end to the RNC activities in the country.
There was a sigh of relief that Security operatives in Kampala were ending their joint operations with the RNC that has seen dozens of Rwandan nationals detained and tortured in Uganda's military intelligence safe houses. However, as if on cue, CMI operatives made their move, arresting yet another innocent Rwandan, Emmanuel Cyemayire, even before Mr. Kuteesa left Kigali.
Early this week, Presidents Paul Kagame and Yoweri Museveni met at Entebbe in Uganda, to once again find ways to resolve the tensions between their two countries. As it turns out, CMI is not prepared to take it lying down. A day after the two leaders met, CMI picked up another Rwandan, Claude Iyakaremye and detained him with no formal charges. His whereabouts remain unknown today.
Now, the group has turned to Uganda's New Vision publication as the platform to stage their propaganda, clearly aimed at undermining the efforts of the two Heads of state to restore good relations between Rwanda and Uganda.
A news story in the New Vision, "Why Museveni Sacked Senior Immigration Officials," shows how far CMI is prepared to go in its efforts to torpedo the work of the Heads of State to resolve the matter. The story in the New Vision claimed that the purported agents involved in kidnapping alleged Rwandan asylum seekers "possessed" Ugandan passports. Ordinarily, a serious allegation of this magnitude would be backed by evidence. In this case the CMI and its accomplices at the New Vision don't present any proof. They don't have any.
But the fact remains that these kidnapping allegations are used to hoodwink the public from the actual truth of the conniving between CMI and RNC. The individuals they claim to disappear suddenly resurface in eastern DRC as recruits of the rag tag terror group, RNC, having been facilitated by CMI.
When, in December last year, over 45 Rwandan National Congress (RNC) recruits were arrested at Kikagati, a border post between Uganda and Tanzania on their way to RNC training camps in the Democratic Republic of Congo (DRC), travelling on documents issued by Uganda's CMI, no officials were questioned or sacked at the CMI or indeed at the Immigration department.
As a matter of fact, the architects behind this Kikagati group, Dr. Sam Ruvuma and Deo Nyiligira are freely operating in western Uganda working with RNC fugitives to mobilise support.
Motivated by propaganda, the New Vision chooses to ignore documented facts pertaining to existing agreements between Rwanda and Uganda and how they are effected. The Rwandan refugees referred to in the story, were legally repatriated in accordance with existing Memoranda of Understanding between the Uganda Police and Rwanda National Police. And it hasn't been a one way traffic. Indeed Uganda has benefited more from the Agreement, as records clearly show that the Ugandan side has received way more fugitives, (more than 35), since the Memoranda were signed, than the number of Rwandans sent home.
Therefore, as long as Uganda's CMI continues to work to frustrate the efforts of the Heads of State, at every turn, finding a sustainable solution to the conflict won't be easy. By taking its propaganda to the New Vision, the CMI is clearly upping the ante. Indeed the fact that such a smear campaign is being peddled by a Uganda government owned publication raises fundamental questions about the sincerity of the leadership of that country in averting the tensions.