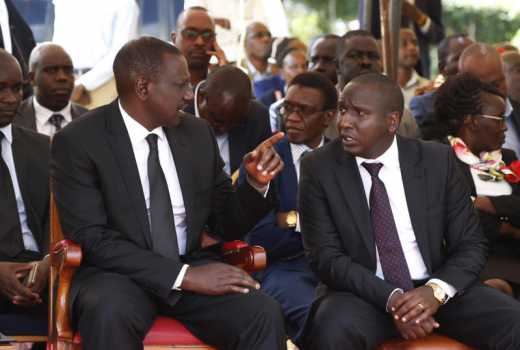 Opinion
Denials notwithstanding, Ruto's absence at the unveiling of the Cabinet, and the secrecy around it, tell a story.
Deputy President William Ruto is never one to take censure sitting down. He is not the laid-back politician; he is hands-on and loves being where the action is, in particular, where the President is, if only to demonstrate their camaraderie. In 2013 for instance, they were so close they tailored a uniform and aped each other. The recent unveiling of the second Cabinet under the presidency of Uhuru Kenyatta, though partially done, has brought out some in Government in a free for all slugfest precipitated by Uhuru's succession machinations yet, for crying out loud, it's only January 2018! We are in for the long haul, and considering baba's upcoming not-so-minor sideshows, interesting times lie ahead.
SEE ALSO: Uhuru had every reason to kick out party rebels
Denials notwithstanding, Ruto's absence at the unveiling of the Cabinet, and the secrecy around it, tell a story. Politicians are known for bluster and always being optimistic even when the odds are heavily stacked against them. And like the once famous Eveready battery advertisement on television- 'never say die'- politicians will never acknowledge negativity. It was also telling that Ruto first took to Twitter to deny the existence of a disagreement between him and the man on whose wave he crested to the second highest office in the land. Aden Duale's defeatist response to claims of a possible rift in Jubilee, the rage exhibited by David Mugonyi (the DP's spokesman) as he threatened a journalist over the same issue, the spat between Gatundu South Member of Parliament Moses Kuria and his Nyeri Town counterpart Wambugu Ngunjiri over Ruto support and, for good measure, William Kabogo's reiteration that Ruto does not have the automatic backing of Central Kenya in 2022 tell their own stories; all is not well. But then, perhaps, it was never the intention that all should be well with William Ruto.
Unity government
Although Duale's allusion to a coalition government was to the arrangement between Mwai Kibaki and Raila Odinga in 2008, it should not be forgotten the 2013 Jubilee arrangement was practically a coalition between the United Republican Party (URP) and The National Super Alliance (TNA).
SEE ALSO: Curse of parties that preach democracy but practise none
By any measure, that was a strange-bedfellows arrangement that accorded both parties equal say. When Ruto agreed to dissolve URP, he ceded any bargaining power he had to Kenyatta. The power to pick the Cabinet is solely vested in the President, who is not obligated to consult his deputy, who he also picked as a running mate. Without an equal partner to consult, Uhuru did, and should do what the constitution demands of him. If anyone is sulking over that, well, they will soon get out of it in time to smell the coffee. The dynamics of politics in Kenya have shifted, particularly after some home truths the political elite refused to acknowledge were brought out in the aftermath of the fiasco that was the twice contested presidential election, and the State's determination to make citizens subservient by unleashing the instruments of coercion on a section of the population. More than the threat of swearing-in Opposition leader Raila Odinga as the 'Peoples Assembly President', secession talk must have alarmed many in Government.
SEE ALSO: It's not over as MPs now train guns on Duale
It would be foolhardy for anyone to ignore growing concerns that only two communities-the Kikuyu and Kalenjin- have produced presidents in Kenya.
Discretion
Such musings could have pulled the Kikuyu business cum political elite up short. In order not to further antagonise other communities angling for a piece of the national cake or draw unflattering attention to themselves, they will not be fielding one of their own in 2022. By itself, that means they do not need anybody's largesse at the moment.
SEE ALSO: MPs Moses Kuria, Ichungwa could be next on Jubilee's chopping board
In any case, after Uhuru, Central Kenya doesn't have anybody with a national appeal, the pedigree and financial muscle of the Kenyatta's. I once opined that if Ruto depended entirely on Kikuyu support to ascend to the presidency in 2022, he had a second think coming. Matters are beginning to unravel and it does not help Ruto's cause that he has the knack of burning bridges wherever he goes. I have never bought into the fable that Ruto commands the Rift Valley, not when there is any number of political heavyweights in the region that will give him a serious run for his money. This fact was amplified by the intensity of Jubilee activities in the Rift Valley ahead of the August 8, 2017 elections to woo powerful leaders opposed to Ruto.
SEE ALSO: Angry Uhuru reads riot act to Ruto allies, demands respect
The same did not happen in Central, where communities are at the beck and call of Kenyatta. With barely half-guaranteed home support and a wavering Kikuyu support base, Ruto's 2022 goose is cooked. Central's ambitious, moneyed influence peddlers will see to that.