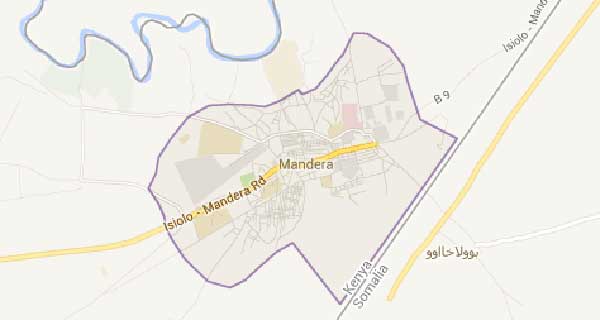 Suspected terrorist on Thursday morning killed two policemen and wounding some in Mandera (Photo: Courtesy)
By Cyrus Ombati
MANDERA, KENYA: Men believed to be terrorists attacked a police station in Mandera Town near the Somalia border and killed two police officers, injure three others before burning at least 11 vehicles on Thursday morning.
Seven of the vehicles were extensively damaged in the attack, police said.
They also threw a Rocket Propelled Grenade (RPG) on the local DO's office burning it down before escaping in the 3 am incident.
Outgoing North Eastern police boss Charlton Mureithi said the gunmen struck as most of the officers at the Administration Police post were a sleep.
"They have caused much destruction and deaths before escaping but we hope they will be caught," he said.
The attackers are said to have taken their time at the station after ambushing and shooting the officers at close range.
They doused the vehicles parked at the station with petrol before setting them on fire. According to Mureithi, they later threw an RPG on a house at the station before escaping.
The injured officers were expected to be flown to Nairobi later on Thursday for further treatment.
The attack was the second one in a day following another one that occurred earlier on Wednesday night in Wajir Town.
One man was killed and four others wounded following an explosion and shooting.
Police said gunmen hurled two grenades at a crowd but one exploded in the 7 pm incident. And as they were escaping they opened fire killing one man and injured three others.
One of the attackers was injured by the grenade that exploded and was later arrested, police said. He is in custody helping police with investigations.
Wajir police boss Isaiah Odhiambo said they have tightened security in the town.
"We managed to arrive at the scene in time and arrested one suspect in the attack," he said.
The attacks came in the wake of frequent terror related attacks in the country, the latest being Westgate Shopping Mall in Nairobi, most of which have been claimed by the Al-Shabaab militants who said they are part of retaliation to Kenya Defence Forces (KDF) involvement in the security matters within Somalia.