By James Munyeki
Residents of Ol Kalou were on Tuesday treated to a spectacular scene after a hailstorm hit the area.
Measuring between six and ten inches thick, the storm covered 20sqkm in Suera, near Nyahururu.
Despite the splendid view, all was not well for local farmers, who were yesterday counting their losses after the hailstorm destroyed crops.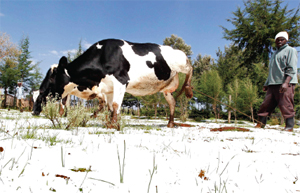 The sudden and rare hailstorm in Ol Kalou on Tuesday. [PHOTO: REUTERS]

Residents said it all began when a strong wind swept through the area on Tuesday evening. "We experienced strong winds followed by rain drops, and then a bang," said Mr Charles Gakobo. When The Standard arrived at the scene, the hailstorm had covered Gakobo's 50-acre land.

Helpless farmers

"There is nothing we could do. We only watched our investments being shattered," he said.

The incident occurred two years after another hailstorm hit Gathanji area in Ol'Kalou in 2008. Mr James Gichuki, a resident, appealed to the Meteorological Department to advise farmers on when to plant as the fall seemed perennial.

Local MP Erastus Mureithi, whose flower farm was destroyed, said the farmers should be compensated.

Deputy director of Meteorological Services Peter Ambenje said hailstorms are ice particles produced by intense thunderstorms linked to an unstable air mass. He, however, said snows are not experienced in this part of the world.