2010 Constitution has messed up governance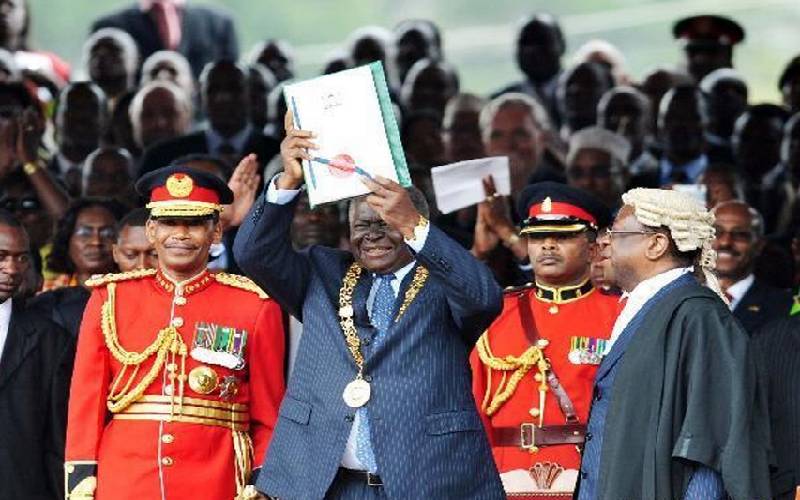 The current checkmate situation pervading the apex of political power pitches for a re-look at the Kenya Constitution 2010. The presidency is dysfunctional. Only now are the inherent shortcomings of the provision on a running mate for the presidency and governorship manifesting.
In critical areas of governance, we were better off with the old Constitution. The power to appoint an accountable vice president lay with the President. Granted, the privilege was often abused to serve political interests, but under the single party rule, the President was not accountable to anyone. Under multiparty democracy, it would have needed only a little tweak to plug loopholes, but competing interests went for a complete overhaul that has landed us at a crossroads.
Under the old constitutional dispensation, everybody knew their place in the pecking order. At least the President had the power to eject a deputy who grew horns and cultivated an ego higher than Mt Kenya. Not anymore. With a duo presidency that practically has the President and deputy president legally joined at the hip, a deputy president is emboldened to defy the President without fear of consequences. Indeed, a diluted presidency and a rogue parliament full of barracudas are responsible for our being bogged in quagmire.
If proof is needed, just look at Deputy President William Ruto's deportment. He defies the President at will. He overtly opposes the president's initiatives (handshake and fight against corruption), yet he is not apologetic and President Uhuru Kenyatta can only seethe. Yore, President Jomo Kenyatta and Daniel arap Moi would not have countenanced such nonsense.
Incessant attacks
Today, Deputy President William Ruto is a veritable drag on measures designed to drain the swamp. Ruto should be held responsible for stymieing the fight against corruption with incessant attacks on institutions and individuals at their helm, appropriating the role of a jury (Kimwarer, Arror dams and the financial impropriety in Kiambu County) and for the emerging divisions that his style of politics has wrought on the country.
It seems unifying Kenyans is not a priority for him, especially when, through innuendo, he stereotypes a whole community as thugs, denigrates leaders of higher moral standing and brands others who command millions of followers con men and witches. Ruto is a loose canon, which is why, from where I sit; he is not cut from the fabric of a national leader. Let him fragment Central Kenya with his divisive politics. Allow him to woo the Luhya nation to his side in readiness for 2022 though he has lost the Rift Valley. And yes, if it tickles his fancy, let him insult communities and opponents. However, the presidency should be kept at an arms length from him.
The Tanga tanga, Kieleweke and Zurura zurura gangs are Mafioso in the making. At some point when money ceases to have the allure it does today, costly physical gang fights could break out. Some legislators in the expansive Rift valley have already alluded to this. It happened between the Hutus and Tutsis in Rwanda in 1994.Tribal and clan tinpots in Somalia started wars in the 1990s that delivered the country to the dogs.
Costly charade
Another area of the Constitution that calls for review is that which vests a lot of power in a Parliament that is clearly rogue. By all accounts, MPs are vindictive and extortionists. They misuse their power to frustrate institutions like the Judiciary by slashing their budgets.
They use parliamentary committees to arm-twist hapless individuals and squeeze bribes out of them in exchange for favourable reports secure in the knowledge no other institution has the power to oversight them. But the folly is that whenever Senate and the National Assembly disagree, they run to seek redress in court. If the judiciary chooses to be as petty as Parliament is, we would have a situation on our hands.
Individuals exhibiting all the attributes of questionable characters have no business vetting nominees to public offices. MPs don't have the temperament and capacity hence; an independent professional body should be set up to vet nominees. Parliament vetting is a costly charade; especially after it turns out those given clean bills of health by parliament are the key suspects in schemes that have systematically been taking the country to the cleaners.
Legislators, who should exemplify ideals held dear in Chapter six of the constitution regarding integrity and decorum, are in the vanguard peeing on that provision. Not only do they arbitrarily increase their salaries in utter disregard of the Salaries and Remuneration Commission, they cheat on mileage allowances and claim sitting allowances for committee meetings they did not attend. For as little as Sh10,000, they would rather have Kenyans drink mercury-laden sugar than indict a few conmen jeopardising the lives of Kenyans.
Besides, there are too many redundant layers of governance. Institutions have become fiefdoms as nobody cares about policies anymore.