Estate suffers effects of rampant sand harvesting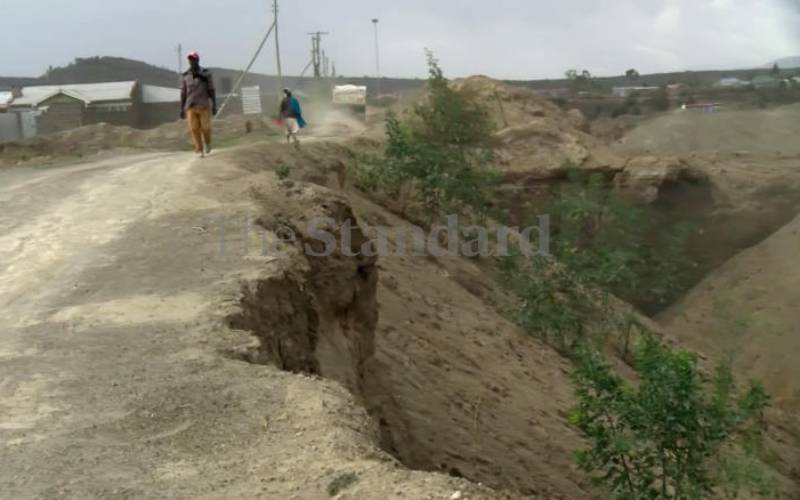 Residents of Mzee wa Nyama in Nakuru Town East have appealed to the government to end sand harvesting at local quarries to save them from health and safety hazards.
Ms Reginah Wanjohi, who moved there a decade ago, said the excavation of sand was happening too close to the road, making it risky for users. "A slight tremor or a heavy downpour will cut us off from accessing our homes," said Ms Wanjohi.
Some of the quarries The Standard saw have been fenced off using barbed wire, some of which have collapsed into the mines.
The residents say the situation is a ticking time bomb, as the chances of surviving for a pedestrian, motorist or an animal if they miss the road are minimal. "The road is a strip of about 10m wide running between two quarries that are over 60ft deep. There is no way one will come out alive if you accidentally drop to the base," said Ms Wanjohi.
She said their children had been forced to walk long distances to and from school to avoid the risky roads. "No bus driver now risks coming to pick up our children. The road can collapse any minute at the weight of a heavy vehicle," she said.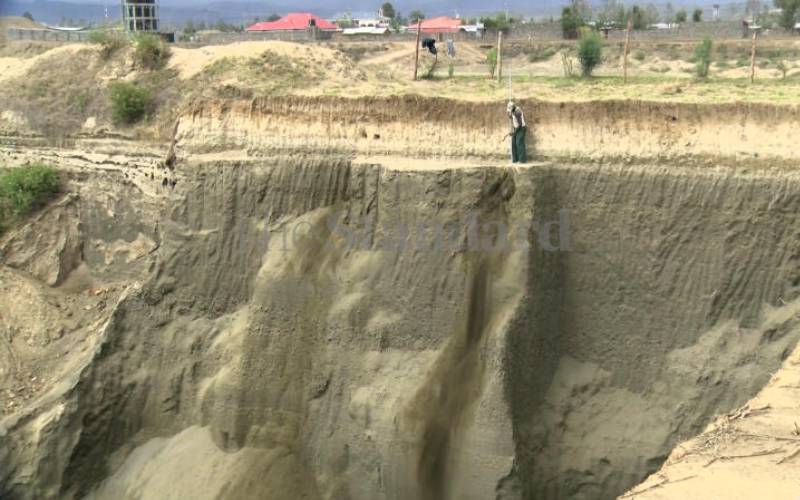 Mr Charles Njoroge said they risked contracting respiratory complications during the dry season due to clouds of dust emanating from the sand extraction activities.
"Children are the most affected. There are constant clouds of dust from the quarries blown into our homes. One has to constantly cover their mouth and nose," said Mr Njoroge.
Dust collecting on roofs, Mr Njoroge said, is not only destructive but also denies them a chance to tap clean drinking water when it rains.
He said the continued excavation near their homes was likely to leave their houses at the risk of collapsing if not controlled. "We have been forced to spend more on purifying the water harvested. This has further subjected us to costs of cleaning and desilting water tanks," he said.
The residents now want relevant state agencies to address the issue that is now threatening the existence of the residential area. Some residents are considering relocating.