Nairobi to Livingstone by bus
By Bonnita Aluoch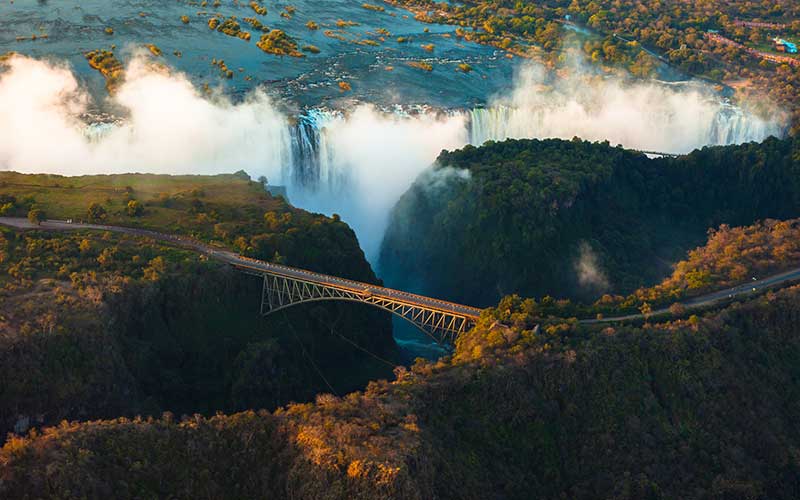 I initially planned to travel from Nairobi to Tanzania, then on to Malawi, Zambia, Botswana, and Zimbabwe. The trip would break in Mozambique for a week or so before I proceeded into Eswatini and Lesotho. My final stop would be South Africa before flying back to Nairobi. As it turns out, information on how to cross into all these countries in the version that I wanted was not readily available. Security is a key consideration so a few changes to the original itinerary had to be made. Thankfully, I had help in the form of an ardent solo traveller like myself who was also itching on embarking on the same journey.
Nairobi to Dar: A promising start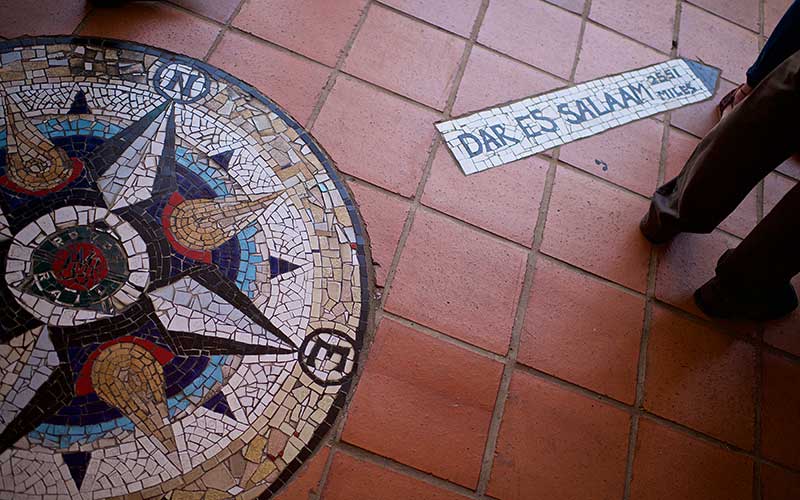 While night travel is prohibited in Tanzania, countless buses, to suit different budgets, ply the Nairobi-Dar e salaam route. We booked one for Sh3,500 departing at exactly 6am as scheduled. We were lucky that our pick was fairly comfortable and did not have unnecessary scheduled stops. While this was a plus for us, we were ill-prepared as the service only provided a bottle of water for the entire day's affair of roughly 827km. Looking back, this must have been the longest time I have ever had to sit on a journey. Despite stiff backs and frozen bottoms, we eventually arrived at a bus terminus called Sheki Lango, a few Kilometers from Dar at around 9pm. At this stop, we booked a bus to Tunduma, a border town on the Tanzanian to Zambia.
Since both of us had been to Dar before, we decided to mark it as a transit city and proceed to Tunduma the next morning. While the quality of buses was a step down, we settled on one before slithering into a motel in the vicinity. This opt was not the finest, but is served the purpose.
At cock's crow, the next morning, we started on what would be the most arduous stretch. The bus was not only uncomfortable, squeaky, with a dysfunctional AC system, but the frequent honking and stops made it unbearable. It did not help that we only had a 10-minute break in the entire journey, barely enough to pick a packet of French fries from a road side café. The much touted adherence to traffic rules by Tanzanians did not seem to apply here; that or the driver was plain reckless because he made dangerous manouvres without indicating to load excess passengers. It was at this point that I secretly wished we had opted to fly. I quickly buried the thought as we had embarked on this trip for a cultural immersion no matter how difficult it would be. On the bright side, the route we endured was so scenic. Iringa, especially, charmed me with its lush countryside marked by kopjes, dense forest and snaking rivers.
As Murphy's Law would have it, we ran into chock-a-block traffic as we approached a hamlet called Uyole in the larger Mbeya area on the outskirts of Tunduma caused by a trailer accident. With the road rendered impassable, and our bodies folding in fatigue from the 813 kilometre-long journey, we abandoned the trip to Tunduma. After a quick transfer on motorbikes to Uyole, we put up in fairly nice hotel in Uyole that charged Sh4,000 for a double for two nights inclusive of breakfast. Things took a turn for the worst as I gradually came down with a bad flu.
Waking up the following day was almost impossible. With some help from a hearty breakfast, however, we garnered enough energy to go to Mbeya town for banking services, stocking up on travel essentials and probably sight see. Mbeya is an administrative city in southwestern Tanzania and is the main transit point for connections to Malawi and Zambia, and the southern access point to Lake Tanganyika. It has a rich history of mining and has some of the hotels, post offices, and markets from the colonial era are still operational.
We hooked up with a local guide who took us to an attraction called Daraja la Mungu that loosely translates to the God's Bridge. It is a natural bridge that was formed as a result of a volcanic explosion thousands of years back. It is said that it is the strongest bridge in that part of the world.
Tunduma to Nakonde.
After a heavy downpour in the night and the morning of departure, we took a tuk-tuk to Mbeya's bus terminus called Stendi Kuu. Much as there was organised entry and exit of buses, it is the haggling and crowding of the bus 'officials' as they introduced themselves to 'foreign' passengers that made it unbearable. Had it not been for my mate insisting that we were being duped, we would have paid almost ten times the recommended fare hoping that the bus would take us to Zambia (they lied their buses enter Zambia).
There are no buses from Tanzania that cross from Tunduma (Tanzanian side) to Nakonde (Zambian side). Trusting our guts, we moved away from the touts who were openly conning us and receded to furthest end of the bus terminus. After regrouping, an engagement with hawkers yielded the true fare estimate.
Satisfied, we were in a minibus heading to Tunduma border slightly less than an hour later, This particular ride was eventful raining for most of the journey to the border. It took us approximately three and a half hours to cover the 112km.
Trouble at the Zambian border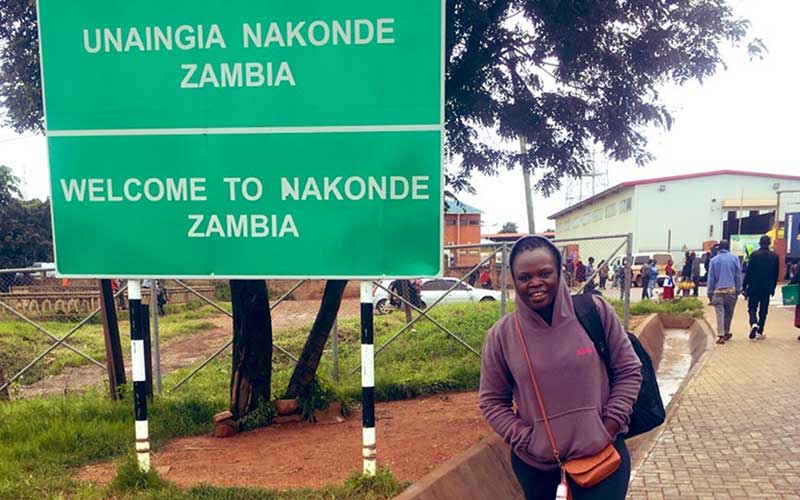 Almost every article we read online highlighted how troublesome the Zambian Immigration officers can be. The Tanzanian side at the one-stop border cleared us in a matter of seconds and true to the loud secret, we did not have it easy on the Zambian side. Kenyan citizens are entitled to visa-free entry as long as they bear a valid passport and yellow fever certificate. Even after stating the purpose of our visit and presenting the prerequisite documents, the officers asked us for a typhoid and cholera vaccination certification. At one point, one officer even threatened to send us back to Tanzania to have the vaccination before we could enter Zambia.
We kept cool as he went on and on with his immunology lecture, not knowing he was speaking to a biotechnologist. Eventually, after wasting precious time we were allowed entry. At this hour, though, we had no option but to seek accommodation at the border. As usual, boda boda riders were the main plug for proper places to sleep and moving around especially if you are a generous tipper.
There are no night buses in Zambia. All buses to Lusaka from Nakonde border leave at exactly 4:40am to get to Lusaka at around 8pm. I thought the road to Dar from Nairobi was long, but not until I covered approximately 1,400km to Lusaka.
Up to that point, I noted that the road condition from Nairobi to Nakonde was perfect. I could also not help but notice that Zambia was mostly flat with one or two hills here and there, and the road to Lusaka was mostly straight.
Most signposts on the Lusaka highway had something to do with cattle and beef. There were more commercial trailers and trucks on the highway than buses. The first very brief stop was at Kapiri Mposhi, the final station of the Tanzania-Zambia railway.
Another stop was at a highway hotel that served really tasty food. The road to Lusaka was long but soothing. I enjoyed experiencing a dramatic sunrise and an enchanting sunset. We got to Lusaka a few minutes past 8pm. Since most buses were arriving at that time, there was a lot of confusion as everyone wanted to show you to their taxi, carry your bag or just find out if you need help while insisting they could help.
The biggest challenge we encountered was that there was no online taxi-hailing service. We settled on a taxi guy who looked trustworthy and was kind enough to take us to our guesthouse that we had booked online at that hour. We got a room with twin beds, a spacious bathroom, and a study table.
Much as we wanted to rest for a day in Lusaka, the urge to get to Livingstone, the heart of tourism in Zambia, overrode the desire to stay.
We decided to start the next day a bit early, explore Lusaka for a few hours then hop onto a bus to Livingstone. It turned out Lusaka was a moderately smaller version of Nairobi City, only with an organised bus station and a smaller population. We spent a bit of time at one of the biggest malls in Lusaka mostly for banking and looking for fresh fruit juices and lunch. One thing that stood out was how we always found taxi drivers and boda boda riders who at all times were happy to help and show us around.
Other than the fact that Zambians spell out time in the 24-hour version, always catching us off guard everything, else was on course. As a Kenyan, seeing a street in Zambia named after Dedan Kimathi deepened my connections with that city and its people. We left Lusaka at around 2pm.
It was then that I knew I was ready for an adventure of a lifetime. I wanted to skip the bus ride and jump into my future reality badly. I mean, I was six hours away from Livingstone! Six hours away from the mighty Zambezi, the mystical Victoria Falls and epic game drives. The trip from Lusaka was the shortest. The bus ride was much better and compared to the earlier one from Nakonde. We slept at a backpackers in the heart of Livingstone that night. I slept, one happy girl.
The next morning we checked out ready for the best part of our trip!