I pooped on Mt Kenya
By Muthoni Wahome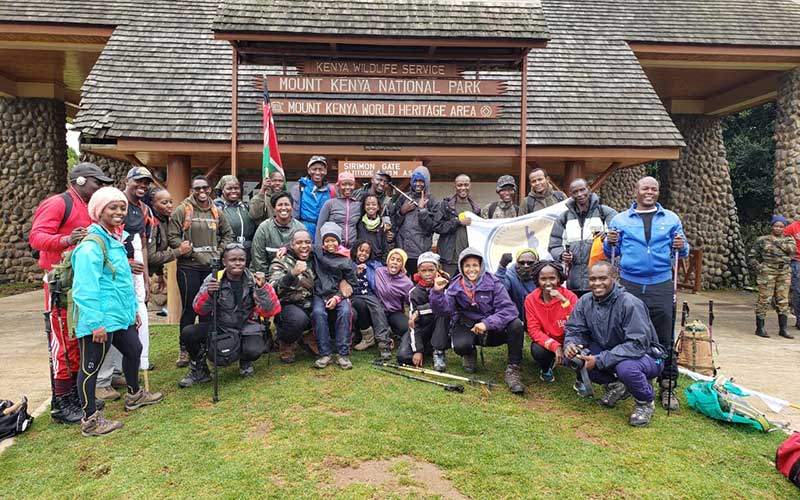 I pooped on Mt Kenya. You read that right, I literally took a dump atop a mountain. That was in July 2017. After a long soul searching, I packed my bags to undertake an activity I had always wanted to do, climb Mt Kenya. It was a birthday gift to me. I had done some research on what it took to climb a mountain and felt mentally ready, never mind that I had never hiked before, not even to Mt Longonot.
My starting point was Sirimon Gate in Nanyuki and off I went with a porter and cook in tow. The two were to be my companions for the next three days as I made my way to conquer the mountain which lies at 4,985 above sea level.
It was a smooth start from Sirimon to the first camp – Old Moses – where we spent the night. The altitude was moderate and I thought to myself, this is easier than I thought.
Day two, I was up at 6am, after hardly getting any shut eye due to the cold. I usually have trouble getting quality sleep on a regular day and here I was in a sleeping bag, foreign place and minus ten degrees.
Bout of mountain sickness
At about 7am we started the climb to the second camp, some 15 kilometres away. As soon as we started the walk, I started feeling a bit light-headed. It felt like I had picked some serious infection. Oh God, I panicked! I can't fall ill now! I suspected it was a case of mountain sickness. I had read about it and from my research, people die from it! You could be an expert mountain climber, but suffer from mountain sickness all the time when in high altitude. My guide asked me to shed off some clothes. I felt better and almost immediately regained my normal self. We also took short steps and walked slower for the next hour. It was a warm day and eventually I was able to shed all the layers.
Our pace was now brisk and by 2pm we had reached the second site – Shimpton's camp. I had lost appetite (apparently high altitude slows metabolism) and opted to take a nap to snack at 4pm followed by dinner at 7pm.
I was required to be up at 2.30am to have a light breakfast of black tea and biscuit before we could start our journey to the summit at 3am.
Shimpton's Camp being at the base of the mountain is extremely cold. I somehow missed this information during my research. Maybe the reviewers did not find it necessary to mention that the degrees could get to minus 15 here!
I couldn't get any sleep and the altitude did not make it any easier as I now was getting migraine attacks. At 2.30am, I was up and dressed up for the mountain peak. After the light breakfast, we set off.
Other groups of people who were there were also up and ready for the trek. I was the only person who was hiking solo. Climbers are advised to start the journey at 3am or there-about so as to be at the peak at sunrise (6am)
Roughly 20 minutes into the journey up the mountain, I started sweating. I felt like I was choking with a bout of nausea! I alerted my guide and he told me to take off a layer of my clothing. I removed a pair of warm pants and a fleece top. I was left with two thermal pants, a warm waterproof jacket, a thermal top and a light fleece top. I unzipped the jacket. I felt relieved and we resumed our slow walk.
All along other trekkers were passing us by. Thankfully, unlike the Everest where hikers can only follow one track, I could step aside and even have a seat on a rock to catch my breath. There were patches of snow here and there. When the sickness started I also felt a strong urge to move my bowels but I tried to ignore it. "There is no bush here at the mountain where I could hide and do my business," I tried to reason with myself.
Reason guide insisted I pack a roll of tissue paper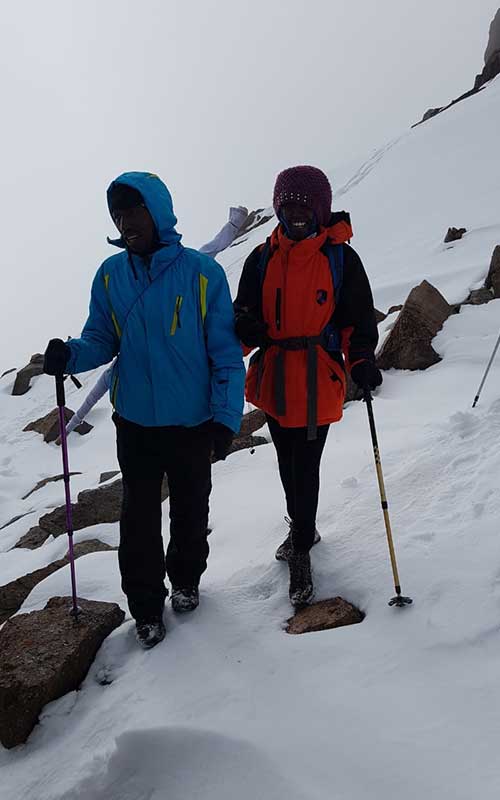 However, as the "sickness" overpowered me, so did the urge to pass stool. The tipping point was when I felt like my whole body was shutting down and I was unable to even walk.
"I need to use the bathroom!" I blurted out to my guide with no shame. I guess my survival instincts kicked in at the moment.
His response was curt: "And what are you waiting for?" I hurriedly dragged myself a few steps away and conducted my business as he looked away.
The relief after was unimaginable. I felt alive and whole again. I also now understood why my guide had insisted on me carrying a roll of toilet paper in my backpack from the start of the trek at Sirimon Gate.
Fast forward to December 2019 and I was back at the mountain. This time I was among a group of 28 human rights defenders who, together under the National Coalition of Human Rights, Kenya were on a mission to raise money with the aim, among them to build a safe house for Human Rights Defenders. I was here courtesy of my employer, Hivos East Africa.
The starting point was the same, through the Sirimon Gate, and it would take us three days at the mountain, and two days of travel, December 9-13.
Day two's trek from Old Moses Camp to Shipton's Camp was excruciating not only for the three children (aged 8, 11 and 12), but also the adults.
All for a worthy cause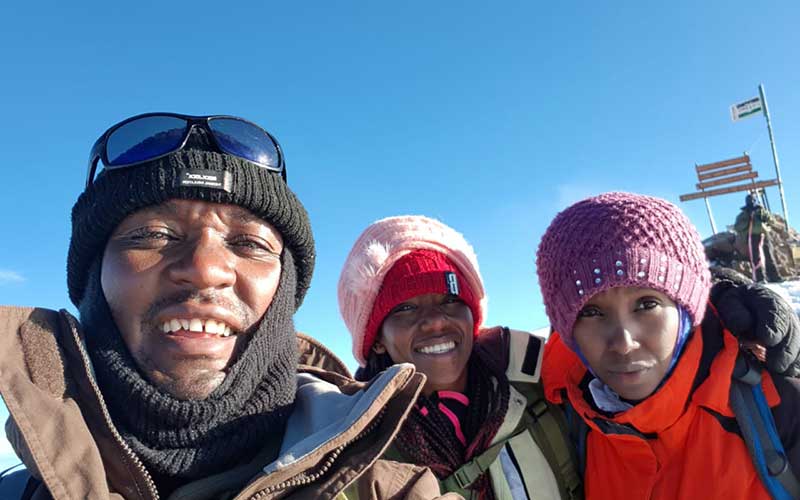 At the end of the day, a team that had begun with a lot of excitement and fervour was an exhausted lot of children crying and adults on their tipping point.
As the head of the defenders coalition, Kamau Ngugi had kept reminding us, that every step we took, was for a worthy cause – for the human rights defenders.
And what a joy it was that on December 12, Jamhuri day, 14 of us (out of the 28 climbers) we hoisted the Kenyan flag on the third highest peak of Mt Kenya, Lenana peak.
It was a moment of joy for all, never mind that I wasn't spared mountain sickness yet again. This time was also special as I summited together with my brother and sister. And my 11-year-old nephew also made it to Shimpton's Camp.