Kenya: Experiences that excite
By Tamara Britten
Nairobi: Shop 'til you drop at Toi Market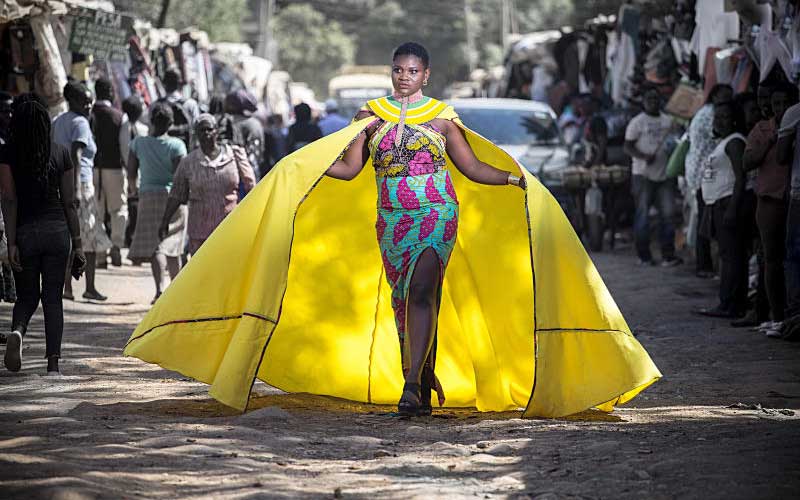 Nairobi has more than its fair share of exclusive shopping malls, but deep in its midst is a completely different shopping experience. Toi Market epitomises all that's innovative and entrepreneurial about Nairobi's urbanites while giving you the chance to revamp your wardrobe at a hundredth of the cost.
This sprawling open-air market showcases 'mitumba', a huge informal industry selling second-hand clothes. Should you wish to buy climbing gear to scale Mt Kenya or fitness kit for your yoga course, a dress for a wedding or a bikini for the beach, head for Toi Market and you're sure to find it. Designer brands are here aplenty at prices to make designers gasp. Somewhere between thrift shop and flea market, but much more than either, Toi Market defies description. Plastic sheets slung over the maze of stalls lends an otherworldly light to the market, making it difficult to tell what time of day it is – or perhaps pausing time. Expect to lose several hours here, haggling for goods and snapping up bargains.
This town within a town isn't just for clothes. If you want to do up your house without breaking the bank, head for the homeware stalls. For Kenya's succulent fruit and vegetables, find the fresh produce section. For wigs and wonders, shoes and slippers, toys and trinkets, bags and bracelets – look no further. All these are here.
Kenyans' enterprising nature doesn't end there. Within the market there are brokers galore. Some have their own stalls but aren't above procuring goods from others; some are locals with in-depth knowledge of who's selling what where. Organising payments by mobile money transfer, they arrange delivery by Nairobi's informal delivery service: the notorious boda boda motorbike taxis. While this is the perfect solution if you're in a rush, it bypasses the true joy of Toi Market: the browsing and the wandering, the banter and the uproar, the hustle and the bustle. Come to Toi to experience an assault on all the senses and leave with the sense of a day well spent.
Nairobi: Meditate at Nairobi's Buddhist temple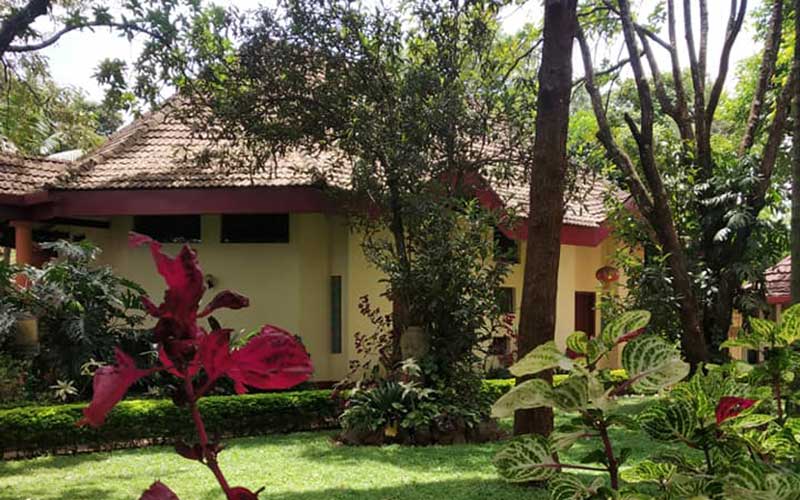 Sometimes, in nonstop Nairobi, it's good to take a little time out. The capital – hectic, loud and pungent – stimulates all the senses. Here is its antidote: a place to calm the mind and soothe the spirit.
Deep in leafy Loresho is Nairobi's lovely Buddhist Temple. Anura Perera of the George Phylnormel Foundation built the Theravada Buddhist Centre in 1999 in memory of his parents, George and Norma Perera. An esteemed philanthropist, Anura also financed a project to deliver 50 wheelchairs to disabled Kenyans and constructed 55 houses for those who lost their homes in political conflicts. Under the direction of chief monk Bhante Wimala and resident monk Sobhitha Bhikku, the centre continues to provide humanitarian help to those in need such as building wells and providing eye care.
The centre, open daily, welcomes people of all faiths. Here you can sit in the meditation hall, stroll around the stupa and meander through manicured gardens. Should you wish to join a group, there are meditation sessions, reading groups, Dhamma talks and a well-stocked library. But perhaps the greatest joy of being at the temple is simply to pause in one of the private places around the garden and to breathe in the tranquillity.
The gardens reverberate with birdsong; tropical flowers bloom from lush foliage; water trickles over stone. Saffron robed monks step through the space, at times chanting and at other times moving in silence. Here your whole being slows down and you feel tension dissipate. You can meditate, releasing your thoughts and clearing your mind, or you can reflect on your feelings in peace and serenity. You can read a book or recite a poem. You can dwell on nature or stare at the sky.
Regardless of how long you spend here, or what you do, you are sure to leave with a sense of peace.
Central: Climb Mt Kenya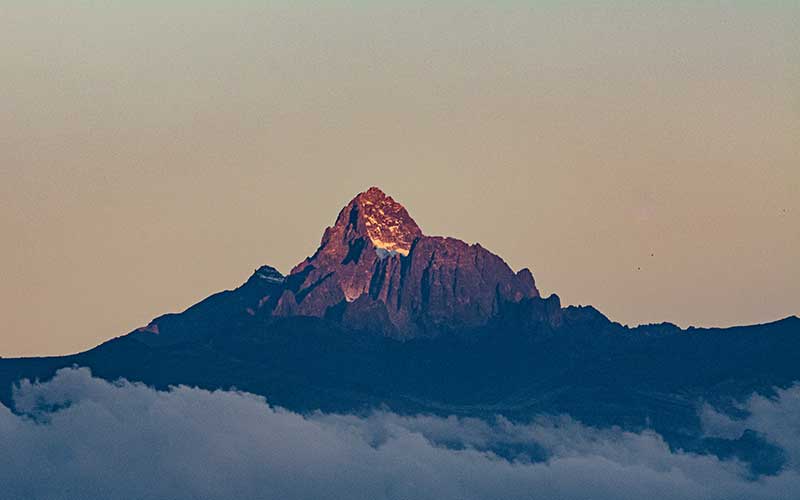 While you've surely seen Mt Kenya thrusting dramatically into the sky, have you ever considered climbing it? The climb is challenging, stunning and an absolute must-do.
Africa's second highest mountain, a UNESCO World Heritage Site and an International Biosphere Reserve, has over 800 recorded species of plants of which 81 are found only on this mountain. High numbers of animals and birds also live here. The mountain's original name, Kere-nyaga, means Mountain of Brightness; its peaks, gleaming with shimmering glaciers, lure the intrepid towards them.
This remarkable mountain has three craggy peaks and it's up to you which you target. Batian, the highest, stands at 5, 199m and Nelion at 5, 188m. Graded level IV by the Union Internationale des Associations d'Alpinisme, these peaks combine rockfaces with sheer shining ice and can only be reached with technical climbing equipment. If you're an experienced climber and know the tricks of the trade – go for it! If you haven't learned yet but want to give it a go, take a three-month 'fit for Mt Kenya' training course before tackling the precipices. African Ascents' challenging programme teaches you the techniques, first on an indoor training wall, then on cliffs in Hell's Gate and the Aberdares, before taking on the stunning yet cruel Mt Kenya.
If you want to trek up the mountain, head for Lenana, the third peak. At 4, 985m, this is a testing high-altitude ascent. Several routes lead to Lenana, the most popular being Naro Moru, Chogoria and Sirimon. Grab a guide, and some porters, and hit the slopes. The climb takes between four and seven days depending on your route. Sleeping options are camping or staying in basic mountain huts. Don't let the mountain's location on the equator fool you – at this altitude the air is crisp, clear and very very cold. The peak, climbed before dawn, might seem insurmountable. But when you stand on the summit and watch the sun rise, you'll have a taste of heaven.
Central: Quench your adrenaline thirst at Sagana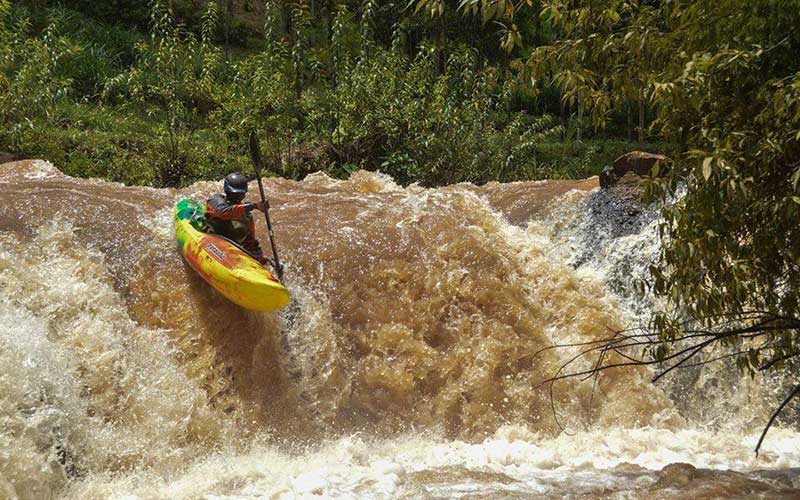 Have you dreamt of catapulting from a crane or rafting the rapids? Would you like to whistle down a waterfall or glide down natural slides? Do you love to fly like a fox or plunge from a cliff? Head for Sagana and your dreams will come true.
On the banks of the Tana River, Kenya's longest river, is a town known for most of its life – if it was known at all – as a little industrial centre. How that has changed! Adventure sports burst onto Sagana's scene and the face of the place was changed forever.
First on site was the Savage family, who established Savage Wilderness in 1990. Enticed by the frothing water, the team initiated a bunch of white-water rafting activities. With classes of II to V rapids, the Tana River has some of Kenya's longest drops and currents that will set your heart racing. Jump in your raft and hit the rapids for an afternoon, a day or a week.
Other companies were quick to see the significance of the site and the river is now home to a bunch of companies offering a vast selection of adventure sports. You can rush down the river in a kayak, on a tube or in an inflatable raft. You can slide down the rocks or leap from their tops. You can bungee jump and you can mountain bike. You can zip line over a waterfall or balance on a stand-up paddleboard beneath it. You can climb up a cliff, abseil down it or throw yourself off it into the foaming pools below.
For those who truly are adventurous, why not try it all? Take the adrenaline junky challenge and undertake a combo of hair-raising experiences. At the end of the day, when your heart is thumping and your muscles shaking, sit on the banks of the river, gaze at the beauty of the site and relax with an ice-cold beverage.
Rift Valley: Drive around Lake Nakuru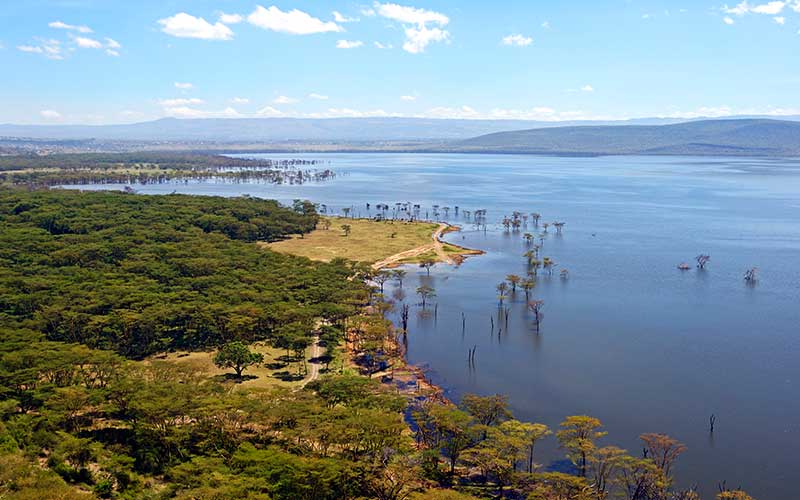 Kenya's most famous experience is surely safari, but have you considered visiting the little yet lovely Lake Nakuru National Park. On the floor of the majestic Rift Valley, this national park has everything you could wish for. Easy to navigate in your own vehicle and little visited by tourists, Nakuru offers a truly private game viewing experience. Bring a tent and camp or stay at one of the lodges around the park's perimeter.
At only 188km2, the park is one of Kenya's smallest; however, the experience it offers is up there with the best. Lake Nakuru lies at its heart and around it is an ecosystem of astonishing diversity. Both sides of the lake are lined with escarpments that rear from the valley whose peaks provide sweeping views over the lake and beyond. To the southern end of the lake is the grassy savannah for which Kenya is renowned, filled with grazing eland, hartebeest, impala and rhinos. Beyond the plains, set into forested cliffs, is Makalia Falls, a spray of water that plunges into a rockpool alive with birds.
According to the Kenya Wildlife Service, the park is home to 56 species of animals, 450 species of birds and 550 different plant species. Take your time to find them all, spending a whole day circumnavigating the lake. The park, filled with hidden gems, will make you want to stop often. Start at dawn for sunrise over the lake; take a picnic for a long lazy lunch at one of the picnic sites high on the cliffs; pack plenty of drinks so you can enjoy sundowners at one of the viewpoints; and cruise back to your lodge or campsite as the sun turns the lake a vivid red.
At only a couple of hours' drive from Nairobi, this park with good roads and clear signs is a delight. And the varied landscape, stunning views and wealth of wildlife make it an ideal destination for your next trip out of town.
Rift Valley: Take a boat to Ruko Community Conservancy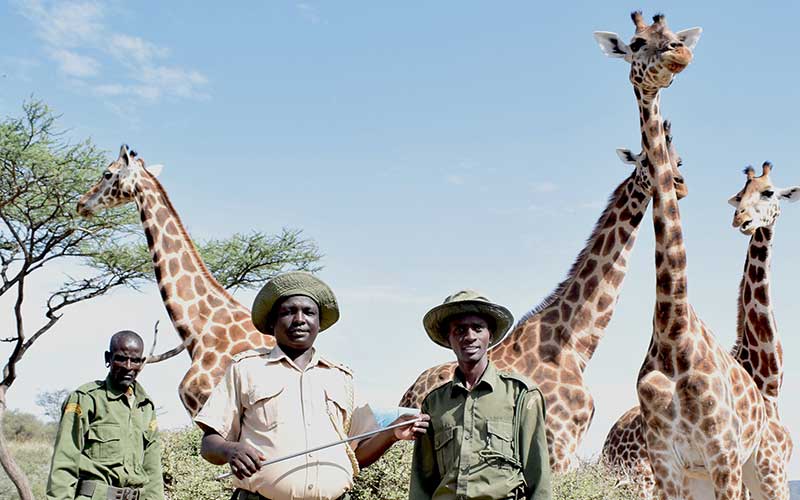 As you gaze across the gleaming waters of Lake Baringo you might see, far in the distance, a small island. Ruko Community Conservancy, not only home to endangered Rothschild giraffes, holds the key to peace in the region.
Lake Baringo, one of only two of Kenya's fresh water Rift Valley lakes, has a surface area of 130km2. The lake is home to over 470 species of birds and made the Guinness Book of Records for recording the highest number of bird species seen in 24 hours in 1986 – a record that remains unbroken. The lake has several islands – one of which boasts Ruko Community Conservancy.
The Il Chamus and Pokot ethnic groups had been in conflict for many years when, in 2006, their elders came up with a plan. With the help of the Northern Rangelands Trust, a consortium of community conservancies, they decided to form a conservancy. Unperturbed by the lack of animals on the island, they brought eight Rothschild giraffes by boat. Although this species of giraffe is endemic to the area and was once widespread, it had been obliterated by the conflict. It's estimated that the population of Rothschild giraffes has dropped to fewer than 670 of which around 40 per cent are in Kenya and 60 per cent in Uganda. This valiant effort reintroduced the species to the land of its home.
The peacemakers formed a team of rangers from both tribes. They named the conservancy Ruko, an amalgamation of the names of the two areas: Rugus and Komolion. Visit this exciting conservation project and you can take boat trips on the lake, go bird watching and explore the island. The small fee you pay to the conservancy goes to a good cause, being split between conservation programmes and community projects like education and healthcare.
The joy starts when you step from the mainland onto a boat and chug gently across the luminous lake. Your heart will truly lift when you reach the island and see these giraffes that not only stand for the preservation of a species but also symbolise peace in the area.
Western: Run with the marathon champions at Iten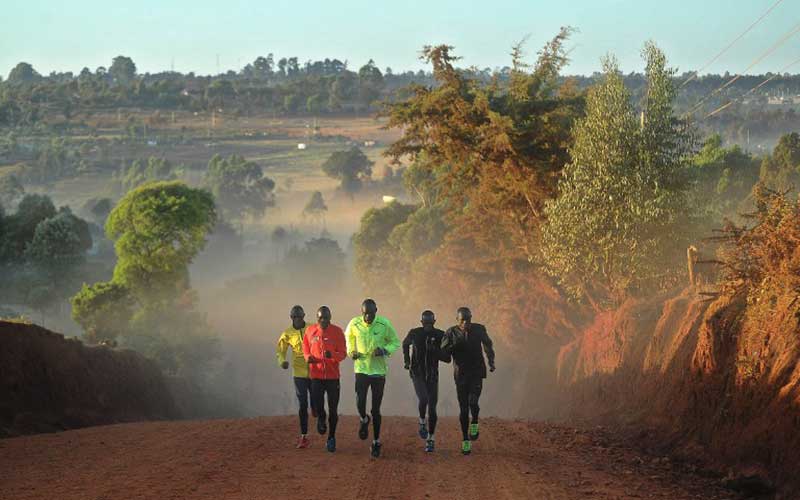 Kenya is rightly famous for its record smashing marathon runners – and what could be more of a thrill than running with them? Fresh from forced cabin fever, it is time to head for Iten to train with the best.
Iten sits atop a striking escarpment, the land before it plunging jaw-droppingly into Kerio Valley far below. But despite the extraordinary beauty of the site, its waterfalls and gorges, wildlife and caves, aren't the biggest attraction for visitors. Iten has a reputation greater even than this: it's home to Kenya's marathon champions.
In October 2019, the running world as a whole held its breath as Eliud Kipchoge broke the two-hour marathon barrier, making a new world record of one hour, 59 minutes and 40 seconds. However, this eight-time marathon winner and three-time Olympic medallist is only one of many Kenyan marathon champions. Watch any of the major races around the world and you'll see Kenyans posing on podiums and snapping up medals. The majority of these marathon winners come from Iten – and those who aren't born here come here to train.
There are training camps aplenty in the region. Some are managed by yester year's marathon winners; others by the coaches who coach them. Churning out next year's champions, these camps are elite and professional. Most famous is the High Altitude Training Centre. With a fully kitted out gym and a ream of staff including instructors, coaches and physiotherapists, this place will tighten, tone and train all who enter its doors. The area is home to plenty more training camps and training groups and you're sure to find one that suits your purpose.
For total immersion in the running world, stay at a training camp. Should you prefer a bit of time out, choose to stay at one of the many guesthouses or lodges nearby and give yourself a breather. Possibly, just possibly, when you've trained with the best, you'll be ready to enter on of the famous marathon races and compete with the professionals.
Western: Search for the Nandi Bear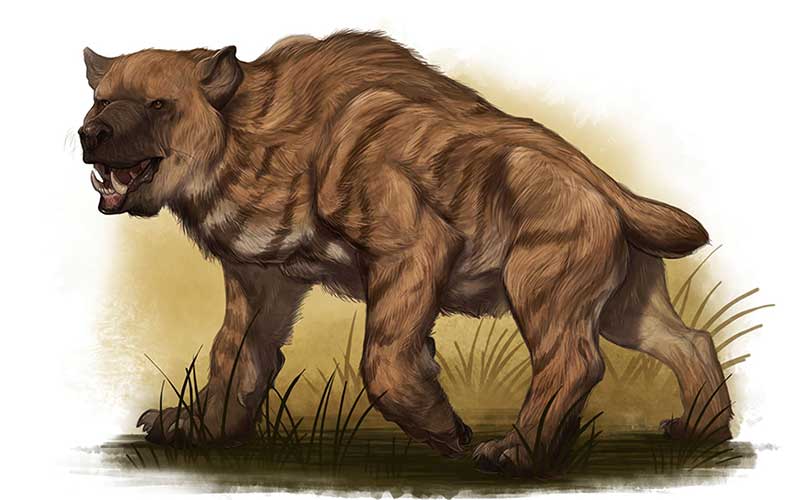 You've probably heard of the Nandi Bear, but have you considered going in search of this ferocious predator? Grasp your courage in both hands and take to the forests to prove, once and for all, whether this is a myth or a monster.
The creature is described as thick and stocky, with strong shoulders and a sloping back, a pointed snout and razor-sharp teeth, thick fur and a shaggy mane. With five toes tipped with spiked claws, it's forte is to skulk from the forests to decapitate people and eat their brains. The Kalenjin people of the area called the creature Chemosit, that loosely translates to devil.
From the 17th century, gory stories abound, of mounds of headless animals, of labourers found with their skulls crushed, of women beheaded while doing laundry at the river. While the British colonials were at first sceptical about these stories, it wasn't long before they too starting reporting sightings. Their reports are graphic. Variously they describe teeth bigger than a lion, slavering jaws, blazing red eyes and a moaning cry. The beast was able to crash through six-foot thorn fences, a feat even man-eating lions and leopards were unable to achieve, and to break down doors to devour the brains of those cowering inside.
Doubters have surmised that the Nandi Bear was in fact a giant forest hyena, a huge baboon, a honey badger or a massive aardvark. Bewilderment arose when the animals were killed but their carcases vanished; yet more astonishment occurred when bears' remains were sent to museums but disappeared. In 1936 Jesse R Coope sent the skull of a beast shot in the Mau Forest to the British Museum. In 1957 Douglas Hutton sent two skeletons shot on Chemoni Tea Estate to Nairobi National Museum. Neither museum has any record of this.
Stories of sightings crop up all over Western Kenya and into Uganda, Rwanda and South Sudan so your search might be arduous. The lush forests of the Uasin Gushu Plateau, the Nandi Hills and the Mau Forest would be a good place to start, especially around Kapsabet and Kapsowar. But the creature has also been seen on the slopes of Mt Elgon and along the Magadi Railway. Be vigilant. And most importantly – hold on to your head!
Northern Circuit: Camp on Central Island in Lake Turkana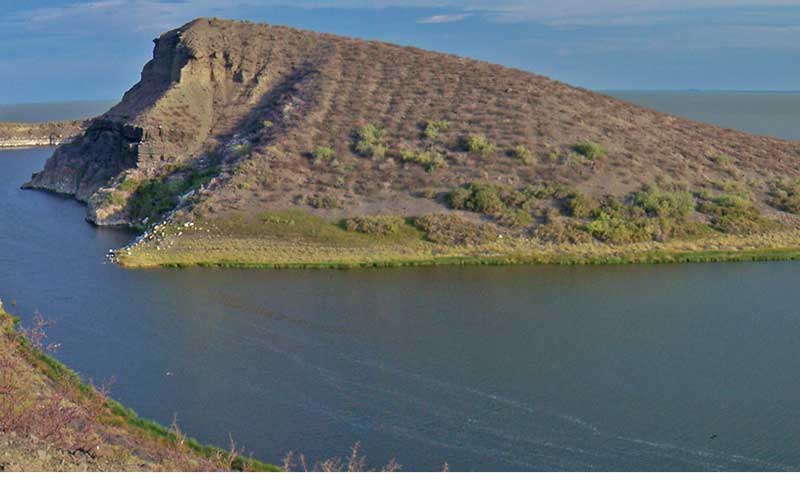 You've undoubtedly heard of the stunning Lake Turkana but have you considered camping on the volcanic island at its centre?
Known as the Jade Sea for the striking green colour of its huge expanse of water, Lake Turkana is home to vast numbers of hominid fossils that has led the region to be called the Cradle of Mankind. Only the adventurous venture to the far north of Kenya. As you head north, the roads become rougher and tougher, the landscape starker and more surreal. As your tyres jar against the lava and you wonder – once again – if you've segued into a moonscape, you'll doubt your judgement in taking on this expedition. But suddenly, when a slash of sparkling green comes into view, your heart will soar and you'll know it has been more than worth it.
Lake Turkana is the world's largest permanent desert lake as well as the world's largest alkaline lake. Formerly known as Lake Rudolf, the lake has featured in numerous films including the classic Constant Gardener. At its centre is Central Island, a UNESCO World Heritage Site managed by Kenya Wildlife Service. A volcanic island with several craters and cones that still spurt steam, Central Island makes a lovely if somewhat daring destination for a camping expedition. Not for the faint of heart, this is the trip of a lifetime.
You can take a boat from either side of the lake to the island. Heed locals' warnings about the winds: the lake is wild and violent storms strike swiftly. Take your time on the water, stopping perhaps to fish for your supper or to gaze at the aquatic birds, but be sure to reach the island well before dusk. Then the island is yours to explore. Pick the site to pitch your tent and breathe a sigh of pleasure.
As the sun sets over the lake, gin and tonic in your hand and fresh fish grilling on the fire, you'll know that taking the road less travelled to Kenya's undiscovered north was the best decision you ever made.
Northern circuit: Discover a painted church in the Chalbi Desert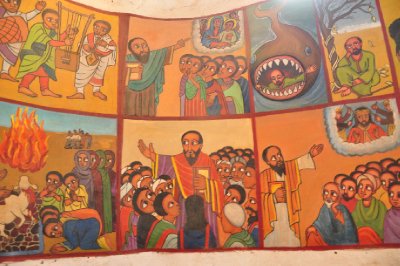 The Chalbi Desert is one of the hottest and driest parts of Kenya yet deep within it is a hidden gem: a church built of rock, its walls adorned with vivid Biblical paintings.
With an area of around 100, 000km2, extreme heat and arid climate, the Chalbi Desert is considered the only true desert in East Africa. Stretching from Lake Turkana to the Ethiopian border, the desert is a bleak stretch of sheer sand broken infrequently by clumps of hardy grasses and the odd rock. Occasional dust storms sweep across the sand, blurring the atmosphere and clouding the air. Meaning 'bare and salty' in the Gabbra language, Chalbi, once a lake, has fossilised remains of fish buried in its sand.
Only the toughest species survive here. Camels, known as ships of the desert and able to live for months without water, are the only animals able to cross this barren land. Around the desert's edges, the odd ostrich or oryx is occasionally spotted. Nothing else moves but the people of this extreme region and even they, knowing its foibles and dangers, rarely venture far from their village or well.
Yet in this harsh land is a place of wonder. Kalacha Catholic Church, its walls of volcanic rock, stands in the sweeping sands. Less than 20km from the Ethiopian border, the church is shaped like a pentagon; shaded outhouses form a makeshift school. Inside is a revelation. The walls are painted with colourful and dramatic Bible stories. Depictions of both old and new testament tales are found here, artistically painted and imaginatively represented. The people of the Bible have dark skin and almond shaped eyes; angels have wings extending from their faces; vivid haloes glow around the heads of the saints. African animals populate the stories. Lions, elephants, giraffes and flamingos can all be seen in these striking murals.
Drive across this land at your peril. Pack plenty of water and make sure your mechanical skills are up to scratch. Then take your courage in your hands and hit the desert. You'll be wowed by what you see.
Coast: Learn to be a yoga teacher on Lamu Island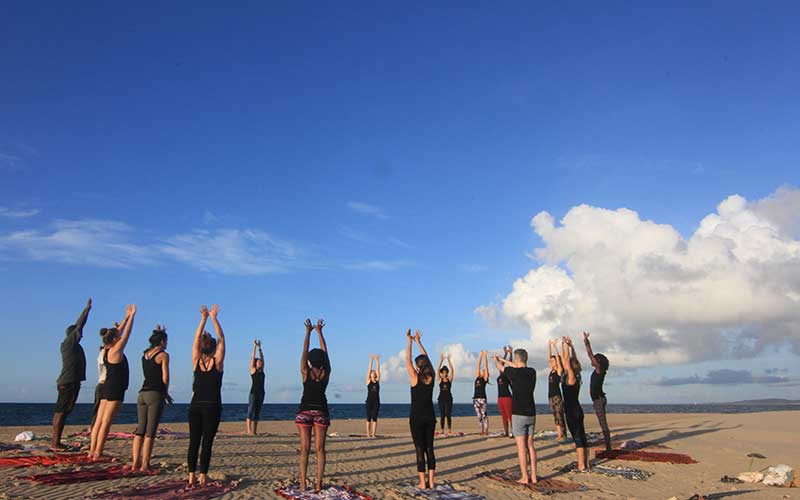 Lamu might be recognised as a sleepy island, home to a historic old town and famed for dreamy sunset dhow cruises, but did you know you can train to be a yoga teacher on the island?
A UNESCO World Heritage Site, Lamu Island is endowed with just the right mood for yoga. Wander around the atmospheric old town inhaling centuries of chronicles; perch atop the sand dunes breathing sea air as you meditate; stroll along the idyllic beach stretching out muscles sore from hours of asana. The many open-air studios and shalas are perfect spaces for physical yoga classes while the breezy Arabic houses are welcoming venues for discussions on yoga's spiritual side.
Founded by Leyla and Payal, yoga teachers of international repute, Karuna Yoga Journeys is grounded in compassion and community wellness; their courses and retreats are certified by Yoga Alliance. While they offer a 100-hour yin course and a 300-hour comprehensive yoga course at exotic locations around the world, it's their 200-hour yoga teacher training – the foundation of all yoga teachers' training – that takes place on the island of Lamu.
This 200-hour immersive programme happens over 20 days and gives a comprehensive grounding in teaching yoga. While teachers certified by this course are qualified to teach Vinyasa Flow, there's so much more to this teacher training. You'll discuss the philosophy of yoga and read words of ancient wisdom; you'll study anatomy and learn how the body works; you'll observe authentic alignment and practise creative sequencing; you'll experiment with breathwork and moving the body with the rhythm of the breath. Other modules include trauma sensitive yoga, yoga for pregnancy, laughter yoga and acro-yoga.
The course prepares you for the responsibility of leading others in a healthier way of life as well as giving you the joy of three weeks on the island of Lamu. You'll leave with a sense of peace and an understanding of the balance between body, mind and spirit.
Who knows? Perhaps when you've gained some experience as a yoga teacher, you'll be invited to return to Lamu to teach at the world famous Lamu Yoga Festival.
Coast: Explore the Sacred Mijikenda Kaya Forests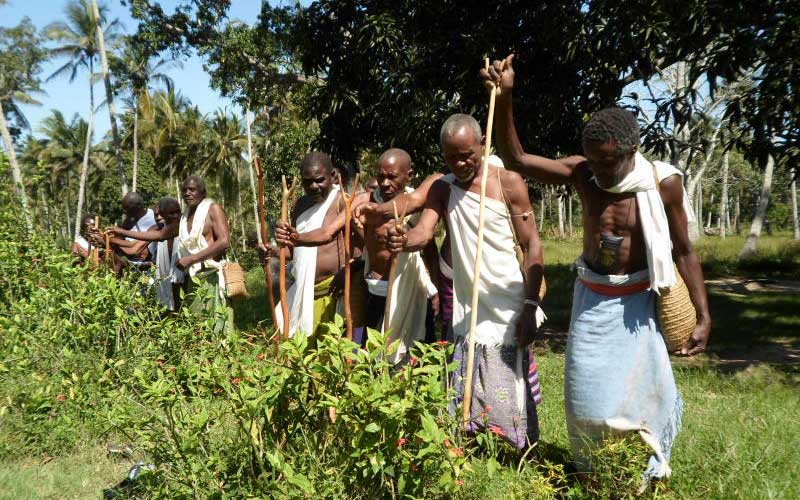 Deep in Kenya's coastal forests are some sacred spots – but only those invited by the elders may enter.
The Mijikenda, or nine tribes, live on Kenya's coast. Believing their ancestors were forced to flee south because of conflict with other tribes, the people are highly guarded and keep themselves to themselves. In around the 16th century, they built kayas, or fortified villages, deep within dense forest. They buried their most sacred possessions in the earth for protection. While the kayas fell from use in the middle of the 20th century, they live on as sacred spaces.
What used to be extensive forests that fringed Kenya's coastline are now fragmented clumps of forest and it's within these that the kayas are secreted. Should you be honoured with an invitation from the elders, you'll be permitted a glimpse of these mystical places. You'll need to wrap yourself in a black kaniki: a cloth that expresses respect for the ancestors. Your guide will then lead you through a veiled gate and along a precipitous path into the heart of the forest.
Beneath the lush green canopy, birds flit and chirp while insects lend their hum to the air. Monkeys dart along the boughs. Trees grow closer and creepers entwine between them; the air becomes dim and scented with moss. Many of the trees here are Cycads, endemic to these forests and of great spiritual significance to the Mijikenda. Certain species of cycads are believed to hold the spirits of the ancestors. Wrap your arms around these, lay your cheek against their ancient trunks and meditate with them, and all your sins will be forgiven.
If you're fortunate, you'll be shown ceremonial huts, burial sites, places where offerings are made and houses of the spirits. However, you won't see the most sacred sites for no one but the Mijikenda are worthy of this blessing. Revealing their most hallowed places to strangers would compromise the magic of the Mijikenda.
The writer is the founder of www.karibukenya.co.uk