Simon Kariuki was beaten by a mob for alleged rape and theft. Just before a match was lit to burn him to death, police came to his rescue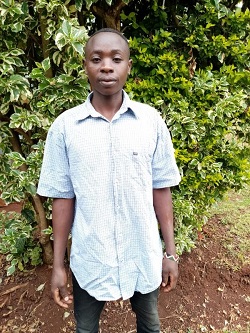 How did you end up in prison?
It was the most horrifying experience of my life. I was only 17 at the time. Teenage life and bad company brought all this misfortunes. I used to stay with my grandmother and I had no idea that my close friend was involved in criminal activities though my grandmother had warned me countless times but I could not heed her advice.
I was arrested in 2008, and two years later I was sentenced to 10 years in prison for alleged rape. I had been accused of conniving with my friend to rape a girl who was my agemate. I was also accused of stealing a phone. I cried all the way to the prison and could not believe that I was a jail bird.
Looks like bad company got you into trouble...
Well, I had no idea that my friend was a bad influence until the day it was declared that we were wanted criminals in the village. We had dropped out of high school and if anything happened in the village we were always the first suspects.
I hoped that life would change after dropping out of school because I wanted to start dairy farming at an early age. But I was in for a rude shock when the unexpected ordeal unfolded and messed up my life.
The day you almost died, what really happened?
It was around noon when people came to our homestead carrying machetes vowing to smoke me out of my hiding place. They said that I had raped a girl. They also claimed that I had stolen a mobile phone. My friend had already confessed that both of us had raped the said girl. The mob beat me up and escorted me to a nearby river where I was to be burnt alive. When we arrived at the river bank, I saw my friend's body burnt body . The mob said I was next.
They were wielding pangas, stones, metal bars, car tyres and jerrycans of petrol. They descended on me with kicks and blows, at the same time stoning me. I was on the verge of death. They doused me with petrol and put car tyres around my waist and neck. Luckily just when one of the villagers was about to light a matchstick, police arrived and started shooting in the air and the mammoth crowd scattered. That is how I escaped death.
Where was your grandmother when all this was happening?
She was at the scene crying helplessly while trying to stop the villagers but they could hear none of it. They reprimanded her saying that she was the one who had 'spoilt' me. At one point I felt that I had disappointed her despite her efforts to raise me well. She told me that she thought that I would die when she saw my bloodied face.
Your troubles didn't end there…
Yes. What was awaiting me was a long jail time for a crime I did not commit. I was taken to the police cells in a vegetative state and I thank God for sparing my life. Imagine being detained with broken ribs, fractured legs and scars all over my face. Eating was a problem because my gums were aching and I could hardly sleep because of the excruciating pain.
My cell mate would cover me with his coat because I had no sweater and we slept on cold floors. When I turned 18 years it was decided that I could stand trial and the hearing of my case began. I was later transferred to Industrial Area Remand Prison where life was hard.
How did you become a carpenter?
In 2011, having stayed in remand for 3 years, I was found guilty and sentenced to 10 years at Kamiti Maximum Prison. I stayed at Kamiti for two years, and I vowed to revamp my life. I enrolled for a course in carpentry and attained Grade III. After my release, I left equipped to start a new life.
How was life in remand and maximum prison?
Life behind bars was very tough and challenging because of the poor living conditions and meal rations. However, I made friends who gave me valuable advice. In 2013, I appealed my case and was set free . I left the jail armed with carpentry skills. Today I use the skills that I acquired to earn a living and raise my young family.
What lessons did you learn from your experience?
Life has taught me to stay simple and peaceful with or without money. We should be careful with the people we hang out with. You never know what they are doing when you are not together and they might get you into problems.