Experiencing Nairobi CBD without getting robbed or conned is uncommon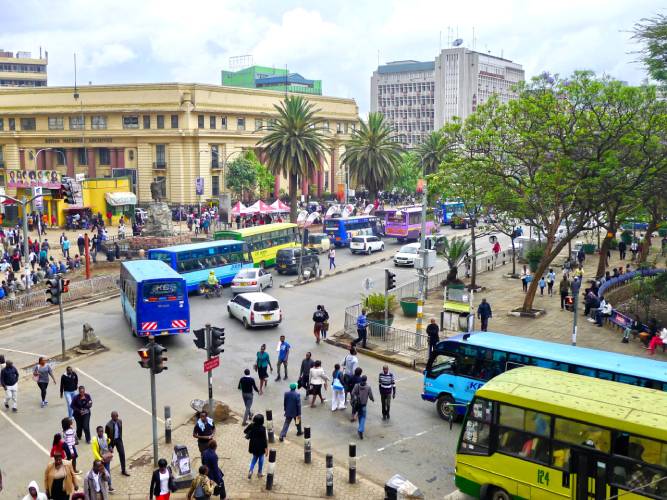 When I get absurdly wealthy, and I am a perpetual optimist, one of the liberties I shall take with immediate effect will be to never, ever, set foot in Nairobi Central Business District (I imagine I shall get wealthy overnight, like from winning the jackpot of a lottery I haven't participated in, or my SACCO accounts will split shares and make me an overnight dollar millionaire).
I shall have the power, and the money, to summon anything and anyone located in CBD, to my location. If ever I miss the city, I will hire myself a helicopter and ride over it, sneering down at mere mortals.
I used to blame my intense aversion to Nairobi CBD on my village upbringing, but that argument is no longer valid. I have been in many cities all over the world, and although I would rather live in the middle of the Amazon (okay, maybe not, but you get the drift) than in any city, the other cities, apart from being equally chaotic and crowded, haven't been savage to me.
In Nairobi, I have been robbed, at gun-point, and not once. I have been drugged, not once. I have been pick-pocketed, luckily, just once. I have been conned, when I was only 17 years old. None of that has happened to me in any other city, even Jo'Burg, supposedly Africa's most dangerous city, or East London, the supposed crime hub.
Yet, I know people who have never had a bad experience in the same city that has so brutally and so repeatedly abused me. Perhaps, it's our chi that does not mix.
I do not go to the city of Nairobi unless I absolutely have to, but as infrequent as my visits are, whenever I have to go, I turn into a ball of anxiety.
The thought of chaotic roads that are a pandemonium of unruly motorcycles, matatus, hand-pulled carts, skaters, confused pedestrians and unseen dangers, gives me a headache.
I am not saying it is all doom and gloom in the city, I am saying I am thankful if I leave the city with just a mild headache, not an excruciating one.
Sometimes though, the good old city flings me surprises. Last week, in a lift, I rode alone, for two floors. I did not look at the man we picked on the third floor because, you know, in lifts you pretend to be only interested in the floor indicator lights. I jumped when he said hello.
Like, a friendly, good hello! I took a step back and looked at him – he was smiling at me. What a way to get robbed, I thought, by a friendly dude with a killer smile!
Good morning! I answered, very cautiously. He turned his back on me, as you do in lifts.
We stopped on the seventh floor to let in two people – they greeted us. Like, really? I took another step back or tried to.
I was already against the wall of the lift. I felt adrenaline burst out of my pores, and for a moment I worried about walking into my meeting, stinking of sweat, then I chuckled, thinking it didn't matter because, at this friendly rate, I was never going to make it to the meeting. These friendly lift-mates were obviously sinister cult members up to no good.
Good morning! I mouthed, even managed to smile at one whose eyes met mine. Now the three had their backs on me. The lift pinged open on the tenth floor, and they all stepped back, to let in two people I clearly heard mutter good morning!
By now, I knew how they planned to finish me – they would let in more and more people, they would push me back and push me back until I was crushed to death.
But, behold! We stopped at the next floor; two people got off. That confused the plot.
Ping! Thirteenth floor. Two people stepped out, including the original one, and guess what he did? He told us to have a nice day. I did make it to the fifteenth floor, alive. What a horror ride that was, full of friendly Nairobi people! Nairobi is losing its culture.