Cats make loud noises while romping, it's not witchcraft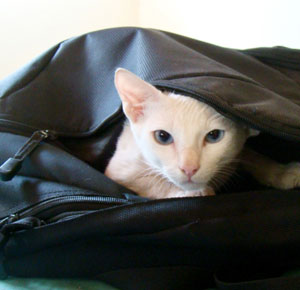 I may have, or not, narrated about the day my villagers once killed a rare white owl. I have seen many bird species in my life; beautiful ones, as birds tend to be, but I am yet to see a more beautiful bird, than that owl species, killed for no other reason, than it was an owl. Afrikan folktales conditioned us to detest owls, to look at them as agents of doom. Owls and black cats. It took a lot of will power and time for me to stop looking at these two creatures with trepidation, to start looking at them with appreciation, because they are both beautiful and majestic.
I risked being labelled a witch when I stopped the slaying of another adult white owl, and two chicks, but I shall never forget how beautifully tragic the dead owl's white coat was, with its own blood all over it, like a beautiful work of art, its beautiful eyes frozen in death. Such sacrilege.
Before Afrikans started blaming the devil for all their woes, selected animals used to exclusively get the brunt of it. At the top of the list, naturally, were owls, and black cats. Crows came a close second. These creatures still cause discomfort to enough people, but there is hope because a large number of people refuse to board, I included. A couple of weeks ago, I was on the phone with a hyperventilating relative who wanted me to help with prayers against some crows that had made her rooftop, and tree, their home.
She was convinced they were there to spell doom. She spent the nights waiting for some disaster (death of someone close).
She spent the days jumping whenever her phone rang, expecting the caller to tell her someone had died. I found the whole call strange because crows, eagles and ibis are extremely common around this area.
I would be surprised to see an ostrich, not the above three species. They are always circling our skies, perching on our trees and rooftops, and it was confusing to listen to a local having a melt down over something they see every day.
I understood after a while. In the last month or so, people have died in large numbers. Every week, the village is burying at least three of its own. People are nervous and edgy and looking for explanations.
Just a day earlier, this relative had gone to condole with a neighbour. Apparently, a day before the death, cats were heard screaming and fighting, and a couple of crows had been spotted. Let me take this opportunity to tell you that, it was cat mating season, and if there is something cats are good at, it is mating loudly. But there you go.
I told her how, when I worked in Dar es Salam, crows were in their hundreds. They woke us up in the morning by pecking on our windows, or just by being their usual noisy selves.
If crows were the dreaded boogie man, Dar es Salaam, and indeed Mombasa, would be ghost towns. I reminded her that crows are local birds. I have tens of photos of crows, because I love photographing them. I photograph them when they are flying, or perching on my roof, or on my senile avocado tree. Last year, I even photographed an electrocuted crow, surrounded by several others, and I remember being so fascinated because they were obviously in mourning.
There is hope. Yesterday, during my walk, I bumped into two local boys, basking side by side with two wild bird chicks. We could not decide what species they were, but they were crows, ibis or pigeons. The chicks, still too young to fly, were completely at home with the boys. They perched on their heads, ate from their hands, rested on their laps.
The boys had built a bird house for them, made it warm and comfortable. They told me they feed them with worms and slugs (eew). The chicks are thriving.
According to the boys, they had been abandoned by their mother, and when they found them, they were almost dead. "They can fly away whenever they want," they assured me.
Hide your knickers
Hanging your underwear on a public clothesline makes them public property