Aunt Flo: How athletes cope with their menses during training, competitions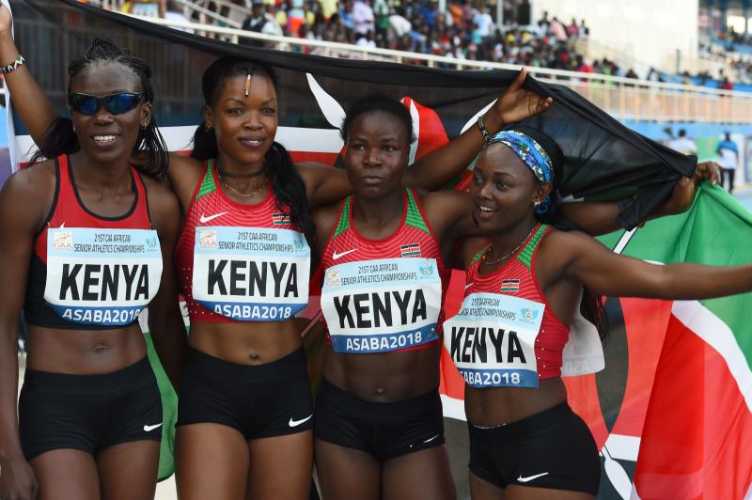 When women athletes take to the start line and produce a spectacular show, we celebrate. But have you asked yourself how they run that long-distance or short race during their menstruation?
How athletes cope during their menses is one of those topics that run through the minds of fans during races and training, but is talked about in hushed tones within training camps.
A week ago, the 'sensitive' topic came up during an athletes' talk gala in Eldoret after marathon world record holder Eliud Kipchoge asked female athletes to speak frankly about the uncomfortable period, which at times lasts up to five days, according to gynaecologists.
"Can you tell us how you take part in races during your menstrual period? As senior women athletes, you should tell us what goes on. We are men and we have young daughters who will want to be athletes one day," Kipchoge posed the question to former world 800m champion Janeth Jepkosgei and former steeplechase champion Milcah Chemos.
Jepkosgei, who has switched to coaching, described the 'bad days' as the most challenging for women athletes, especially the juniors.
The former Olympic silver medalist recounted how, as a young athlete, she braved a menstrual moment during her debut international outing at the world junior championships in Kingston, Jamaica.
"It was my first international outing and things turned bad. I managed to win the junior race despite the fact that I was in my bad days. I had to be courageous and I told my coach and doctor about it," Jepkosgei told athletes who represented the county at the 2020 Tokyo Olympic Games.
Jepkosgei, who founded Kapchemoiywo Junior Athletics training camp in Nandi County, said a doctor would prescribe a pill that would either postpone the moment or minimize pain associated with menstruation for her whenever she competed during or before the bad days.
She said in several cases, doctors advise women athletes to withdraw from competitions, even where they are billed as race favourites
To young women, she said: "Talk about it. Imagine you are in the finals at the Olympic Games and you experience that moment."
She says monthly periods come with pain and sudden changes in emotions resulting from hormonal imbalances.
"I handle junior athletes and I must deal with a lot of issues about their social lives and their bodies," she says.
Jepkosgei, oozing with wisdom, asked young athletes to start conceiving and having babies at the tail end of their careers.
"Maternity leave is time to reflect. I got my child late in my career and I used the period to pursue my studies through online classes," Jepkosgei said.
According to athletes' representatives at Athletics Kenya, Milcah Chemos, that period of the month is the most challenging for an athlete.
The former world 3,000m steeplechase champion coupled with teenage pregnancy, the situation becomes even worse.
"For women athletes who can marshal the courage to compete during their menstruation, there are specially designed panties to use during the time of the race," Chemos says.
Chemos adds: "The best thing, especially for a young female athlete, is to talk about it. We talk about this issue in low tones in training camps and before competitions.
She said many young athletes are embarrassed to talk about the monthly, natural experience fearing for stigma.
On the issue of early marriages among junior women athletes, Chemos said Athletics Kenya is working on measures to stop the menace in training camps.
"Many young athletes have faded away after teenage pregnancies. We are doing something that will see the suspects arrested. You will soon read and watch what we are doing to save our young athletes from early pregnancies," she said.
"As a senior athlete, I would rather look for the best way possible to secure that medal or win for both you as an athlete and the country at large," she said.
Dr Fredrick Kairithia, an Obstetrician and Gynaecologist Member of TUC, Antidoping Agency of Kenya (ADAK) says, for an active athlete, that period of the month is a psychological and emotional aspect, which affects performance.
Luckily, the gynaecologist says, most athletes do not experience heavy and painful flows because of their daily exercise routines.
But he warns about the use of pills to postpone monthly periods, by women athletes, saying a number of the drugs contain steroids, banned by World Athletics' World Anti-doping Agency (WADA).
"I advise athletes not to use drugs over the counter. I urge them to consult a doctor to get a therapeutic use exception of the pills.
"Use of such drugs without a doctor's advice will lead to athletes testing positive for banned substances even without knowledge," Dr Kairithia says.
He asks athletics enthusiasts to sympathise with female athletes when they unexpectedly produce poor results even when they are the favourites.
According to Dr Kairithia, women athletes will not attribute poor performance in races to menstruation, but will instead cite stomach aches or just ill health after either dropping out or finishing in not so good positions.
"Sometimes, it is necessary for athletes to pull out. At times, a female athlete can run a full marathon without any discomfort, "the medic says.
He continues: "It is good to understand, empathize and support female athletes. At times, they will politely tell you that they have pulled out races for personal reasons."