Nick Mwendwa: Man on the cross for Harambee Stars poor showing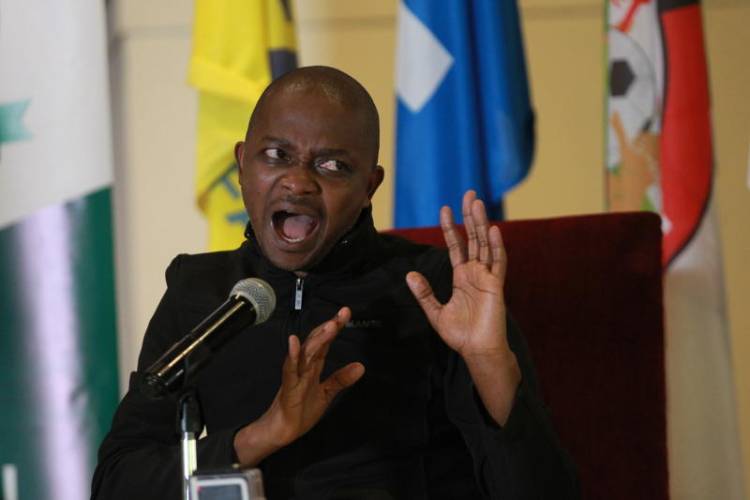 The beautiful game of football has indeed experienced tremendous growth under the current leadership of Nick Mwendwa - a vocal and powerful Football Kenya Federation (FKF) President. Mwendwa is everything. He is football and football is Mwendwa. He seems to execute a number of roles from being a coach, a referee, the federation's team manager, perfectly putting in use his knowledge of Information Technology. His critics say there is nothing that a gung-ho Mwendwa can't do.
Under his leadership, Harambee Stars qualified for Africa Cup of Nations, in Cairo, Egypt for the first time since 2004. That was in 2019.?? It is under his good leadership that Stars managed to end a 15-year Afcon absence. In 2004, Mwendwa was just 27, though he already had the leadership ambitions of raising the standards of Kenyan football.
He won the the hearts of many football lovers; though the reasons were varied. Mwendwa was, and still remains the only man with ability to re-ignite some hope that football fans in Kenya yearn for.
Stars losing crucial matches to weak teams
But just like the other four AFCON finals that Kenya participated since 1972 then 1988, 1990 and 1992, the 2019 squad, even after receiving Sh244 million from the Government, registered one win -against Tanzania -in the land of the Pharaohs.
If there is one job that Harambee Stars have mastered, and which they do so diligently, then it is disappointing Kenyans when called upon to fly the national flag. It's demoralising to watch Harambee Stars lose crucial matches to relatively weak teams. Harambee Stars dreams of qualfying for the next World Cup for the first crash-landed after a humiliating loss to Mali on home soil. It immediately revived questions on the team selection criteria.
But Cleophas Shimanyula, the outspoken Kakamega Homeboyz chairman, thinks the problem is much deeper. "How do you expect players to do when the team is being selected by the federation?" he posed.
For a man who was unanimously elected, in his first term in office, on the promise that he will take Kenya to the World Cup in Qatar, Mwendwa has not lived up to the expectations. A 6-0 aggregate win by Mali means that Kenyans will forced to seeks bets on other nations during the 2022 World Cup in Qatar.
"In any competition, you win some and lose some. There are matches that we've lost and those that we won. Of course, we can win if we put the right attitude," said Simeon Mulama, the ex-Kenyan international.
Granted. But was Mulama impressed by the overall team performance, the result aside? "Of course I was not impressed by the brand of football that I watched in the return leg," he said.
A hapless Stars - a team with no distinct identity that plays in any piece of cloth they lay their hands on; has changed three coaches in the last 18 months, and seven, under Mwendwa. They also crashed out of the 2022 Africa Nations Championship (CHAN) as well as the Cameroon 2022 Africa Cup of Nations.
"Mwendwa should resign. Unfortunately, he can only be removed from office by the delegates, who ironically can't talk about the mess that they created. The Government should intervene and kick him out if we are to save our sport," said Shimanyula.
Despite the string of loses, Mwendwa has always maintained that football is headed in the right direction. To him, he has delivered scattered victories, that he keeps reminding everyone who cares to listen. What he's never failed to do, is to point fingers at his predecessor and journalists for anything his administration perceives to be negative.
"We have been plagued with troubles around coach's way before I got here. We recently paid a coach (Adel Amrouche) Sh110 million just because of decisions that were not made properly. We had to divert our money from FIFA, meant for grassroots to pay this one coach," Mwendwa said in a recent interview.
How this statement was related to the two-month contract he handed Engin Firat, after terminating Jacob 'Ghost' Mulee's contract, leaves more quations than answers.His regime will forever be remembered for questionable team selection, unnecessary battles with perceived enemies - imagined or otherwise.
It is hard to single out a squad that has played under this regime without a familiar face from Kariobangi Sharks, a club linked to Mwendwa which he once coached.
"Where is our football headed to? How can we grow when we have a biased selection and constant change of players?" claims Shimanyula.
Shimanyula, a sole soldier and an investor hurting from mismanagement as he pumps his resources in a venture that promises no dividends. As he fights alone in the field, other executive KPL club chairmen watch from the periphery. But he is determined and calls on the government to intervene.
When John Avire, the then Sofapaka player was included in the AFCON squad, Mwendwa and his foot soldiers played down ethical concerns raised about the transfer. Robert Muthomi had to step down for trying to sell a player still contracted by the club. He was later cleared of any wrongdoing.
The deal has always been a simple trick. C??all a rookie to Harambee Stars, give him a cap then sell at a higher price, which means a bigger cut. Under Mwendwa, Ovella Ochieng, the ex-Kariobangi Sharks player made his national team debut on November 13, 2015 in a 1-0 defeat against Cape Verde World Cup qualifiers, then sold for a premium.
John Oyemba, earned his place in the provisional Harambee Stars AFCON squad. But when he left Kariobangi Sharks for AFC Leopards, the goalkeeper, who was considered fourth in the pecking order just two years ago, has never been called to the national team.
Is this the result that we want to have every day?
Mwendwa is no stranger to controversy. He is battled a court case over the death of a then 74-year-old man hired by an auctioneering firm to attach some of the federation's property.
Mwendwa is accused of hitting Leonard Munyua Mungai with a rungu at FKF offices at Kasarani's FIFA Goal Project. The old man was in a team hired by Moran Auctioneers over a Sh4.8 million debt FKF owes Mirema Apartments Hotel. Mwendwa however denies being involved in the confrontation. The FKF boss blames former federation officials, whom he accuses of planning to tarnish his name. The matter is still in court.
In 2020, he was summoned by the Directorate of Criminal Investigation (DCI) over the mismanagement of part of the Sh244 million AFCON budget. Mwendwa was at pains to explain how his administration paid money to a UK company, WTS Media Group Ltd, for Outside Broadcasting (OB) van only to go under after the received Sh123million.
A gauche, who emerged from the woods with a promise to reform Kenyan football, Mwendwa looks like the famous eucalyptus tree. As he stands tall on the barren land, making hay while the sun shines, the vegetation beneath is starving.
If the current situation in FKF goes unchecked, Kenya's latent talents will no doubt run to waste. It's worse since Government is too afraid to intervene because big papa, Fifa, is watching.
But what does the future hold for Harambee Stars, Mulama said: "We need to reduce the loss ratio.
"We didn't do a lot of homework about our opponents well in the first leg. Mali was technically better than us. The players who were on the pitch didn't have the know-how to make quick decisions. It all boils down to the preparations."
"The only major worry, for me, is the rate at which we change our coaches," added Mulama who admits the future of football in this country is bleak.
"It is hard to say that the future is bright because some players are growing old and it pains me to see that there are outstanding talents who are coming up.
"The only hope is that everyone is concerned about the poor run of form."