Halftime: Jane Wacu takes a break from national volleyball team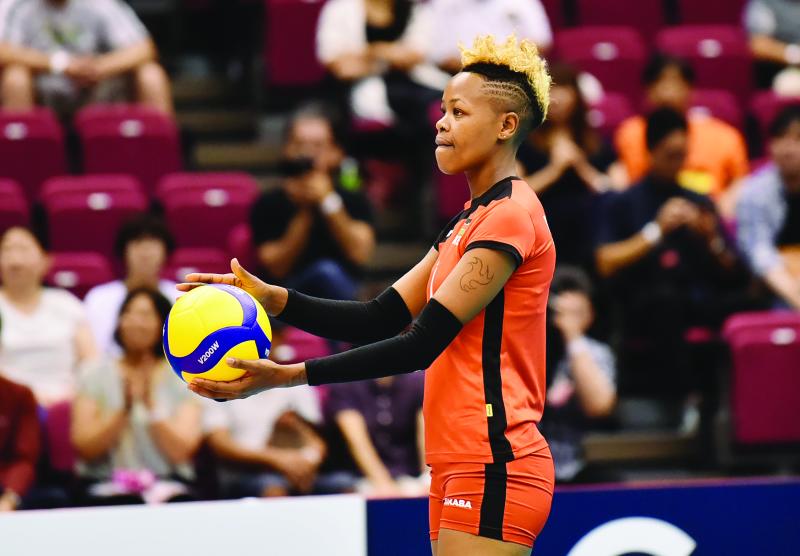 For more than 15 years, Jane Wacu sent men gaga whenever her lithe frame sauntered onto the pitch. She never disappointed. Wacu always left her challengers wondering which direction she would toss the ball.
Her beauty, deadly skills, agility and infectious enthusiasm made her stand out. And now, she plans to exit from the scenes. No doubt, she will be missed by her fans who followed her every move for the 15 years she played ball.
Wacu is drop-dead gorgeous, built like a model but no mistake: She an assassin on the court. What's more, she is a prison warder by profession, meaning she isn't the sort of girl you mess with. Other than volleyball, she doubles up in martial arts, too — for kicks.
Wacu, is arguably the senior most player on the national womens' volleyball team — the Malkia Strikers — has been donning jersey number one at the national team, where she was a central pillar.
From the day she leapt onto the stage as an understudy to the imperious, deadly and equally beautiful setter, Janet Wanja, rarely missed on the rooster whenever the national team was named for continental or international assignments.
That's just how good she was — always in top form. It was only in 2011 that she missed the action as she was serving a suspension slapped on her by the Kenya Volleyball Federation for misconduct at the All African Games in Maputo, the previous year.
She also only missed to make the cut either due to sickness or a minor injury. When she was out, it was due to her own volition, like the 2021 Africa Nations Championship in Rwanda where she turned down the call-up.
Wacu has played in virtually all the major volleyball events — the FIVB World Cup, World Championship, World Grand Prix – which she won in 2015, Inter-Continental champions and lately the Olympics Games.
Continentally, she has won four African titles with Malkia Strikers and a single All African Games gold. At club level, she lifted four Africa Club Championship titles, with Prisons. It is the summer games that had kept her on the court, all this long.
"It is only the Olympics that is missing from my volleyball CV. I will retire after Japan," Wacu told The Nairobian early this year.
And when she finally graced the Olympic stage, in Tokyo last summer, Wacu, born in Majengo slum in Nyeri and schooled at the Muslim Primary, the Kenya Prisons officer finally decided to take a back seat. Currently based in Seychelles, Wacu also had a stint with the French side Club Chamalières, between 2014 and 2015.
Early this week, Wacu announced that she will be taking a break from national team assignments as she now shifts attention to other "important matters", hinting that she would like to give more priority to her small but close family.
"I am just taking a break from the national team. Playing club and international volleyball is demanding. You can't plan your time".
"I need some time to sort out other important things for adults like me," Wacu told The Nairobian on phone without divulging more details.
But even as her fans wait to see what the celebrated Malkia Strikers setter will do next, as she "sorts out other important things" in her life, we can reveal that Wacu, who has been at the heart of the national team since 2006, is currently being courted by three clubs in Seychelles.
"I have three offers already but I've not committed," revealed Wacu, while affirming that she will not be returning to Anse Royale.
Born in the ghetto — Majengo — Wacu has had the fortune to wine and dine with high andmighty and volleyball has been rewarding — from cruising in a classy German machine, a permanent and job and celebrity status.
But the Majengo girl has paid back the favour, with entertainment and fine results whenever duty called upon and the pride of the nation was at stake.
"If I were to go back in time, I would still play volleyball. It has given me so much," she said.
At 36, Wacu says that she will dedicate much of her time to build a strong relationship with family and friends.
"Social capital is a great investment. Everyone needs a strong circle because that's part of the investment you will leave behind for your children to inherit when you are long gone.
"There are things that are important in life, like having a family.
"I will still be playing. I'm going back to Seychelles. Three clubs have already contacted me but I don't want to commit anything for now.
"I'm not going back to Royale though I will still be with my sponsors."
Wacu is paid by a family in Seychelles to play Anse Royale.
"I'm still going to live with them but I will play for another club.
Asked on the prospect of starting a family of her own: "You will know about that in the next couple of months," she said.