Millionaire football star Michael Olunga trekked 20km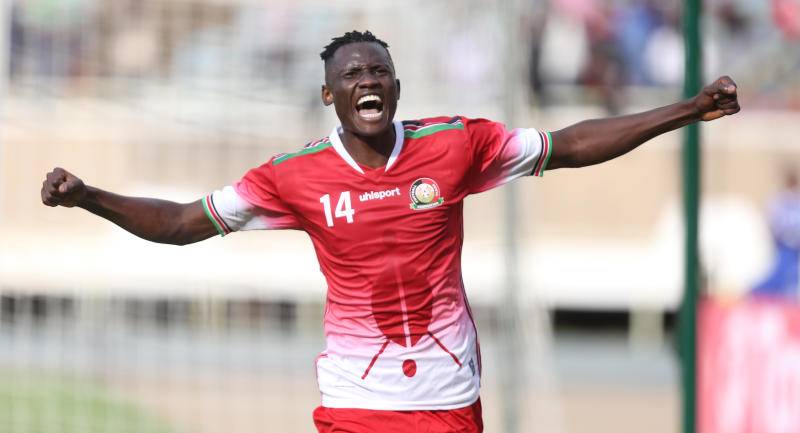 At one point in life, Michael Olunga used to trek for close to 20 kilometres because he could not afford the Sh50 bus fare, reveals Qatari club Al-Duhail star's youth coach. On a regular match day, Olunga, now one of the richest sports personalities in Kenya, would survive on chapati madondo. An average meal would cost Sh30, an exorbitant price that Olunga struggled to pay. But his humility and self-discipline set him apart, according to some of his childhood friends, coaches and fellow players.
Joseph Odhiambo, who coached Olunga at three different clubs in his formative years, says Olunga earned his place into the millionaires' club by sheer hard work and discipline. Christopher Ochieng, Olunga's striking partner at Baba Dogo FC, meanwhile, describes the Harambee Stars striker as a "humble player" who grew up eating mandazi madondo at roadside kiosks.
Odhiambo was one of the coaches who tutored Olunga at Ligi Ndogo and later at Liberty Academy when he was just starting out his football career. And little did Odhiambo, better known as Coach Kanga, ever thought that the man who grew up chewing chapati madondo in Lucky Summer would shoot into global stardom.
"I never thought that one day I will be associated with a big name-star in Kenya football like Olunga," says coach Kanga.
The relationship between the pair would see Odhiambo earn a job placement at Aquinas High School. He was given a through-pass by the former Girona striker. It is a relationship that begun at Baba Dogo where Olunga would occasionally turn out for Red Commandos. Odhiambo was the coach at the local club where Olunga played for nothing but 'fame' though admits that the striker had a distinctive quality than an average Kenyan football player. Though he currently earns in excess of Sh10 million a month following his move to Qatari club Al-Duhail star, Olunga would occasionally walk from Baba Dogo to City Stadium, on an empty stomach.
"Olunga came from a very humble background. At some point, he couldn't afford a simple belt. Sometimes, we would walk on foot, from the stadium to Baba Dogo. We used to train at City stadium those days," says Odhhiambo, also a musician. In one of his songs, Odhiambo, who goes by the stage name Manizzo, has sang about Olunga, who deferred his Geospatial engineering course at Technical University of Kenya to play abroad.
"He used to be skinny. It is understandable because we were passing through some difficult life," revealed Ochieng.
According to Ochieng, the most expensive meal that they used to survive on a Chapati ndengu from the local 'Kibandaski' that cost Sh30.
"Eating Ugali matumbo was a luxury. The main meal was ether Chapati ndengu or mandazi madondo from vibanda," added Ochieng, a former Balaji APZ FC tactician.
Odhiambo also rubbed shoulders with Timmy T-Dat, a childhood friend whom they grew up at Kasabuni in Babadogo and whom at one point they were in the same music group. A certified CAF 'C' licensed coach, he still juggles between music and football.
"It requires high discipline to fuse two gifts at the same time," says Odhiambo as he takes us back to the old days when he used to shout instructions to Olunga, now a millionaire football player.
"Even though currently we don't communicate frequently, I had a good relationship with him. I coached him at Baba Dogo, then to Liberty and from there to Aquinas."
"I didn't know that one day he will be a millionaire footballer," adding that Olunga was a bright boy who would score a straight 'A' even after skiving classes.
But it was his talent that would shoot him to global stardom playing in various leagues from Spain, Japan, Sweden, China to now Qatar.
"One key characteristic that stood out about him is his discipline. Sometimes he would skip school even for a month but he would score straight 'As' in exams."
But while Olunga has temporarily put on hold his education journey, Manizzo, hopes to kill two birds with a single stone as he chases interests in coaching as well as music.
Odhiambo made his music debut in 2004 with an all-boys group that comprised of five artists amongst them Timmy T-Dat. Born in Kisumu but raised up at Kasabuni, Babadogo, his musical career had already dominated the airwaves of Eastland by the time he hit 16, a place he has called home ever since he relocated from Kisumu about two decades ago.