Timothy Cheruiyot: From Kibungot Village to world 1500m stardom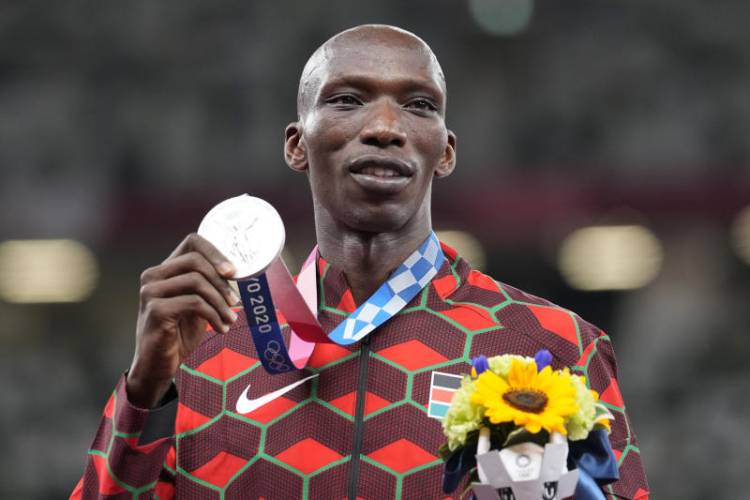 Things don't just happen. They are made to happen. And that exactly captures Timothy Cheruiyot's rise from a rural boy at Kibungot Village in Bomet to world 1500m stardom and rapid promotions at the Kenya Prisons Service.
On Monday, President Uhuru Kenyatta promoted Cheruiyot from the rank of Chief Inspector of Prisons to a gazetted officer –Senior Superintendent of Prisons (SSP), a rank where a cloth crown (not metallic) begins in police and prisons.
He is perhaps the youngest officer in Kenya to hold such a senior rank. With the rank, Cheruiyot can be appointed Officer-In-Charge of a prisons camp like Kapenguria and Manyani.
Among star athletes at the correctional department, Cheruiyot trails four-time Boston Marathon winner Catherine Ndereba, who holds the rank of Assistant Commissioner of Prisons.
Not bad for a man who first visited Nairobi in 2015 when he earned a call up into the team to World Relay Championships in Nassau, The Bahamas. He had never set foot in Jomo Kenyatta International Airport and could only hear his peers talk about the excitement of travelling by air.
Cheruiyot, then 20, had made frantic attempts to excel in 800m while a pupil at Kibungot Primary School and Singorwet Secondary School in Bomet County. But the effort bore no fruits.
In 2011, he made his maiden trip to take part in World Youth Championships national trials and only managed a fifth place. He opted to get back home, prepare well and enrolled into the nearby Njelian Athletics Camp run by Weldon Kirui, the 2012 Kass Marathon winner.
He again returned to Nairobi for the 2013 World Youth Championships national trials and, surprisingly, another misfortune struck him — he was locked out because of age.
A disappointed Cheruiyot then retreated to his rural home in Bomet and gave up on athletics and joined his father Joel Boit, a former athlete, in tea and maize farming.
"I was discouraged by my continuous failure and I thought, why should I continue with something that's not giving me desired results? The whole of 2013, I did farming and never thought of ever turning back to athletics," said the soft spoken Cheruiyot.
His father scoffed at Cheruiyot's decision to ditch athletics and always kept on pushing him to return to running. Boit's push for him to run remained unbearable and he finally bowed to the pressure, returning to full time training in 2014. And the rest is history.