The affair: When side chicks hurt wives, kids by moaning in public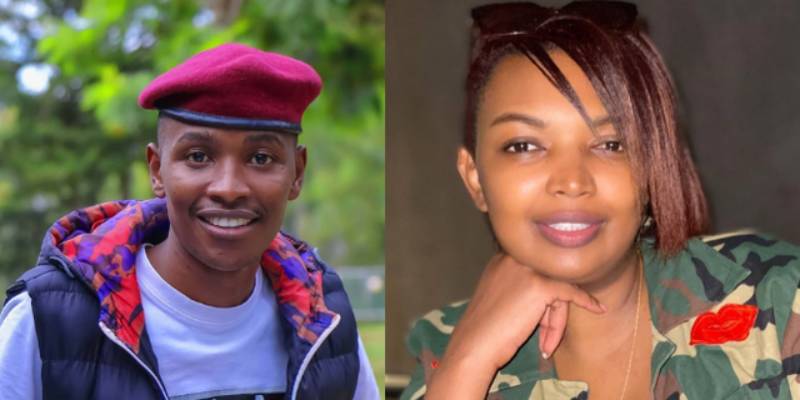 Samido, a cop turned Kikuyu benga artiste, is a married man. The musician is married to Edith Nderitu and together, they have two children. Last year, he got into a whirlwind romantic affair with Nairobi socialite and politician Karen Nyamu and sired a baby boy. Although he claimed to be happily married, he never ended the entanglement with Nyamu and kept her as his mistress.
But this week, their relationship, once again, flared into the limelight after Nyamu took to social media claiming Samido had beaten her up. In a live Instagram conversation, Nyamu claims she is three months pregnant with Samido's baby despite the musician beating her up and smashing her phone.
"I have been beaten, my hair has been removed. And I am just three months pregnant. We women are so stupid; we have to teach these violent guys a lesson. I am shocked, my daughter has cried. It's Samidoh. Someone told him I was seen in Mombasa with a man as if my colleagues are all females.
"You don't own a woman just because you are sleeping with her. Samidoh is a jealous lover who doesn't want me to be around other men. He came to my house last evening and I did not expect him. He started beating me and said he would beat me and kill me. This is what Samidoh has done to me. He smashed my iPhone 12 Pro Max," she said.
Responding to why she got pregnant for the second time with Samido, Nyamu said: "That man is fertile. Children are blessings. Love is stupid."
Samido had earlier apologised to his wife for having an affair with Nyamu, but apparently, he didn't stop boning her.
"I am sorry! I have put my family and myself in a bad situation. It is true I had a friendship with Ms. Karen Nyamu and its involvement that led to the birth of an innocent child whom I have and will always support both emotionally and materially. I am a proud father to my children. I have never left my wife of 11 years for another woman. I apologised to her and my family before," he said.
Samidoh's apology came after his wife Edith Nderitu and Nyamu had a heated exchange online, never mind that the man had earlier denied dating Nyamu because he couldn't afford a second wife.
"I have a wife with children, and I do not intend to get another one with the current economy (sic). I have not been dating her, she has just been my big fan for a long time," he lied.
But Nyamu disclosed that she did not know the singer was married when they started dating in 2019. In a media interview, she said she learned four months into their relationship of Samidoh's marriage to Edith from Nairobi nominated MCA Mary Njambi.
"I do not think I confused Samidoh. We met at a political event that he was performing at, and we became friends. I didn't know Samidoh was married because he was not even wearing a ring. I came to know after being his friend for around four months…. I am not making excuses. These things happen; a lot of women live this life. The only thing I have a problem with is people thinking I am a home wrecker – that I was doing things to compete with the wife and all that," she opened up.
Athlete Asbel Kiprop
Having a mistress is the new norm for Kenyan men. While some relationships seem to thrive, many end in tears.
Athlete Asbel Kiprop's sordid affair with his mpango wa kando also came into the limelight when he posted screenshots of money transfer from his phone, to prove his innocence against allegations of bribing Anti-Doping officials from The International Association of Athletics Federation.
Among beneficiaries from the former 1,500 metres champion included his estranged wife, a mpango wa kando who was married to his friend and pacesetter and his mother. His estranged wife Sammary Cherotich, also an athlete, received Sh1.7 million in her two mobile phone lines while Nancy Jerotich, his former 'mpango wa kando' who is also the wife of his former training partner and pacesetter Andrew Rotich Chepsiya received close to Sh1 million.
Kenyans remember her as the woman in a raunchy video Asbel posed online and in which they were shown getting naughty inside a car blaring Kalenjin music. The almost topless Nancy was wiggling her waist as they kissed and caressed each other.
Nairobi-based OCS transferred
There are mistresses who bring chaos into a man's life. Three years ago, an OCS based in Nairobi was transferred after his side chick caused chaos in his office, protesting that the married man was cheating on her with a new recruit. The man who had been OCS for six years, had allegedly started a relationship with a fresh recruit, under the nose of his side chick, who is also a police officer based at the same station.
The side chick had been transferred to a nearby police post so that her man could have ample time with the fresh recruit. She then waited until the duo were in the office before kicking the door open and beating the poor recruit.
"She was not in uniform, but had been hiding, waiting for the new recruit to come in before accosting her. She got her chance when she saw the recruit walk into the OCS's office where she kicked the door open and started a fight. We couldn't get into the fight because we know they had a relationship and we all felt they should sort out their issues as adults," added the police officer who witnessed the daytime drama.
The side chick said she met the OCS in 2012 when she was a fresh recruit from Kiganjo.
"I met him when he looked very troubled. I came to learn that he had been having problems with his wife and was always unhappy," narrated the side chick, saying they have been living together on and off, as the OCS still occasionally goes back to his first wife.
The OCS told The Nairobian that he had an affair with the woman but she had never been his wife. "When you work closely with someone, you can sometimes fall in love. We are all human, it happened to me and we had a baby.
Not long after, a newly retired Voi police commander was publicly shamed when a video of his former mpango harassing him in public over child maintenance surfaced on social media.