Why father exhumed daughter's body: Her head was facing the lakeside instead of Mt Elgon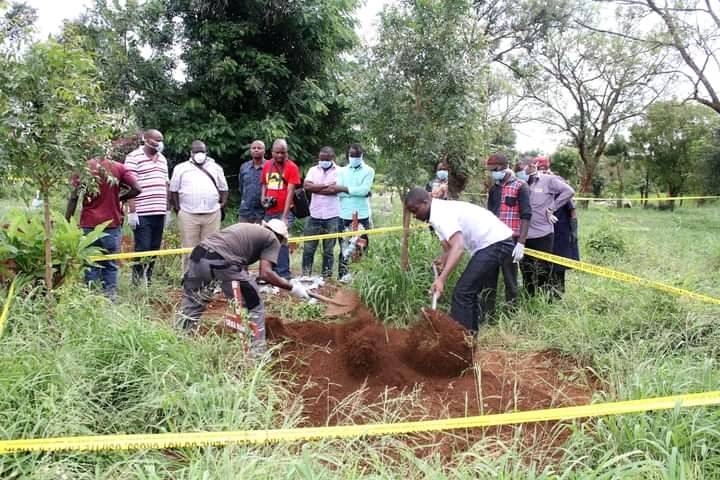 Residents of Shinyalu Constituency, Kakamega County woke up to a rude shock when a father exhumed the body of his daughter barely a week after she was buried.
Aggrey Asiema, 52, from Kamwega village exhumed the body of 15-year- old child in order, "to give her a decent burial."
Lilian Aseya died after a long illness and was buried while her father was away in Nairobi. He arrived three days after the burial and was dissatisfied with the whole process.
"He claimed the head of the deceased was facing the lakeside instead of Mt Elgon direction," said Charles Musee, an uncle to the late teenager.
According to Asiema's wife and mother of the teenager, her husband wanted to know why the deceased had been buried in his absence and consequently turned violent before he started digging up the grave.
Led by Charles Musee, the deceased's uncle, locals described the action as a curse and want the family to perform cleansing rituals to appease the dead. They claim that they have never witnessed such an incident in Shinyalu.
One village elder identified as Shadrack explained that the family should bring black chicken, sheep and cow for cleansing before the grave is refilled.
"We are waiting for other elders to converge so that we can give further directions collectively. This is a taboo," he told The Nairobian.
He reiterated that if the body had been removed from the grave, "We would have planted a banana plunk but since he had only tempered with the grave, cleansing the family was inevitable."
Florence Sambaya, a neighbour condemned the incident terming it a taboo and a bad omen in the village.
"Asiema has abused his mother in-law before children. He was not supposed to enter the house before cleansing or else the whole family will be wiped," she said.
Talking to The Nairobian, Asiema's mother-in-law Beatrice Anyona was in pain to contain the tragic events.
"My son in-law has brought shame to the family. All this because the burial was done in his absence. Exhuming bodies is not acceptable, is just disturbing the spirit. It's a taboo and needs cleansing," she said.
Police from Kamwega police station arrested and briefly detained Asiema before releasing him.