Kikuyu musician Muigai flaunts two wives who live peacefully and love each other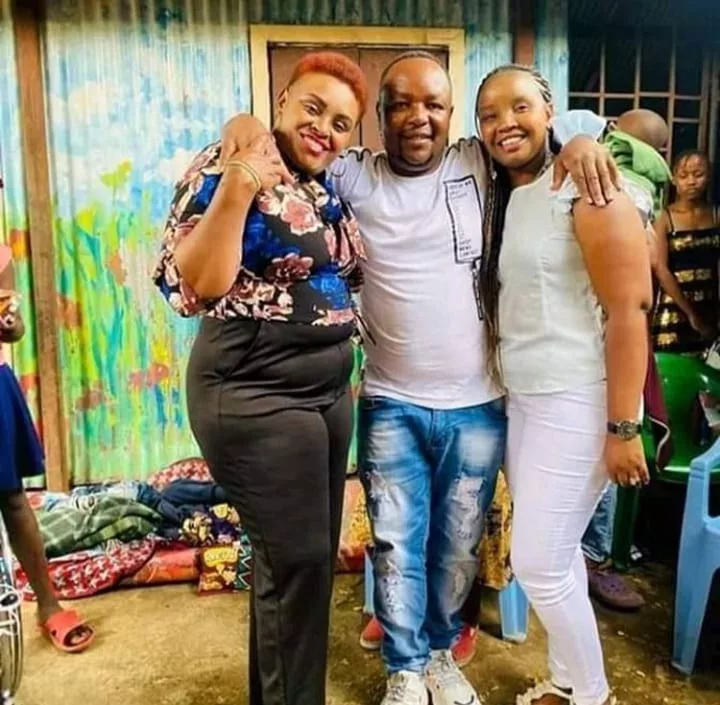 Kikuyu musician flaunts two beautiful wives who live peacefully and share love
Women from Central Kenya don't entertain polygamy. Christianity also lays frowns at men with more than one wife. But then there is gospel musician Muigai wa Njoroge. His genre is not only Christian, but he's from Central Kenya —where women are said to go at the co-wife's throats with their bare hands.

The popular Kikuyu musician nicknamed 'Kigutha' (which is one of his well-known songs) broke the Internet over the weekend after flaunting his two wives on social media.

Njeri Muigai, the first wife and Queen Stacy Muigai, the Second Lady had accompanied Muigai during a visit to a children's home in Korogocho slums in Nairobi where they celebrated the birthday of one of his daughters.
"My whole world in one picture. I spent my time with Light and Hope Korogocho Children's Home. I was with my wives and children where we also celebrated Wanjiku's birthday," Muigai posted on social media where he paraded his apparently happy polygamous family, children and all.

"It was a great day indeed. Feeling happy and fulfilled. With Queen Stacey," Njeri captioned the photos adding, "You are the best. Love you a lot Njeri Muigai."
Fans and nosy netizens were quick to heap praises at "your two wives at peace with each other" while exciting heated debate on polygamy in 21st century Kenya.

Other fans, mostly those with negative energy, thought it was all for a show: "This is a big lie. One of them must be feeling cheated," commented one.
Muigai, an active social media user, responded to the comments and reassured his fans that his wives live in harmony, which he attributed to God.

"All this is because of God's mercy and being loved and at peace with our forefathers," Muigai wrote.
The elephant in the room was how a staunch, born again Christian engages in polygamy, which mostly happens in traditional marriages.

"You mean you don't see any big mountain before you? I love your courage but I am held back at the mention of wives," posted one of the fans.
Muigai responded: "I haven't done anything unacceptable or new to this world. You shouldn't be surprised or shocked," all the while laughing away suggestions from women begging to be taken as third wheels.

One of the fans lauded the musician saying that many men criticizing him for polygamy were only jealous of their counterparts who had such successful families and lacked resources to sustain them.
In response, Muigai said limited resources were not the main reason but that most are held back by selfishness.
"It is not because they can't afford to sustain a polygamous family. Majority of those hardliners are selfish, cowards and others are naturally jealous," argued Muigai whose two wives appear to blend well together if their social media and positive tags are any yardsticks.

"I choose you. You are beautiful and strong Njeri Muigai," Queen Stacey captioned one of her posts tagging Njeri.
Njeri expressed her unreserved approval responding with "you are absolutely beautiful (heart). Love you baby gal."
Similar love has been celebrated by Kenyans for Demathew Queens, the two wives of the late popular musician John 'Demathew' Ng'ang'a who died in a road accident in August 2019.

During the funeral, Sarafina Wairimu, the first wife warmed the hearts of mourners after she declared that she would not let anyone come between her and the second wife, Caroline Waithera.
"Today I want everybody to know that not even the media will come between me and Caroline. We will live loving each other as we did when John was still alive. You can't even differentiate my children from hers. We treat them as ours," said Wairimu.

President Uhuru Kenyatta who was among the mourners recognised the bond between the two wives.
"I salute these two wives. It is not easy for a wife to stand and recognise their co-wives. The rest need to learn from them. Many would be mud-slinging each other but for John's wives we have seen love and togetherness," said Uhuru.
In December 2018 Tom Mako from Kajiado County tied the knot with two wives Elizabeth Silamoi and Joyce Tokoyian on the same day in a colourful traditional wedding that caused a stir on social media.

Kenyans lauded Mako for his courage, determination and giving equal treatment to his two lovebirds who by then had two children each.

Well, don't try this at home unless you have balls of steel!