Covid vaccine: Someone tell politicians to hide their wobbly bits in a vest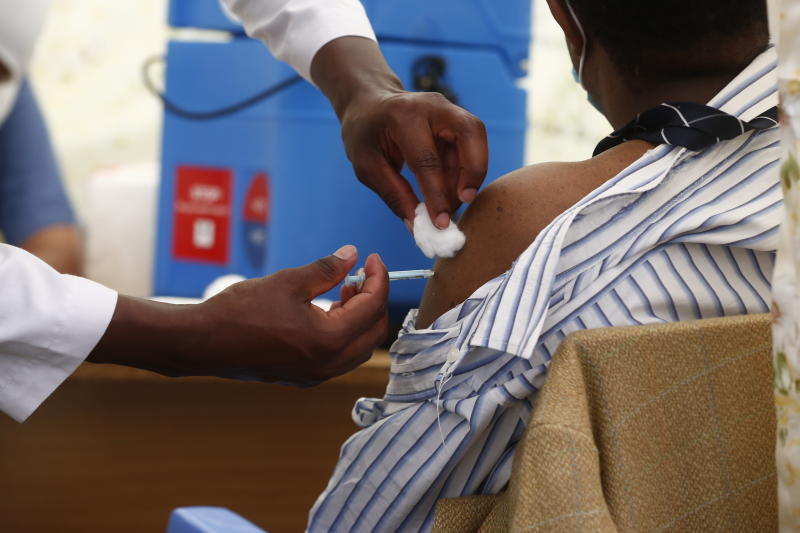 I am working tirelessly to pick the outfit in which I will avail myself for a shot in the arm, never mind that I am neither 58 years old nor an essential worker.
Every day, I bolt upright in bed, haunted by the visual of a faceless mheshimiwa, seated on a chair in some clinic with a medical professional standing over him, needle poised, and — a few feet away, a nervous youth standing with a smartphone camera ready to capture the moment. 'Just got the vaccine', the caption will say when the photo is posted to all of mhesh's social media platforms.
But the thing that haunts me is the image of mhesh seated there, his shirt flapping open. It is a haunting image, one that calls to mind the story of Ham, the mannerless son of Noah who stumbled into his father's tent after the old man had underestimated some fermented grapes. The fool saw him naked and, instead of looking for a leso, he proceeded to twit about it to his brothers.
It is an image of an adult male body, ravished by time but also softened by the creature comforts that only taxpayer money can provide. I have seen boobs and swollen bellies the kind of which children point at and laugh. I now understand why our big men dress in suits that come with large, dark coats. I have seen it all, and despite the fact that I was supposed to be witnessing vaccination at work, I was instead left traumatised.
What happened to men wearing vests, for example? I say vests, but I really mean wifebeaters, a particularly hilarious thing to call an item of clothing. When did we stop wearing them? Are they no longer cool, like petticoats? Is it because they are also called wifebeaters? Did feminism ruin vests like it did romance?
And then, why, as a man, would you allow anything with recording capabilities anywhere near your torso if you are not built like Cristiano Ronaldo?
Every day, I remember the unspeakable things I have seen beneath those expensive politician shirts, and sleep deserts me. As soon as I am awake, I dive headfirst into my modest closet, and I don't emerge from its depths until I have unearthed at least four outfit options.
I am currently torn between a nice, short-sleeved shirt, which I can easily roll all the way up to the shoulder as the needle makes its final approach; and a long-sleeved one I will pair with a T-shirt so thick that even thermal imaging cannot penetrate. I am terrified that the nurse will tell me the efficacy of the vaccine decreases with every item of clothing you have on. That unless I flash them my nips, that thing will not work. Even though Astra-Zeneca is British, and it shouldn't mind if I show up in a tweed jacket.
It's not just about what you wear on your upper half, either. I have heard mumblings that because the thing has to be injected into muscle tissue, they may not be above foregoing your arm in favour of your gluteus maximus. Which means your boxer game has to be on point as well, just in case. Plus, you may pass out in the process, and you don't want to clear the room when they take your shoes off. So… clean socks, too.
Sigh. Whichever way I cut this cake, my look needs to be on point. Some fool will undoubtedly bring up the point that I should not worry about what I'm wearing if I'm not going to be taking a photo. And I will only shake my head and request this gentleman not to vote in 2022. He has clearly not read the rules about getting the vaccine.
You sit right next to a large poster bearing the gospel of the vaccine; you cringe because they are injecting you with something, ; you open your shirt and give the world a glimpse of the goods. But most importantly, you bring your own photographer, and you post that experience on Twitter post-haste. How else will people know you've done it?
I am ready for the needle. I have read up on the side effects, I have loaded up on those fruits that act as blood thinners and I have been lifting my laptop five times before going to bed just to give my nonexistent biceps a wake up call. All that is left is to find an outfit, because showing your wobbly bits is a definite no-no.
@sir_guss
Hide your knickers
Hanging your underwear on a public clothesline makes them public property