Dump the lovely lady like hot potato if she can't cook ugali for two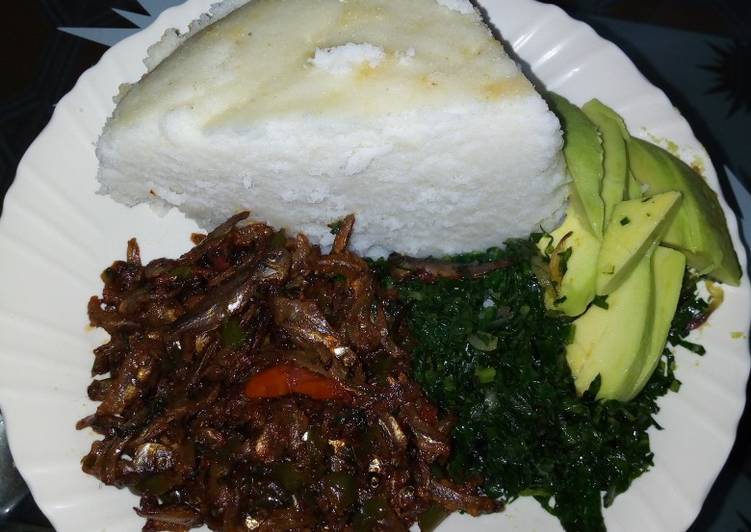 I once invited a female guest I was entertaining for the night into the kitchen, that sacred, sacred place. The inner sanctum. It wasn't that kind of invitation, unfortunately. The way our counters are set up, and because I'm not 6'5, sex in the kitchen is sadly out of the question. Also, I refuse to perform for the extended family of roaches that live in that kitchen.
Anyway. I had just sprained my wrist doing something mildly athletic, and I was realizing I wouldn't be able to whip up that gourmet ugali/beef combination I was famed for, and which was absolutely necessary for powering activities later that night, pending any sudden headaches. And so, having no alternative, I asked the lovely lady if she wouldn't mind 'handling' the ugali, and I would see if I could find a way to make it up to her.
It was not an audition, I swear. I wasn't trying to see how she would function in the kitchen or anything of the sort. I am a feminist sympathizer, you see, so I don't believe anyone belongs in the kitchen. All that and more in my feminist manifesto, coming soon.
The lovely lady agreed, albeit reluctantly. Naturally, she had expected to expend her energy in a different way that night. I directed her to my assortment of mwikos, unfurled the bag of flour I had just received from back home, and left the kitchen to rest my hand.
Some time later, I heard loud noises coming from the inner sanctum. I rushed there, catching the tail-end of a long string of curse words and very colourful insults. All directed, I soon gathered, at the simmering puddle of mush that was meant to be our dinner.
The lady looked rattled. Her hair had slipped from the bondage of a hairpin and was strewn about her face, with a few strands plastered to her forehead by a sheet of sweat. Her eyes were popping. Her teeth were gritted.
Apparently, she had been fighting a losing battle with the flour. Was it even maize flour, she asked, peering into the sufuria with a frown. Her forearms felt taut and painful, and she was practically on the verge of tears.
She had been stirring and turning for almost ten minutes, to no avail. The flour simply refused to 'come together'. She had tried gathering, squeezing, prodding and even twisting, but the damn thing wouldn't coalesce. And she had calculated the water/flour ratio perfectly, too.
It was incredibly difficult to stifle my laughter. It was even harder to explain that this wasn't the same flour she was used to, the pretentious, over-processed, Caucasian kind found in supermarkets. This was sifted vibranium, straight from the farm, crushed by a high-tech marvel sometimes called a posho mill. This flour didn't just 'come together' because you caressed it with a mwiko. You had to impose yourself, let it know who was the boss. It was a battle, and if you showed any sign of weakness, you would not win. That was her mistake. She showed weakness, and the flour deemed her unworthy.
It was my fault, I suppose. I forgot that I was dealing with one of those cool kids. I should have plastered a sticker on the bag of flour that said 'HEAVY LOAD'.
I'm a good teacher, so I let her finish her exam before stepping in with my red pen. The sufuria was blackened all the way up the sides (I would later be forced to retire it). The ugali was still wobbly, scared and soft, and it fell apart as soon as you approached it with a knife. The kitchen was covered in a heavy smoke mist that would have needed fog lights to cut through.
My esteemed guest retired to bed, citing the sudden emergence of a headache.
It was not an audition by any stretch. But it did provide insight, and I highly recommend it. Fellas, forget about taking her home to meet the parents. Forget about purposefully annoying her to see what she's like when she gets annoyed. Don't even bother plying her best friends with drinks to loosen their tongues and acquire dirt on her. If you want to see how your woman handles adversity and challenge, all you have to do is provide her with the finest flour from 'Westie', then pull up a chair and watch. At the very least, it will be highly entertaining.
I have not invited the lovely lady back. It wasn't an audition, but I also don't want my children to starve in the future.
[email protected]
@sir_guss
Hide your knickers
Hanging your underwear on a public clothesline makes them public property