Stay calm; not every fight is worth your time, energy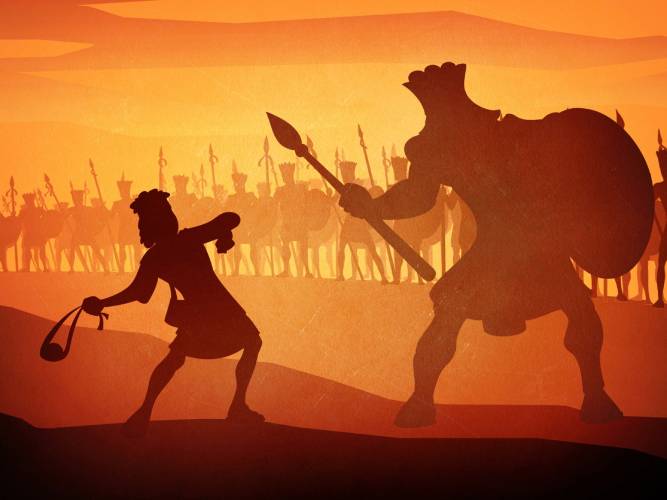 A few days after the September 11, 2001 terror attack in the US, President George W. Bush, in his speech to the Congress said, "After all that has just passed, all the lives taken and all the possibilities and hope that died with them; it is natural to wonder if America's future is one of fear.
"Some speak of an age of terror. I know there are struggles ahead and dangers to face but this country will define our times and not be defined by them.
"As long as the US is determined and strong, this will not be an age of terror; it will be an age of liberty here and across the world." This is a profound and true statement: We can choose to define our times or they will define us!
The account in the book of 1st Samuel Chapter 17, of the encounter between David and Goliath is one of the best-known Bible stories. It has turned David into a metaphor for a victorious underdog.
The odds of David defeating Goliath were so low, but he still won. You see, David was moving to the centre stage to replace Saul as God's plan for his people.
We discover that the source of David's victory, "Then Samuel took the horn of oil and anointed him (David) in the midst of his brothers; and the spirit of the Lord came upon David from that day forward. So Samuel arose and went to Ramah." (1st Samuel 16:13)
From that day forward, God was at work as David came to prominence as the one who would lead his people to conquer the land. For you to conquer, you need to choose or pick your battles carefully.
When you go to battle, ensure that the victory will be worth the price, because not every battle is worth our energies. David chose to fight Goliath because he represented a threat to the security of Israelites - they were oppressing the freedom of the Israelites and Goliath dishonoured God. "And David said, what have I done now? Is there not a cause?"
Refuse to be discouraged, deterred or frustrated by the words or actions of those closest to you. When David first offered his services to attack Goliath, his brothers mocked him and told him to go back to Bethlehem to look after their father's sheep.
Count on the victories that God gave you in the past when you are in battle. Having killed the ferocious beasts in the wilderness as he looked after the sheep; David was convinced that God would help him defeat the mighty Goliath also.
David said, "The Lord who delivered me from the paw of the lion and the paw of the bear; he will deliver me from the hand of this Philistine. And Saul said to David, go, and the Lord be with you."
Use the weapons that you have used in the past and proven by experience to be effective. David refused to use Saul's armour, helmet and coat of mail because they were heavy and did not fit his small stature.
He took his staff, five smooth stones from the river and a sling. He wanted everyone to know that God's intervention is what enabled this miraculous victory.
You need to exhibit great confidence, courage and faith in God's ability to overcome all odds against you. Goliath asked David, "Am I a dog that you come to me with sticks? Come to me and I will give your flesh to the birds of the air and beasts of the field." And he cursed David by his gods.
Without fear David answered, "You come to me with a sword, spear and javelin. But I come to you in the name of the Lord of hosts, the God of the armies of Israel, whom you have defiled. This day the Lord will deliver you into my hand and I will strike you and take your head from you.
I will give the carcasses of the camp of the Philistines to the birds of air and the wild beasts of the earth. So that all the earth may know that there is a God in Israel. Then all this assembly will know that the Lord does not save by sword and spear; for the battle is the Lord's."
In this encounter, David first faced a fierce foe (Goliath) who was almost 10-feet tall. Second, he faced friendly fire - his own brothers criticized, rejected and ridiculed him for coming to the battlefield.
Third, he was secure in God because he knew that Goliath's attack was on his God. Fourth, David rested his faith in God from his past experiences and victories.
There may be situations that look insurmountable and you seem to be up against the tide. You may face criticism, public opinion and rejection. Do not let these giants stand between you and where God wants to take you.
Bishop David Muriithi
Founder & Overseer
House of Grace International Ministries
Caning won't solve school fires issue
Even as many Kenyans demand that the caning be revisited to curb indiscipline, those against it argue that it amounts to physical abuse of children.