Premium
Impeachment: Governor Mwangaza in messy feud with MCAs gunning for her job
Politics
By Eric Nyakagwa | Nov 28th 2022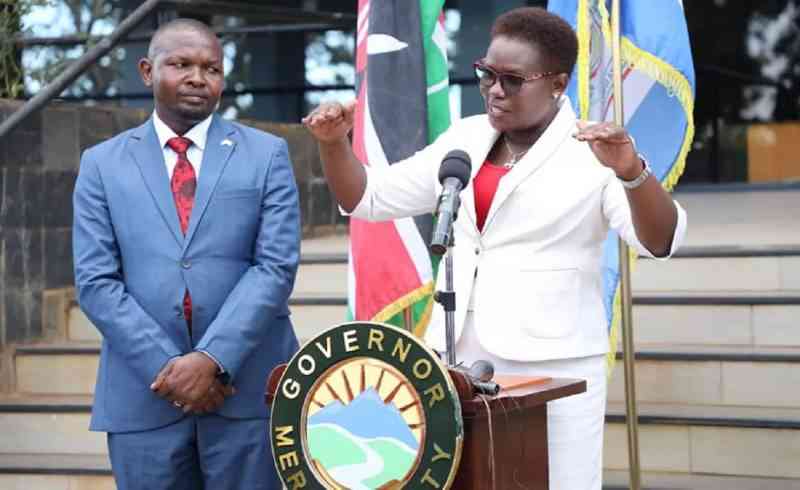 Meru Governor Kawira Mwangaza could be the first governor to be ousted after this year's General Election.
This is after her tussles with members of the County Assembly boiled over on Tuesday last week when Abogeta West's Dennis "DMK" Kiogora filed an impeachment motion against her.
Mwangaza faces an uphill task in trying to save her job as she was elected on an independent ticket after bolting out of President William Ruto's United Democratic Alliance (UDA) claiming the nomination process was predetermined.
The County Assembly is dominated by UDA and former Governor Kiraitu Murungi's Devolution Empowerment Party (DEP), which both have 13 MCAs while Jubilee has six.
Others are Party of National Unity (50, Independents (5), National Ordinary People's Empowerment Union (2), DP (1) and DPK (1). There are 24 nominated MCAs.
What complicates matters for the governor is that there is bipartisan support for the motion after she fell out with the MCAs when she refused to allocate funds for ward development fund or ward community projects.
Majority Leader Evans Mawira and Minority boss Mwenda Ithili have been leading the war against the governor.
Mr Kiogora, who belongs to DEP, in his notice of impeachment motion accuses Kawira of, among others, alleged nepotism, gross misconduct and violations of various constitutional provisions.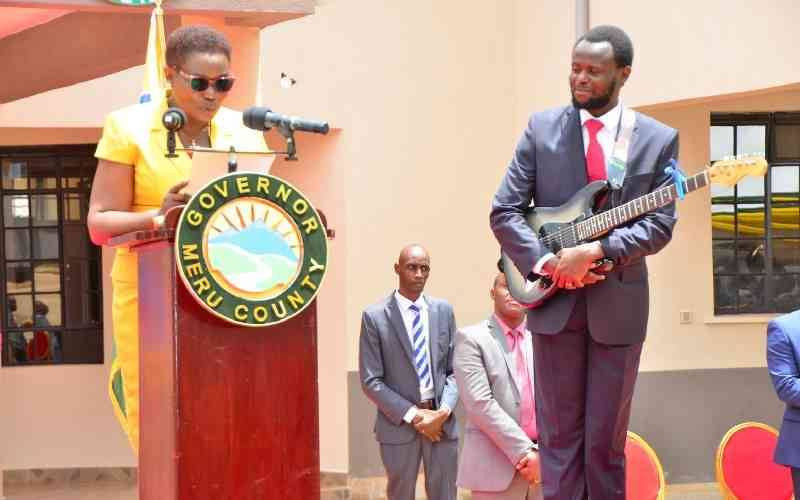 He alleged the governor hired her husband Baichu Murega as Meru Youth Service patron and 'Hustlers Ambassador', positions that non-existent.
He also cited her for alleged appointments and sackings of some staff.
In the assembly, only Kiagu Ward's Simon Ngaruni of UDA did not support the intention to oust Mwangaza, who served as Woman Rep between 2013 and 2017.
Mwangaza surprised pundits when she vanquished Kiraitu and Mithika Linturi, now the Agriculture Cabinet Secretary, in the August 9 elections.
Reconcile MCAs
But while the win was an enviable feat, the challenge ahead appears to be more tricky after efforts to reconcile her with the MCAs, including by her Kirinyaga counterpart Anne Waiguru, have so far bore no fruit.
To make matters worse, the impeachment bid comes even before she has caught her breath after a bruising campaign. Her refusal to allocate funds to MCAs to undertake projects in their wards has the support of Assembly Speaker Ayub Bundi.
Mwangaza argued that she is ready to allocate Sh100 million to every ward but cited a 2018 advisory by the Controller of Budget, who asserted that the establishment of the Ward Development Fund will contravene regulation 197 of the Public Finance Management Act.
However, the MCAs hold the view that they need to play a visible role in their wards in delivering their promises to voters even as the governor told them they will have a chance to present their priorities during public participation forums held by the county government.
The rift saw MCAs walk out on her on October 19 when she arrived at the County Assembly chambers to deliver her address.
It culminated in a meeting that brought Kawira, an assembly delegation led by Bundi and Controller of Budget Dr Margaret Nyakang'o, to unlock the stalemate.
After the meeting, Mwangaza announced that Nyakang'o had stood by the 2018 advisory by her predecessor.
"MCAs can participate in public participations as members of respective communities and should not dictate what projects should be included in the list. The Office of The Controller of Budget will do a report on the discussions and submit the report to both parties for implementation."
"It my hope that this will end the differences that have been there so that we can work for the people of Meru with much vigor," said the county chief.
On his part, Speaker Bundi told residents not to blame MCAs if they were not able to deliver projects they pledged.
Mr Bundi said under the guidance of Dr Nyakang'o, it was resolved that all the ward projects now "belonged" to the governor.
"So now we (MCAs) are going to tell residents they should not demand projects from MCAs but the governor. The governor told us to perform our oversight role in the assembly. Our job will be at the assembly, not anything else," Bundi said.
"She has said she does not want to be assisted by MCAs. She will spearhead and implement by herself, as we do the oversight," he added.
Hellbent
And now, all indications show the 68 MCAs are hellbent on ousting her even before she delivers her inaugural budget.
But Mwangaza remains adamant.
"Nothing will prevent me from delivering for the people of Meru. You gave me the power to move around to hear your needs in health, water and other sectors. I am firm and will work for residents and in fear of the Lord," she said during a meeting with farmers.
"I am going to stand firm and protect public resources against the cartels," she said.
She said will not sit in the office but will instead be in the grassroots most of the time.
What works against the governor is that she has not build connections with leaders both at the county and at the national level that has work to save her job.
For instance, it will be interesting to see whether President Ruto can intervene to thwart the impeachment attempt which comes barely three months after the elections.
Another chance for Mwangaza to salvage her job is at the Senate but she is also not in the best of terms with Meru Senator Murungi Kathuri, who is also the Deputy Speaker.
That leaves the courts as another route she can pursue but it will depend on whether the MCAs have enough evidence to sustain the grounds of impeachment.
James Mutwiri, a political analyst in Meru, reckons Mwangaza might just survive the bid to oust her.
"The numbers in the assembly are overwhelmingly against her. That said, it will require some extraordinary development for her to survive, especially because you cannot see help coming from the Senate. She is not on good terms with Meru Senator Kathuri Murungi," said Mr Mutwiri.
"She is fiercely independent but has somehow managed to cultivate a deep connection with the rural masses who voted her into office. They will stand with her, but they will not be of any help when MCAs impeach her. The way I see it, only President William Ruto can save her position, but the answer you and I do not know is whether he will be willing to do so."