Atudonyang- West Pokot people have never accused me of being an absentee governor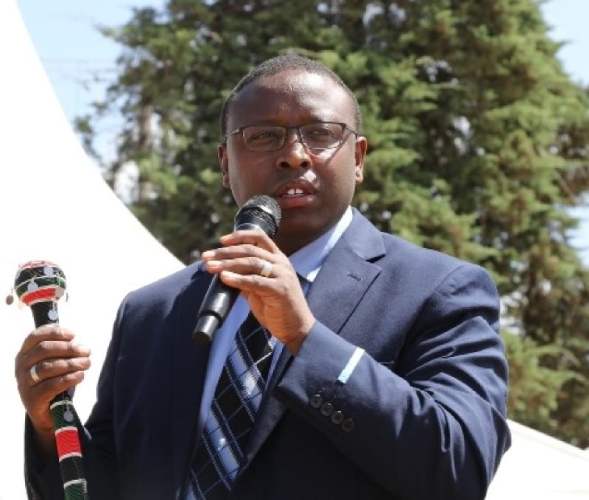 West Pokot Deputy Governor Nicholas Atudonyang, who spent the last four years in the US, recently told Spice FM that one can run the office digitally. Here are excerpts of the interview:

You were recently propelled into the public eye over your four-year absence. Tell us more about this
I have stayed and lived in Kenya more than anywhere else. My schooling was mostly in Kenya. I went to the University of Nairobi.
I later went to the United States to further my studies in medicine and pursue it for a few years. However, I have been in touch and I've been working and connected to the people of West Pokot.
How often do you come to Kenya?
Regularly, I never lost the connection, touch and focus in championing for and improving the living standards of the people of my community.
How are you part of the community projects?
You know West Pokot is a marginalised area and an arid community and schools are not good. We had to find a way of making use of the available resources and encouraging the community to perform as well as the rest of the country. That is even before I became the DG. We were able to compete with the rest of the country back in the day. That's why I got admission to the university.
You earned yourself the absentee governor label, have you been able to perform your duties while away?
I want to change the politics of West Pokot. When an opportunity presented itself in 2017, we sat down with the governor and looked at our priorities and how we would modify the budget.
Devolution is a good thing and the spirit of devolution was to allow counties to prioritise their needs. Education was key for us and we had to move a lot of money to the bursary fund, and I think we have allocated more money to education in terms of percentage than any other county.
The second priority was healthcare. Initially, we had hospital beds supported by bricks, and we had to see how to improve that with the limited budget.
In that spirit, we started looking for funds to improve our healthcare facilities. As it happened, I had a lot of friends in and outside the country. I went to look for funds and it bore fruit. We have a better hospital now in Kapenguria.
How was it?
With education, we could work with the funds allocated to the county, but healthcare needed more. We needed equipment, expertise and training of the workforce we had.
We checked the mortality rate and we discovered that childbirth-related deaths were the highest.
I looked for friends who were good with obstetric gynaecology and looked for basic equipment like ultrasound. It was a way of finding a solution and it took time, it didn't take a day or one-time trip, and it was more than that.
Then why are you labelled absentee?
The people of West Pokot have never complained about that because I update them in everything we do.
Different counties have different needs. That's why you have people from other counties who don't know our needs pointing fingers.
I consider that outside noise, and I am willing to carry it. It is politics.
You say you went to mobilise resources for your people, how much did you raise?
The medical equipment and medical supplies I have mobilised are slightly above Sh200 million. The trainings are beyond count, and we have locals who now carry on with training. All doctors are trained on the basics of ultrasound.
If you look at maternal mortality rates, despite still being a problem, it has gone down. We brought in hospital beds, we got ultrasounds, and there is more to it. I also brought in friends who come in periodically to help train doctors.
What would be the benefit of being an absentee deputy governor like yourself?
I have always told the people of West Pokot the cost of running the office of the Deputy Governor. From morning tea, maintaining the vehicle and just the basic running of the office, if we have to quantify, we are looking at something between Sh50 million and Sh100 million a year.
For a place like West Pokot, wouldn't it be better to have a DG who visits people? So is it better to get that Sh100 million and allocate it to bursary funds or the office gets that money?
The cost of running the office of the deputy governor in West Pokot is the lowest of all the countries.
Do you draw a salary?
No, I don't. It reached a point where the noise about my whereabouts was loud. I made a sacrifice for the people in order to take away the political noise. It is okay for me not to earn a salary, it was made official a few months after I got in office.
So then do you say deputy governors can operate without offices?
I do not want to question the intelligence of those who drafted the Constitution. Every county has its priorities, so let it not be a question of one size fits all. Let every county see how well they can run their affairs.
Being a governor requires you to be on the ground. What is going to change?
I will have to be around. My community has asked me to be their spokesperson, something I have accepted. That means I'll have to listen to them more and be around them.
Why did you fall out with your governor?
My people wanted a Kanu member as their governor. There were other issues and misunderstandings in how we would run our county.
Old politics of corruption and transparency was the biggest disconnect between him and me.
What should be done to pacify the West Pokot region?
Everything bolts back to education and the empowerment of the public. We just to educate our children and show them there are more options to make a living.