Chebukati, Koome facing uphill task to retain image of impartiality ahead of polls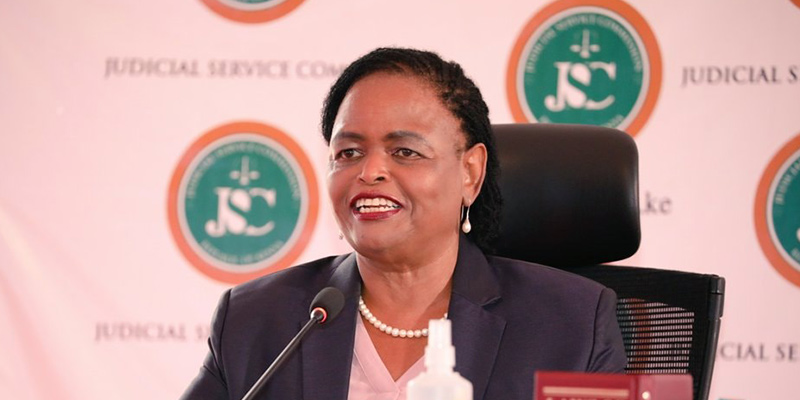 With just over eight months to the next General Election, the Judiciary appears to be treading on delicate grounds as Chief Justice Martha Koome finds herself deep inside political tussles pitting the likely main protagonists.
At the centre of the bickering is the choice of Justice Koome as the chair of the National Multi-Agency Consultative Forum on Election Preparedness (NMACF).
The forum, which is supposed to bring together the Judiciary, ministries of Interior and ICT, Independent Electoral and Boundaries Commission (IEBC), Communications Authority, the Attorney General and the National Cohesion and Integrated Commission, has since been boycotted by IEBC Chairman Wafula Chebukati following protests by United Democratic Alliance (UDA).
UDA Secretary General Veronica Maina fired a letter to Justice Koome, saying her engagement in the committee is in contravention of the Constitution and various statutes such as the Judicial Service Act, the Leadership and Integrity Act and the Public Officer Ethics Act, which requires the Judiciary to be independent and impartial.
Prior to Maina's letter, allies of Deputy President William Ruto, who will be seeking the presidency on UDA ticket, had expressed fears that her impartiality will be compromised should any electoral dispute end up before the Judiciary.
However, Koome, in a letter to Maina, held that the forum is constituted to secure election preparedness involving all heads of ministries, agencies and departments, including former chief justices who were part of previous elections.
"The CJ holds several responsibilities which require her to be part of the team," the CJ said through her chief of staff Rose Macharia.
"UDA is a convergence of political leaders who should enhance trust in public institutions. They should be aware that our common destiny cannot be guaranteed if leaders of various arms of government operate in silos, with suspicion and in fear," she added, likening the forum to the National Council for Administration of Justice (NCAJ), which she also chairs.
At the same time, Justice Koome denied being a member of the Technical Working Committee (TWC), which falls under the multi-agency forum.
However, in announcing his decision, Chebukati, in a letter to Interior Principal Secretary Karanja Kibicho, said the withdrawal from further engagements with the multi-agency forum and TWC was "after consultations and an in-depth critical appraisal of the forum's Terms of Reference (ToR)."
Nairobi lawyer Morara Omoke said what should concern Justice Koome is to ensure that the Judiciary is adequately staffed and resourced in terms of facilities and funds to deal with disputes that would arise from next year's elections without appearing to compromise its independence.
"As we speak, she has declined to push for the appointment of the appellate judges rejected by the president. This should have been her priority to ensure there is no shortage when the courts begin handling appeals arising from election petitions. She has no business sitting in an inter-agency forum," he told The Nairobian.
The appellate court currently has 20 out of a maximum of 30 judges, with two handling administrative issues.
"Every person in that forum has a specific role. For instance, Matiang'i should be working on how to ensure the elections are held in a secure environment. He has no business discussing the IEBC's budget. He is not an MP, member of the Finance Committee or the Treasury CS. As it is, some of them have expressed clear political preferences. The best they can do is wait for their side to win and join the next government," said Omoke.
He warned that if some key government functionaries are not careful, a disputed election can easily plunge the country into chaos akin to the 2007/08 experience.
"They were all in this country in 2007/08 and they know what mistrust in the Judiciary can result in," he said.
USIU-A History lecturer Prof Macharia Munene also said Chebukati had little choice but to delink from the forum since though the "idea is good, the optics are terrible."
"The idea for Chebukati is to be, appear to be, and remain independent and impartial. The composition of the members failed on the 'impartial' appearance test. Chebukati is simply trying to regain the independent and impartial image," said Munene.
But the IEBC chief's move has earned him criticism from some of ODM leader Raila Odinga's lieutenants, who claimed, without evidence, that he has opted to take sides.
"As ODM, we want free, fair, verifiable elections. We want to tell Chebukati we are watching you. We know what is happening," Suna East MP Junet Mohamed said at a function at Chungwa House on Tuesday.
On the other hand, those who want the CJ to delink from the multi-agency team say there is a difference between the previous arrangement within the Judiciary on matters elections and the current setup.
The move has, however, split senior counsels such as Martha Karua and Ahmednassir Abdullahi, with the former accusing Justice Koome's critics of "male chauvinism."
Abdullahi and Elgeyo Marakwet Senator Kipchumba Murkomen said both former CJs Willy Mutunga and David Maraga never chaired a similar forum.
Critics say Mutunga's brainchild was the Judiciary Working Committee on Election Preparations, which the former CJ tasked Maraga to serve in as vice chair in May 2012.
This was a temporary international committee, which was, among others, to advise the Judiciary on administrative arrangements and measures for the efficient disposal of election-related disputes; design and execute a Judiciary programme to build the capacity of judges, magistrates and other judicial officers on electoral matters; design a system for monitoring and evaluating the management of election-related disputes in court; liaise with and coordinate stakeholders to ensure effective and timely resolution of election-related disputes and offences as well as advise the Judiciary on public outreach strategies on the election process.
It was later elevated to a Judiciary Committee on Elections (JCE) under Maraga's stewardship. Upon his elevation to CJ, he handed over to High Court judge Msagha Mbogholi, who has since been replaced by appellate judge Daniel Musinga.
Ahead of the 2017 elections, Maraga also chaired a conference on election preparedness at KICC.