Musalia Mudavadi's only hope is to lock Raila, Ruto out of his 'bedroom'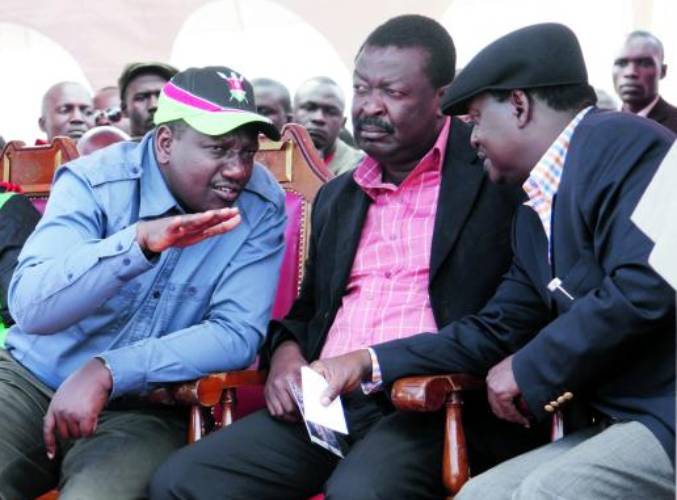 ANC leader Musalia Mudavadi has vowed to go all the way to the ballot in his quest for the presidency.
He is in no doubt going to have a Herculean task locking ODM leader Raila Odinga and Deputy President William Ruto out of his Western stronghold.
Unlike Raila and Ruto who enjoy huge following in their respective backyards of Nyanza and Rift Valley, Mudavadi does not enjoy majority support in his Western backyard. Luhya is the second most populous ethnic group after the Kikuyu. Apart from the two million voters in Western, there is an estimated one million Luhya voters in other parts of the country.
The headache for Mudavadi is that Luhyas have backed Raila over the years and Ruto is slowly making inroads in Western. Worse, Luyha politicians are divided between him, Raila and Ruto. The challenge for Mudavadi is how he will rally the Western bloc without being seen to use the ethnic card and at the same time maintain a national outlook.
A bigger challenge is that whereas the Luhya community occupies one geographical space, they are not a homogenous community like the Kikuyu, Luo or Kalenjin. Many of its sub-tribes can barely understand each other and are culturally different. Mudavadi, for instance, cannot address a rally in Bungoma, Busia or Mumias in his mother tongue.
As a matter of political urgency, he might be forced to revamp his party, populated by top officials from Western, to give it the face of Kenya. The party has 14 seats in the National Assembly and three in the Senate.
Mudavadi has vowed not to play second fiddle to Ruto and Raila in the 2022 presidential race.
In the 2013 presidential election, he got support in his home area of Vihiga while Raila garnered majority of the Luhya votes.
Mudavadi came a distant third with 483,981 votes against President Uhuru Kenyatta's 6,173,433 and Raila's 5,340,546 votes. In 2017, Mudavadi teamed up with Raila in NASA and they secured nearly the two million votes in Western.
Last month, attempts by President Kenyatta to have Mudavadi, Wiper leader Kalonzo Musyoka, Kanu chairman Gideon Moi and Ford Kenya's Moses Wetangu'la to support a Raila candidature failed after the ANC leader and his Wiper counterpart declared that they would not play second fiddle.
The ANC leader, who has been out of government since 2013 (he served as the Deputy Prime Minister and Minister for Local Government) will be seeking to convince millions of Kenyans to support his presidential bid in a do-or-die battle that could save or sink his political fortunes.
Mudavadi's ambition will be hit hard unless the community registers in numbers and votes for him in 2022.
Central Organisation for Trade Unions Secretary General Francis Atwoli, said there would be a meeting on December 31 for the Mulembe Nation to chart the political future in what he dubbed as Bukhungu III.
"Do not worry about what is happening now, we will converge as sons and daughters of the Luhya nation and make a unanimous decision on our future. We will have a single voice thereafter. We cannot afford to have a divided community. This will give advantage to those who want to use our votes for selfish reasons," said Atwoli.
Kakamega Governor Wycliffe Oparanya dismissed Mudavadi's bid, saying winning a presidential election is more than appearing on the ballot paper.
"Winning a presidential election is totally a different ball-game. It is beyond community politics," he said.
Lugari MP Ayub Savula said Musalia had teamed up with Wetang'ula to lock the Luhya vote.
"We are focused and this time around we will bring down those who purport to have made inroads in the region during previous elections," he said.
A section of Western leaders has been calling for the formation of a coalition between ANC and Ford Kenya.
Barrack Muluka, a political analyst, said community leaders working together doesn't mean that they cannot support someone from outside for the presidency.
"The old and the current must reinvent, repackage and reposition themselves with a breath of freshness," he said.
In the 2017 polls, ruling Jubilee party secured eight out of the 33 parliamentary seats in Western.