Trouble follows Senator Mithika Linturi like flies follow fresh dung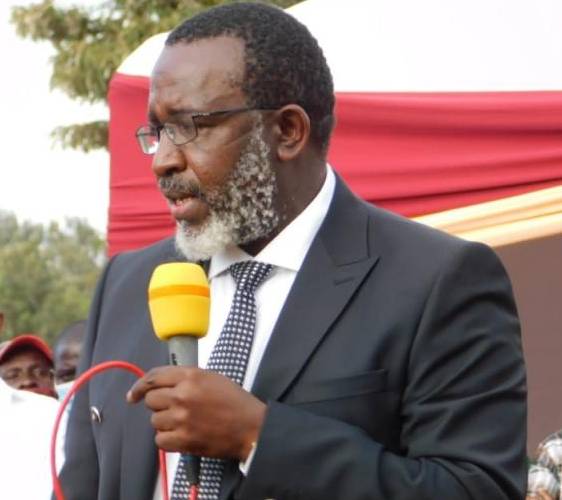 On 29 January, he checked in at a resort in Nanyuki in the company of his girlfriend. On the same night, after a few too many drinks, he allegedly checked into a room where he allegedly found a woman in bed.
Thirty minutes later, it was realised he had strayed into the wrong room and an angry husband beat him like a dog. Linturi is said to have given the angry husband Sh200,000 - the only money he had - to pacify him.
Between the beatings while in the nude, he claims the angry husband made him call friends who in the middle of the night, sent an additional Sh298,000 through M-Pesa but since it was late at night, there was nowhere to withdraw the money.
His tormentors then forced him to sign an agreement admitting that he owed them Sh800,000, such a steep cost for feasting on the marital bounty that belonged to another man.
Come sunrise, the senator wriggled his way out of the conundrum and headed straight to the police where he reported that he was being extorted. Six months down the line, he is now being charged with rape and the Director of Public Prosecutions is ready to have him arrested and arraigned.
Linturi claims it is all political machinations since he is on the wrong side of the political divide, and the powers that be, want to teach him a lesson.
Nasty divorce
In February last year, when this writer met Linturi, who was at the moment embroiled in a nasty divorce case and fight over a Sh700 million property, the senator said he had gone through so much in life, and the divorce was just a small chip on his shoulders, something he can easily fight off.
"I have handled bigger problems. This is not even a problem, it's just a minor inconvenience. I am winning this case, that woman won't take away my property," he said.
The person he had been referring to as "that woman" had a few months before been referred to as "my darling", a woman he composed cheesy poems for, with verses that go: Every time I set my eyes on you, a part of me softens/You are my love, you are my world, you are my everything/With you, I grow and glow, With you, I survive and thrive, With you, I live and dive/
The poem was submitted in court by his estranged wife, Marianne Kitany, who Linturi insisted wasn't a wife, but a visitor who had overstayed her welcome.
Both sides accused each other of fraudulent transfer of property and funds, infidelity and cruelty, nothing short of a well-scripted, award-winning Mexican soap opera.
Linturi, an insurance broker, was first elected a Kanu MP for Igembe South in 2007. His first wife was a teacher and daughter to a former Meru County Council chairman. He has also previously been in a relationship with a medical professional and a Somali woman.
Linturi argued that he never married Kitany since he has been in a monogamous marriage with Mercy Kaimenyi Mithika since April 8, 2000.
So nasty was the divorce that the couple dragged their children into the case.
Linturi's daughter claimed in an affidavit presented in court: "My father informed us that Kitany was a friend in distress and that he had previously allowed her a temporary stay at our Runda home. She put on the façade of a nice, friendly and supportive guest and would in the initial days take us for dinners and shopping but things spiralled out of control in January this year when she found out that her daughter got a navel piercing with my help. She even accused me of being in possession of marijuana and orchestrated my being put into a rehabilitation centre under the pretext that I was addicted to marijuana while her real motive was to create a wedge between me and my father."
Kitany, on the other hand, accused Linturi of infidelity, saying it was the reason she decided to file for divorce.
Kitany told the court that their house girl who died at their home in Meru County had informed her that Linturi was having affairs.
"The lady called me and informed me that she wanted to quit the job because she was uncomfortable working there. Before travelling to Meru, I heard the news that the girl had died," she said.
She said that in 2017, their marriage became rocky as Linturi would come home late and deny her conjugal rights. "I went through Linturi's phone and I found many nude photos of women and pornographic videos," she said.
Three years ago, Linturi joined the growing list of politicians whose academic qualifications have been revoked. The University of Nairobi deregistered Linturi's 2014 law degree, claiming that he used fake academic qualification papers to gain admission to the institution.
Linturi's admission forms indicated that he obtained a B- from Igembe Boys Secondary School, where he claims to have been a student between 1986 and 1989, yet he reportedly scored a C- which could not have allowed him admission to the university.
In March this year, Linturi rushed to court, pleading to get an injunction against his arrest over 38 counts in a case instigated by his ex-wife.
The charges included abuse of office, giving false information, impersonation, obtaining credits by false pretenses, and fraudulently procuring the registration of charge documents.
He was to be arrested over claims he used forged signatures to secure an Sh530 million bank loan with properties of his estranged wife as collateral.