Suluhu visit promises bright future for Kenya/Dar relations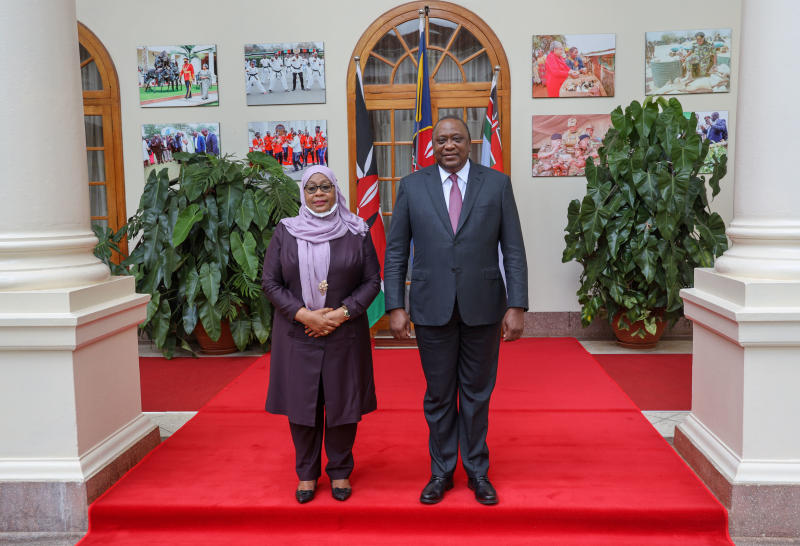 Tanzanian President Samia Suluhu's two-day State visit to Kenya this week signaled a thaw in frosty relations between the two countries, which reached an all-time high during the reign of her predecessor, the late John Pompe Magufuli.
Analysts were quick to stress that the visit, so soon after taking over from Magufuli, who died on March 17 from suspected Covid-19 complications, offered the promise of accomplishing some of the projects that have been pending since he made a similar trip almost five years ago.
During the October 2016 visit, Magufuli and President Uhuru Kenyatta had agreed to cooperate in infrastructure development, which would have greatly boosted economies of both countries.
Among key infrastructure projects agreed between the two leaders was the construction of a road from Bagamoyo to Malindi in Kenya and another one from Isebania to western Tanzania.
However, those plans were soon put on the backburner as Magufuli adopted 'Tanzania First' policy, which saw him clash with Nairobi over trade tariffs and investment by Kenyan companies in his countries.
As relations between the two countries worsened, Kenya banned importation of liquefied petroleum gas from Tanzania while Dar-es-Salaam hit back by blocking Kenyan milk and its products, and cigarettes.
In 2018, Tanzania's Labour Commissioner denied Kenya's Sylvia Mulinge a work permit denying her the opportunity to take over as Chief Executive Officer at Vodacom Tanzania. Media reports indicated the decision was based on a view that there were enough competent Tanzanians to do the job.
Strangely, the position eventually went to Hisham Hendi, an Egyptian national.
To illustrate the extent to which relations between the two countries sunk during Magufuli's tenure, Tanzanian authorities in 2018 also burnt to death 6,400 chicks, which it said had been illegally imported.
Kenyan Maasai herders, who ventured into the neighbouring country in search of pasture, were arrested and their head of cattle auctioned.
Kenya's relations with Tanzania have, however, been historically fluid since the days of Mzee Jomo Kenyatta and Mwalimu Julius Nyerere mainly due to ideological differences. While Nyerere pursued a socialist ideology, Kenyatta was a dyed-in-the-wool capitalist and their frequent fights led to the collapse of the initial East African Community in 1977.
Under Magufuli, efforts to integrate EAC countries also suffered from the frequent feuds between Kenya and Tanzania over issues such as issuance of land titles to Kenyan investors.
Dar also refused to take part in regional projects initiated by Kenya including the Standard Gauge Railway and instead focused on wooing Uganda to board its own such as the mordernised Tanga port and the oil pipeline. He also revived Air Tanzania to compete with Kenya Airways.
Construction of the 460 km Mombasa-Dar road, which was scheduled to start in early 2019 is yet to kick off following delays caused by change of design and last year's Covid-19 outbreak.
Kenya remains one of the largest investors in Tanzania though EAC's Trade and Investment Report (2019) indicated that the country's Foreign Direct Investment (FDI) inflows to Tanzania decreased by 78.7 per cent to $9.1 million in 2019 compared to $42.7 million in 2018.
However, the signing of agreement to transport liquefied petroleum gas from the port of Mombasa to Dar-es-Salaam is an early indicator that better days are coming as far as relations between the two neigbouring countries.
He announced a raft of incentives aimed at wooing Tanzanian investors to Kenya including the lifting of work permit and visa requirements.
On trade, President Uhuru revealed that total trade was valued at Sh60.4 billion in 2012 and Sh58 billion in 2020, indicating a slight decline.
"In the years 2016, 2017 and 2018, total trade was valued at Sh47.5 billion, Sh45.6 billion and Sh47.5 billion, respectively. This reflects challenges in the trade regime, which we should urgently address," he said.
The two leaders agreed to rejig their Joint Commission for Cooperation (JCC) to enable it deal with issues affecting trade.
"We will strengthen aviation, railway, sea and lake transport as well as roads. We also discussed the need to hasten the construction of the Malindi-Lungalunga-Bagamoyo Road to ease movement of goods and people," he said.
According to Prof Macharia Munene, who teaches History and International Relations at United States International University-Africa (USIU-A), Suluhu's ascendance to the presidency in Kenya's southern neighbour will see a change of narrative resulting in increased trade and investment opportunities.
"She creates a feel good environment, which facilitates human interaction, emotional stability and trust that helps to increase trade and investment opportunities," Prof Munene, who is also a director at HORN International Institute for Strategic Studies, told The Nairobian.
It is a view shared by economist Ochieng Ogola, who added that Kenya is likely to reap more from renewed relations in terms of enhanced trade and investment and conclusion of regional integration projects such as LAPSSET.
"The fact that she is a woman is a good sign as she is likely to bring new perspectives into relations within EAC having already visited Uganda where she inked a major pipeline deal. In think, she won't be held prisoner by ideological considerations. She is a breath of fresh air," said Ogola.
On Wednesday, Suluhu addressed a joint session of Parliament.
10 types of Kenyan mothers
She will scream at the top of her lungs, summoning her entire family, just because someone left windows open, which must mean they want her dead.