Gangs: Disillusioned youth are more than willing to cause political chaos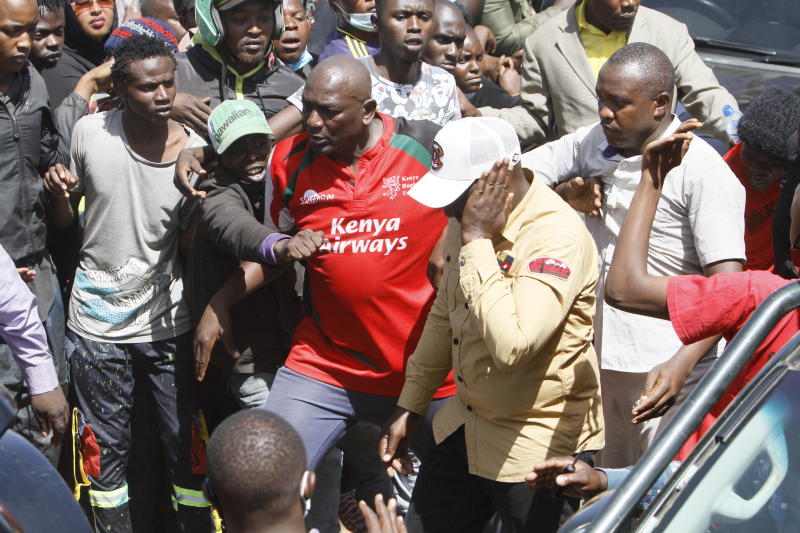 Picture this: a daring gang attempts to disrupt Deputy President William Ruto's meeting before his security detail acts swiftly and whisks him away from the charging goons at Burma market in Nairobi. DP Ruto is the second most guarded person in Kenya.
The DP had made a stop-over to address his supporters when hell broke loose. Out of the blue, the gang started pelting stones at Ruto's entourage, bringing the meeting to an end. Luckily, no serious injury or damage was reported. Few days earlier, the DP's political nemesis, Raila Odinga, had met the same wrath at Githurai market where he had gone to popularise Building Bridges Initiative (BBI). There was pandemonium when a group of armed youth stormed the venue and disrupted the meeting.
When peace was restored and Raila gone, scores of traders were counting losses while others said they had been attacked by goons who damaged one of the former Prime Minister's escort car. Welcome to the shadowy world of shadowy political gangs that are mobilised during each election cycle and that Ruto and Raila had a close shave with violence is a sign that political/criminal gangs are once again being reactivated ahead of 2020 General Election.
Question is; where are these gangs and how come security agents seem unable to arrest them and their paymasters?
"They camouflage in income generating activities, some started by the very politicians who use them," says Ndura Waruinge, former Mungiki leader, who in his day was a darling of politicians in Nairobi and Central Kenya.
Waruinge's close dalliance with politicians was thanks to his ability to mobilise adherents to cause mayhem. The man says it is not difficult rallying gangs for a particular cause. All one needs is to reach out to a gang leader and everything is sorted out. Even on short notice, hooligans can be delivered depending on logistical capacity.
Assembling the ruffians is easy because they are either members of garbage collection ventures, car wash businesses, Mradi, matatu squads or gangs that supply illegally connected water and electricity, says Ndura.
Mradi is a sheng phrase for informal settlements on land grabbed land. The practice is rampant in the city, especially in Eastlands, where people encroach on land, demarcate and allocate the same with armed youth providing security.
"Carwash businesses or Miradi tend to peak a few months to elections since it is the politicians who sponsor such activities for political expediency. They need readily available groups or gangs to do dirty political jobs," explains Ndura.
He claims this time round, it may be worse since youth are disillusioned at the current state of affairs – some lost jobs due to Corona while others had their businesses collapsing following a crackdown on counterfeits and flattening of kiosks to pave way for roads.
"Many of them had taken loans hoping to prosper but their dreams were shattered by an uncaring Jubilee administration. They are bitter and can do anything including joining criminal gangs," says the leader of Crusaders for Christ.In the city, these gangs are largely offshoots of outlawed Mungiki, Jeshi La Embakasi and Kamjesh gangs that disintegrated following a sustained police crackdown declared by former Internal Security minister John Michuki.
Some members of these gangs have found solace in small businesses as a cover-up; they maintain criminal networks that are easily resuscitated, according to Ndura, who is now running a church and furniture workshop.
Soon after 2017 elections, the National Cohesion and Integration Commission (NCIC) released a policy brief, blaming politicians for encouraging growth of criminal gangs. According to NCIC, 90 per cent of the gangs are mobilised, financed and deployed by politicians.
The March 2018 brief was a product of a survey NCIC conducted a few weeks to the elections. The study established that most of the previously banned gangs were still in operation and that they were being used by politicians. The gangs included Mungiki, Chinkororo, Sungusungu, Taliban, Kosovo Boys, Kamjesh, Gaza, Confirm, Kabuchai Defence Force, Boston Boys, Wakil Wao, Super Power and China Squad.
"The study revealed that a solid 88.9 per cent of respondents named politicians as the main financiers, mobilisers and beneficiaries of the activities of organised gangs," stated the police brief released in March 2018.
Other groups supporting gangs are business people at 28.9 per cent, police (17.1 per cent), community (14.2 per cent), government officials (12.1 per cent), local leaders (11.5 per cent), youth groups (8.9 per cent) and elders (7.3 per cent).
The study was conducted in Nairobi, Kisumu, Nakuru, Mombasa, Kwale, Bungoma, Kakamega, Siaya, Kiambu, Murangá, Nyamira, Narok, Kisii, Bomet and Nyeri.
"The counties were purposely selected based on their history of organised criminal gang activities, their cosmopolitan nature and proclivity for polarisation along political lines," explained NCIC.
Though they have no tag, the reality is these gangs are deeply embedded in almost all aspects of our lives. According to James Kangwana, a longtime political activist in Embakasi, the gangs camouflage in broad daylight.
"They are all over, either engaging in legal or illicit activities. Mobilising them into a particular cause isn't a difficult task. Just like what happened in Githurai when Raila's meeting was disrupted, a single phone call and you have an army on stand-by," says Kangwana.
The Catholic church is calling for political tolerance and warns that the country risks sinking into anarchy akin to what happened in 2008. Archbishop Philip Anyolo, while cautioning the youth against engaging in acts of violence, urged top political leaders to embrace dialogue and stop displaying hostilities in public.
"Our leaders and politicians should have respect for each other; they should not abuse each other in public. Let us have decorum in the way we think, talk and act in public," pleaded the chairman, Kenya Conference of Catholic Bishops (KCCB).
The Kisumu Archbishop fears the heightened political tensions do not augur well for the economic growth and advises politicians and youth to shun utterances and actions that can plunge Kenya into turmoil.
"The youth are the gift of our country. They have the energy to procreate and do to do all the positives things that can steer this country to prosperity," notes Anyolo.
Both Ndura and Kangwana say politicians pay these gangs to do the bidding for them. In the Githurai incident, police claim they had intelligence that each gang member was paid Sh500 to cause chaos. The paymaster remains anonymous though nominated Senator Isaac Mwaura, who has since denied any role, was accused of sponsoring disruption of Raila's BBI campaign meeting.
The politician had earlier met a group of youth and told them the former PM was an uninvited guest in the area, and that his tour could paralysis businesses. In a video that went viral, Mwaura was heard vowing to teach an unnamed people a lesson, saying they were hell-bent on shedding innocent blood in Githurai.
"Githurai haitamwaga damu kwa sababu ya watu wachache. Mimi sijajua na hakuna mtu yeyote ametuambia na wakileta hivyo tuko tayari kuwaonyesha sisi ndio wenyewe hapa (We will not allow bloodshed in Githurai because of a few people. I don't know and nobody has told me. In case they insist we are ready to show them who calls the shots in Githurai)," said Mwaura in the video.
A Kibra court later charged four youth who had gone to United Democratic Alliance (UDA) office demanding to be paid for heckling Raila at Burma Market. The party headquarters, located in leafy Lavington suburbs, is associated with DP Ruto.
Among other charges, Erick Arimba, Dennis Nzeki, Simon Kamau and Steve Gumbo were accused of causing disturbance at the offices as they demanded Sh2,000 each and a wheelbarrow. Senior Principal Magistrate Charles Mwaniki released them on a cash bail of Sh10,000 or Sh150,000 bond each.
According to the Cohesion Commission, politicians provide training to gang members; facilitate meetings and transport; pay them wages; purchase weapons for them; buy food, alcohol and drugs; fuel motorbikes and provide office space for some members. Ndura while advising youths not to accept to be used says sometimes, gangs turn against their masters when pay is not forthcoming or inadequate.
"Soon I will embark on a campaign to dissuade our young men and women against participating in political violence. I want to expose the dishonesty of these (politicians) people to the youths. Why do they only come with small money when elections are around the corner?" states Ndura.