President Uhuru's bossom friends now crying in the toilet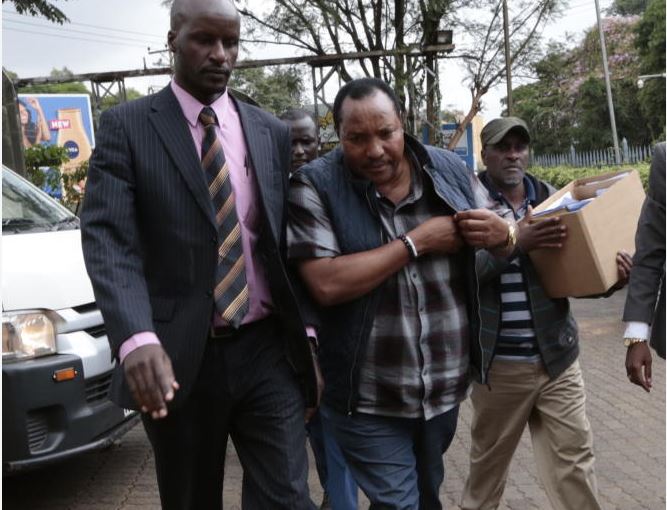 This is quite a game, politics. There are no permanent enemies, and no permanent friends, only permanent interests. Few situations best illustrate that observation by William Clay.
Its ironic that the fate and fortunes of politicians, who stood with President Uhuru Kenyatta when he was facing crimes against humanity charges at the International Criminal Court at The Hague in 2011, now hangs in the balance.
Most are now crying into political oblivion. From Deputy President William Ruto, Nairobi Governor Mike Sonko, Tharaka Nithi Senator Prof Kithure Kindiki, former Kiambu Governor Ferdinand Waititu to Garissa Town MP Aden Duale, they have had their wings clipped.
Politicians, who were rooting for Uhuru to be jailed are the ones now firmly in government. They are led by former Leader of Opposition Raila Odinga, whom Uhuru lambasted over the issue during an interview with AFP in 2016.
It is Nicolo Machiavellian tactics at its best — subtle cunning, deception, expediency and dishonesty. Remorselessly throwing friends under the bus, then dining and rewarding former enemies at the high table are all inscribed in Machiavellian masterpiece, The Prince.
The worst hit are Ruto, who was charged alongside Uhuru for alleged crimes against humanity during the 2007/08 post-election violence and Prof Kindiki, who was one of his lawyers. The charges were dismissed but how Uhuru has treated his former allies is confounding.
During a tour of Nyandarua in April 2016, Uhuru said Raila "has been looking for leadership by all means but due to his greed he will never rule this country since after my term this young man (Ruto) will take over."
Today, Raila is the one enjoying the trappings of power thanks to the March 2018 Handshake deal with Uhuru. Ruto, on the other hand, is fighting for his political future having been exiled to political Siberia.
According to James Thuku, a social scientist, it is the nature of politics for one to dispense even his closest allies or relatives if they do not add value to his interests.
"Politics is like a greasy post. One is bound to fall despite all the good they may have done. It all depends on whether their rise to the top serves a purpose to the welders of power. That is exactly what happened with regard to the ICC," he said.
Thuku added that those close to power today include some who actively participated in gathering evidence and nudging the ICC and other international actors to demand and take action against Uhuru Kenyatta.
By rendering Ruto a spectator in government and going back on an agreement to hand him the baton as his successor, once his tenure comes to a close, Uhuru is acting true to Machiavelli.
Machiavelli postulates in his book, The Prince, that in dealing with people, it is better to break promises if keeping them would be against the King's interests.
Then there is the comical case of Mike Sonko, who too has realised 'politics is like a greasy post.' He was among politicians, who caused a scene at The Hague, rolling on ice wet ground as they protested against Uhuru's alleged harassment by the ICC.
Shocked wazungu watched mouths agape as Sonko, wearing garish amounts of jewelry, a black shirt emblazoned with unprintable abuses led a demonstration outside the International Criminal Court. They were further shocked after learning the man shouting himself hoarse, hurling abuses in Kiswahili to Europeans, whose proficiency was limited to Jambo Bwana, was the Senator representing Kenya's capital.
But the drama was yet to begin. Sonko and his team of irritants rolled on the icy wet ground and blocked roads. They shouted until security officers told them to take their skits to a kindergarten. The 'support' Sonko had gone to offer President Uhuru Kenyatta at The Hague, had turned into an embarrassment.
So close was Sonko to the President that he was on a speed dial. At one time, the then senator called him as media cameras rolled, and put him on loudspeaker. Sonko was pleading with the President to stop a demolition in South B. Uhuru obliged. On another occasion, he told a gathering he was the third most powerful man in Kenya after Uhuru and Ruto.
But the good old days, the high fives with Uhuru, are all long gone.
With express authority from President Uhuru, Sonko transferred major functions to Maj-General Mohamed Badi, currently the man running the show in the city. Sonko, on the other hand, has his neck in the deep, wading through court cases.
The Nairobi Governor faces endless embarrassing episodes of being yanked from the main dais during state functions.
The only team he has direct control is a ragtag army, Sonko Rescue team, which operates a few rusty vehicles doling out small donations in Nairobi slums.
The once flashy politician is only active on social media where he posts bible verses and motivational quotes.
Hide your knickers
Hanging your underwear on a public clothesline makes them public property