Prison break: Kamiti terror convict Joseph Juma Odhiambo unknown in Mumias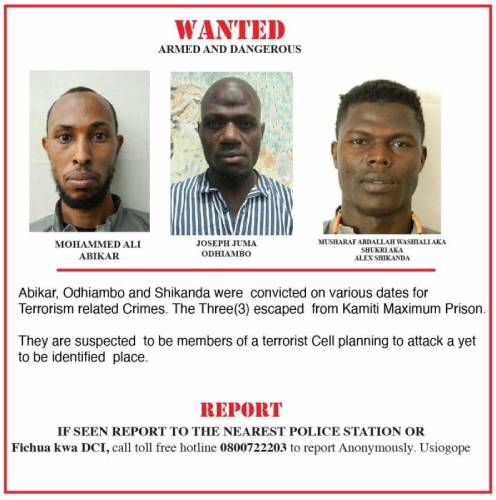 Nothing is as improbable as convicts escaping from a maximum security prison. And that is why news that convicted terrorists Mohamed Ali Abikar, Joseph Juma Odhiambo and Musharaf Abdalla, alias Shukri escaped from Kamiti, one of Kenya's high security prisons, is raising eyebrows.
There is any number of explanations about how they pulled it off, but escape they did and the government is at pains to explain that serious security slip. One of the dangerous criminals was put behind bars for their involvement in the terrorist attack on Garissa University in 2015 .
Media accounts indicate that police briefings show that Joseph Juma Odhiambo hails from Lukoye village, Mumias sub-county. On Tuesday this week, we set out to locate Odhiambo's kin in the tiny, sleepy village next to the now defunct Mumias Sugar Company.
Our first stop is at the Lukoye senior chief's office. Fortunately, the compound houses the deputy county commissioner's office and that of the assistant chief.
After we introduced ourselves and gave the reason for our visit, we got disappointed when Odhiambo's name failed to jog any memories. He is unknown to the local leadership. Undeterred, we talked to a number of boda boda operators in Lukoye area. There, too, we drew a blank; nobody knew or had even heard of the terrorist now at large.
We had Odhiambo's photograph in our possession, but even after showing it to several people in different locations, nobody seemed to have even seen or heard of him.
Next, we moved into the village that is basically an informal settlement and talked to several people. An old lady in one of the shacks directed us to the house of a village elder (a lady) who once ran a brothel in the village when the bustle of night life in Mumias was the talk of town. We interviewed her, showed her the photo, but she said she had never heard of the guy or ever seen him before. She said she would have recognised him if ever he patronised her joint those days.
From there, we intercepted several Muslim clerics identifiable by their trademark head gear. They were polite enough to listen to us, but none seemed to know or have heard of Odhiambo.
One even reminded us that the name Odhiambo dids not belong to the local community, but added: "He might have lived here." He was reluctant to say where and moved off. That piqued our interest. Of course, a bigger percentage of the houses in Lukoye are rentals. No doubt, someone would either have seen or heard of the convicted terrorist.
We were about to get into one of the two mosques in the area when a boda boda guy warned us that even if Odhiambo ever worshipped at the mosque or lived within the precincts of any of them, we were not likely to get a positive response.
Questions arose. Why did the police say Odhiambo hails from Lukoye when he obviously does not come from the area? Was it a red herring?
Assuming Odhiambo actually lived in Lukoye as claimed, does that point to the possibility of the existence of a sleeper cell in Mumias? A transit point, a safe house where recruits are housed and trained before being dispatched to commit the atrocities the terrorists are known for?
A week ago, a terror suspect attempted to bribe a police officer with Sh180,000 to get intelligence on a popular night club in Karen. Though the attempt boomeranged, it is a pointer to the fact that terrorists are in our midst, just bidding their time.
A day after the terrorists escaped from Kamiti, Kampala came under a terrorist bomb attack. When the three occurrences are viewed in the same context, they paint an ominous picture.