Ex-cop to spend 40 years in jail for killing colleague over insult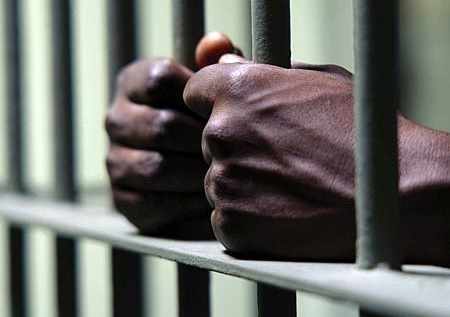 A former police officer who had been accused of shooting one of his colleagues dead over a plate of chips, insults and alcohol has been sent to prison for 40 years after the High Court in Garsen found him guilty of homicide.
Davis Muriuki Kinyua had been accused of killing Joseph Mwita Rioba on May 21, 2015 at Witu police station in Garsen, Tana River County. He pleaded not guilty.
According to prosecution witnesses, the misunderstanding between the two started at a bar when the accused person, who was taking beer at the police canteen, called Rioba an uncircumcised man.
Rioba then poured beer Kinyua's head, sparking a fight between them. Kinyua sustained an injury on the forehead.
The trial court heard that the two were separated and they left the bar but later met at the police canteen where the conflict escalated. Rioba left Kinyua at the canteen and went to the occurrence book to make entries.
Kinyua later shot Rioba in the abdomen with a G3 rifle, killing him instantly.
A pathologists report indicated that Rioba sustained extensive injuries to the digestive system: the lower part of the stomach had been ruptured, with the intestines completely detached.
Kinyua told the court that Rioba had hit him with a bottle on the head, causing the fight.
The court said that Kinyua should have acted differently and would have avoided shooting Rioba.
"The accused used excessive force against a compatriot police officer even though the insult might have reduced his self-esteem and reputation. For this reason, I find the accused guilty and convict him of homicide as a consequence. I therefore sentence the convict to 40 years imprisonment," Judge R. Nyakundi ruled on October 28.
He was given 14 days to appeal.