Come to Mtwapa, we also have talent- hookers plead with DP Ruto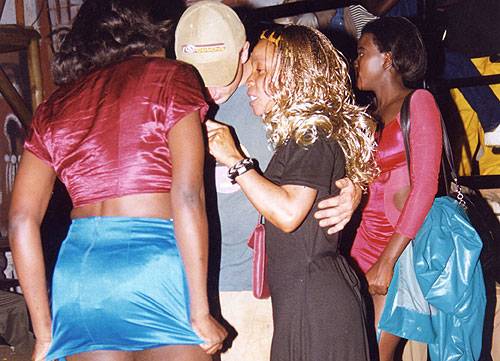 It is 10 pm as the corporate half of Mtwapa shakes off the last vestiges of the day, barely a week after President Uhuru Kenyatta lifted the 10 pm to 4 am curfew.
Night activities and businesses are going on as usual. Vehicles hoot with night matatus back on the road, waking up the small town that had gone dead for the last one and half years.
Women in skimpy outfits are on the roads while some squeeze into the dimly lit streets as they negotiate with clients while some watch out for the next catch.
It is a chaotic state of affairs, the embodiment of the hustle and bustle of the Mtwapa streets as the most active of the county's town comes back to life.
Commercial sex workers are already minting their first cash of the day. Here, time counts for everything and the earlier you are, the more likely you are to get clients. Sex workers used to be few due to the Covid-19 restrictions but now they are back on the road as it is time for them to hustle. With stars shining on the sky accompanied by a full moon on Wednesday night, here The Nairobian team meets Jackie (not her real name), 32, with two kids, looking busy as she talks to a client.
Jackie is a Ugandan and an orphan who came to Kenya to look for greener pastures after the death of her parents 20 years ago.
"I came to Kenya aged 25 years to work at a hotel. I was being paid Sh200 per day, which could not sustain me and the children I left in Uganda under the care of a friend," she said.
Goggle-eyed and with a soft but firm voice, Jackie has worked as a sex worker for the last four years, and she says her journey hasn't been a walk in the park.
In her own description, being a sex worker in the streets of Mtwapa one is forced to use narcotics in order to engage in the business.
"I pay Sh700 to stay in a guest house. This is where I take my clients, but sometimes I sleep in the streets, and when this happens, I'm forced to look for clients whom I serve on the corridors at least to get the cash for a startup," she says.
The outbreak of Covid-19 in March last year and the containment measures, including night curfews, instituted by the State affected nightlife in the town. Clubs like Casaurina Nomad, Club Lambada, Club Gasaro and many more were hard hit by the night curfew. This also had knock-on effects on Jackie's trade.
The latest research by Kenya Sex Workers Alliance (KESWA) and UNAids, shows thousands of sex workers were forcibly quarantined during the early days of the pandemic.
Several others were arrested for not adhering to the social distancing rules and obligatory mask-wearing.
Penina*, a commercial sex worker in Mtwapa for the last 21 years, says Mtwapa's nightlife was the hardest hit by the pandemic.
"I used to earn up to Sh10,000 per client and on a good day, I could get more than five clients, but with the pandemic, it has forced me to negotiate with clients down to Sh50, at least to get a coin to eat,'' she says.
Kenya does not criminalise sex work. However, the law forbids "living on the earnings of sex work" and "soliciting or importuning for immoral purposes.''
Commercial sex workers interviewed said even with the lifting of the night curfew, things are still not good but they remain optimistic that Mtwapa will roar back to life again.
Judith* said most of them would like to stop sex work but they have no way out. She asked Deputy President William Ruto to help them with capital to start businesses.
"I urge Deputy President William Ruto to consider visiting us also just the way he helped those in Mtito Andei. Please come to Mtwapa, we are really waiting for your help because we have talents and we are ready to change," she pleads.